We have two YSBAI's  (You should Blog About It) in a row!  I was sent a Facebook message a couple of weeks ago by a former classmate that I should blog about Gym Hygiene.  This one was from a man yall! I'm happy to bring this to you on Act-Fit Friday!  People who have sent request in the past, I'm getting around to them.  Please stay tuned in in the mean time.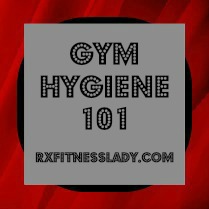 Wear deodorant to the gym & if you work out first thing in the morning, make sure you shower the night before
Dress in apparel made from moisture-wicking materials from head to toe, including your undergarments (or go commando) to prevent development of yeast infections in your sweaty gym clothes per Michele Curtis, M.D. an ob-gyn from Houston who was quoted in the March SHAPE magazine issue
If towel services aren't provided, bring your own to wipe off sweat. It is probably best to bring your own CLEAN towel anyway
If you sweat a lot, make sure you give yourself space in a class not to sling sweat on other participants while jumping around.  If you are on a machine, don't sling your sweaty hair over on the member working out beside you
Wipe down machines and bicyles before and after you use them
Bring your own exercise mat
Keep hand sanitizer in your gym bag and sanitize before using machines
Bring your own bottle of water or buy one from the gym, the water fountains have lots of germs
Try to keep the body sprays and perfume to the bare minimum.  None at all is ideal
Don't hog the machines during prime time, be reasonable
When you finish with the machine, turn the TV off
Re-rack the weights appropriately when taking a class or working out on the floor
Place wet clothes in a separate bag inside your gym bag when you finish working out
Shower before you leave the gym.  If you don't have time to shower, take the wet clothes off, wipe off with body wipes, and put on dry clothes
Use shower shoes in the gym showers
Take sick days and stay at home to prevent spreading germs to other members
If you are mildly ill, cover your mouth when coughing and sneezing (use the inside fold of your elbow)
Dress appropriately (no pones hanging out & breast popping out)
Wash your hands before leaving the gym and if the paper towel dispenser isn't automatic, dispense them with your arm
 Speak to people and be nice to everyone, including newbies.
These all work together to prevent germs and infections from spreading and to provide the most gym friendly environment for all parties.
Yours in Healthy, Active, & Prosperous Lifestyles,
Rx Fitness Lady wants to know…
What pet peeves do you have about hygiene at the gym?

The following two tabs change content below.
Rx Fitness Lady
Greetings, I'm Joi, a Pharmacist with a passion for fitness & a community leader. I teach BODYCOMBAT, BODYPUMP, Tabata Boot Camp, & serve as a mentor to young girls. My goal is to inspire people to live healthy, active, & prosperous lifestyles through practical blog posts deliveries. You can find me on Facebook and Instagram. You can view more post and subscribe to stay tuned to latest updates
at
Rx Fitness Lady.
Latest posts by Rx Fitness Lady (see all)