Cheers to the post that accidentally got published last weekend when I was aberrantly working off my home desktop instead of my MacBook Air! Here is the post in its completion 🙂 ….
In 2011, I saw my Podiatrist about the aggravation of what I thought to be ingrown toe nails.  At that time, she cut them down for me and recommended I let the nail technician keep them cut down and come back if I had any more problems.
I began to notice them hurting more than usual most of last year. With my intense group fitness schedule and standing on my feet all day at work my toes had really started to hurt anytime I "dinged" them the wrong way. I finally went back to my Podiatrist and had a Matrixectomy scheduled.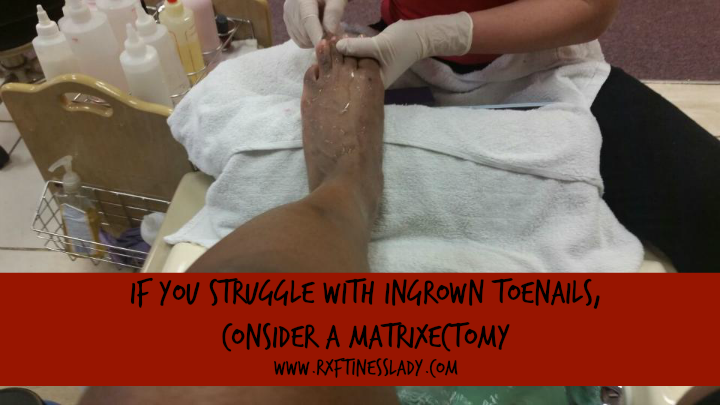 When I began sharing with coworkers and friends that I was having this done, I got tons of inquiries! I didn't realize so many people had the same issue.  Therefore, I decided to share my experience with you!
Matrixectomy – partial nail removal
The purpose of having this done is to prevent the ingrown toe nails from growing back incorrectly. This is classified as a surgery and mine was performed by my Podiatrist.
Tip #1 for the ladies – Take your finger nail polish off and don't inconvenience your surgeon like I did 🙂 !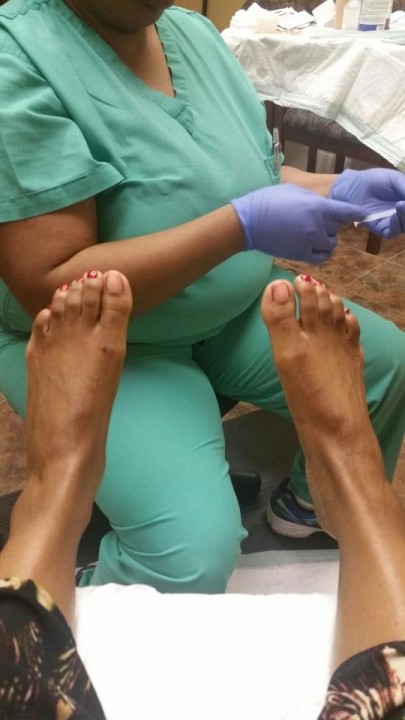 Are you afraid of needles? I hope not because you have to get numbed for this procedure.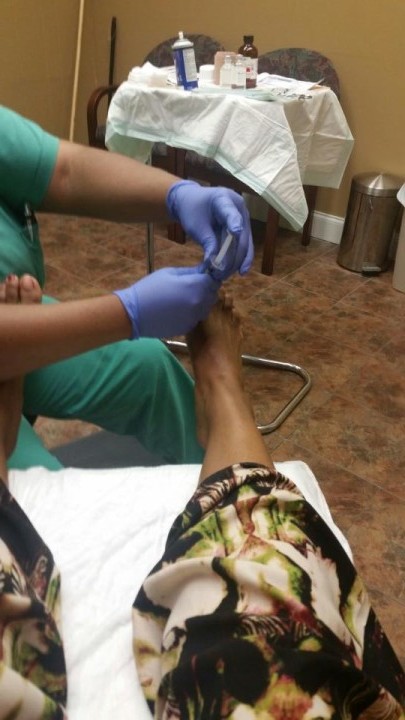 The toe is cleaned and prepped for the excision of the ingrown toe nail.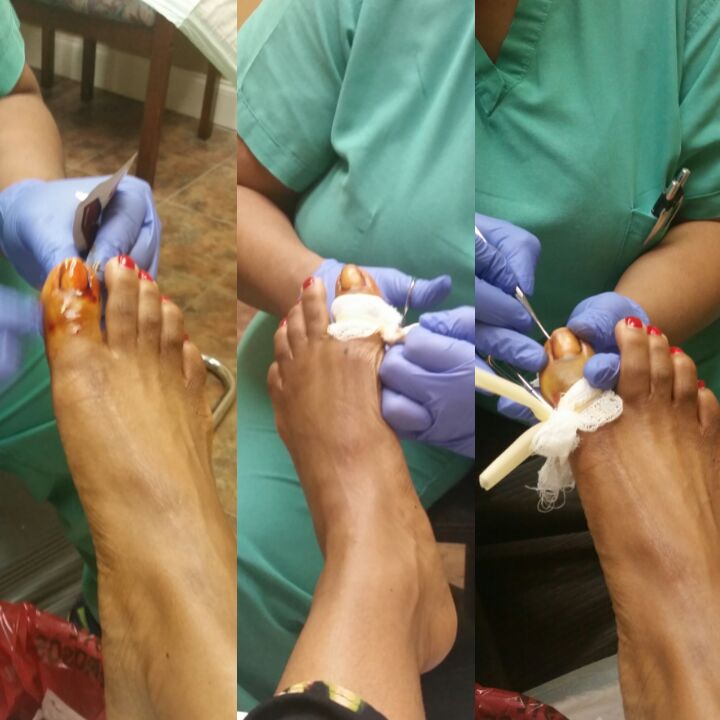 The portion of the ingrown toe nail and hard skin (formed as a result of the ingrown) are removed!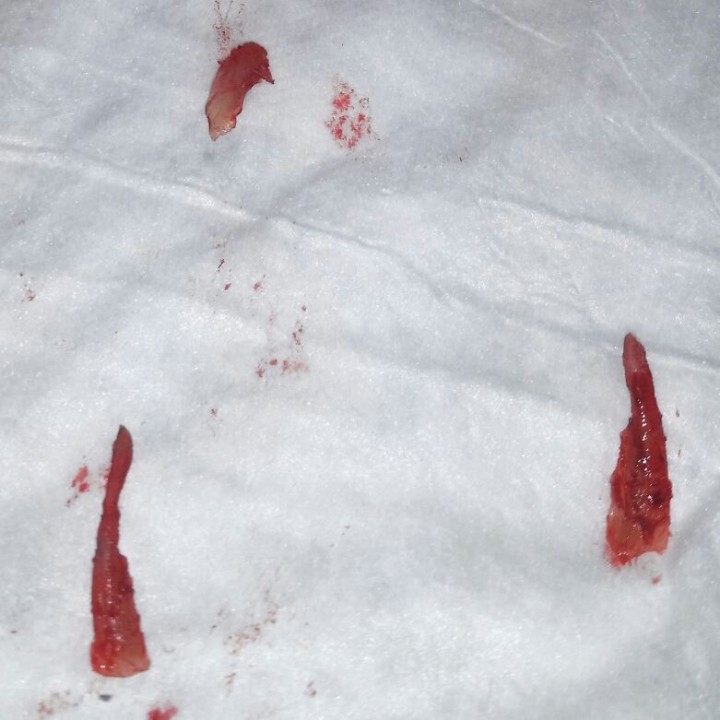 The base of the nail is treated with a chemical to prevent the growing of the toe nail again. Then burn cream is applied!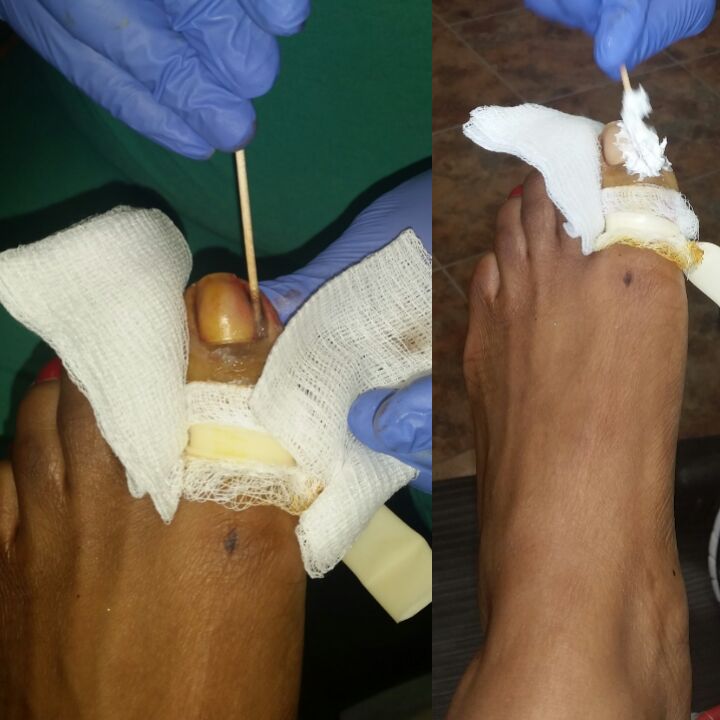 Then your toes are all bandaged up and you're sent on  your merry way!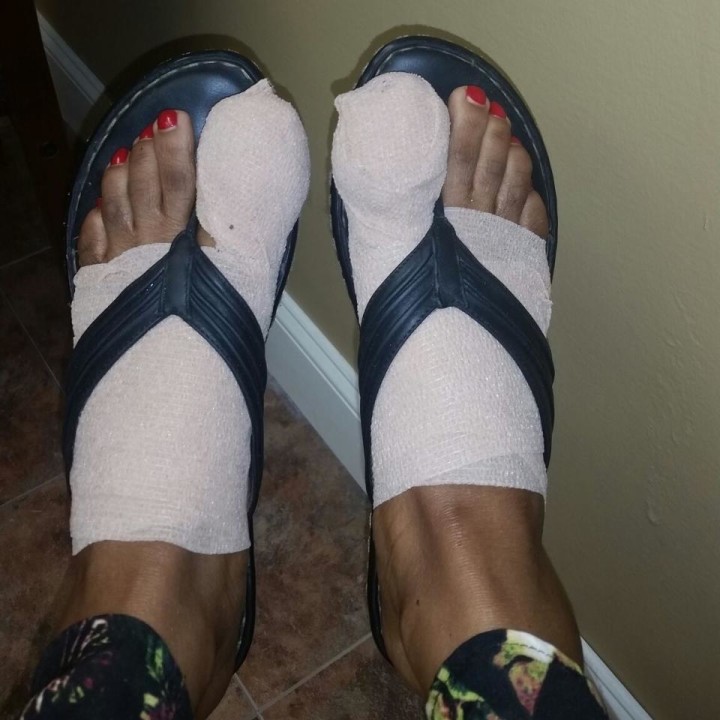 It all takes less than 45 minutes!
You receive recuperation instructions like soaking your feet in warm water & vinegar  2-3 times a day and taking it easy.  I got a pain prescription but had a very weird reaction with the first dose, so needless to say I didn't take that anymore.
From what I can tell, I'm healing nicely!
So I got a few questions from people.
Did she have to remove your whole toe nail?
No, as I explained before this is a partial removal (only the ingrown side)
Are your feet sore?
Not really, but when standing for too long, my right one (that was worse than the left) gets aggravated ( this response was typed 8 days after the surgery ).
Can you still get pedicures?
Yes, after the complete healing of both toes. Thank goodness I got this done in the winter months 😉 
Will they come back?
They shouldn't but it's possible. This is one of those things I found out more so after the fact.  I kept running into people who said they knew someone who has had this procedure more than once.  I am hoping this takes care of me for good!
Keep me in your prayers! Y'all know I am struggling not being able to teach my classes 🙁 !
Let me know if you have anymore questions.
Yours in Healthy, Active, & Prosperous Lifestyles,
Rx Fitness Lady wants to know…
Do you take pain medicine or fight through the pain?

Bloggers: Have you ever published a post by accident before it was complete?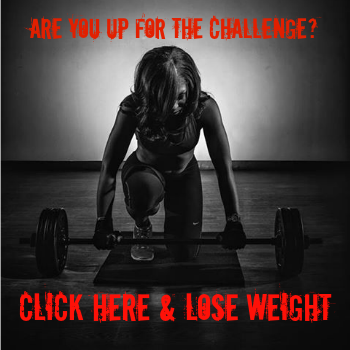 The following two tabs change content below.
Rx Fitness Lady
Greetings, I'm Joi, a Pharmacist with a passion for fitness & a community leader. I teach BODYCOMBAT, BODYPUMP, Tabata Boot Camp, & serve as a mentor to young girls. My goal is to inspire people to live healthy, active, & prosperous lifestyles through practical blog posts deliveries. You can find me on Facebook and Instagram. You can view more post and subscribe to stay tuned to latest updates
at
Rx Fitness Lady.
Latest posts by Rx Fitness Lady (see all)