Top of the week to you PFL! If you missed any posts from the party last week, they are all on the home page.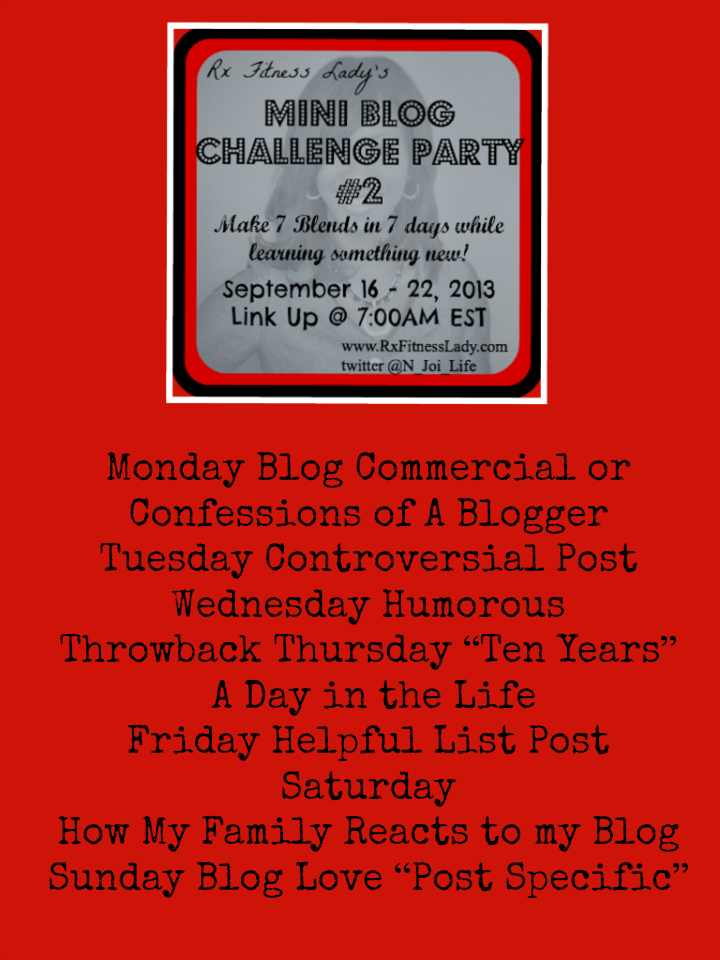 First confession – I'm super glad to have the  2nd 7 Day Mini Blog Challenge Party completed!
So why, do you ask am I taking on one of the topics?
Well, I think the timing is good! PLUS, I liked the "Confessions" topic, I just didn't want to overload you with the Rx Fitness Lady Commercial & a regular post last week!
So, here we go…
CONFESSIONS OF RX FITNESS LADY
I wrote an entire post on the time commitment associated with blogging for the last party! Nothing has changed!
I was scared to death when I hosted the first Mini Blog Challenge Party!  I was shocked, humbled, & encouraged by your participation. Many Thanks, for the one just completed as well.
I am usually a pre-scheduler in these blog streets, but last week for the party, even though everything was outlined, I blogged everyday! WHEW!!!
I spent so much time trying to perfect all the pages of my blog before I launched only to realize (and slightly get disappointed to learn) that bloggers only care about your current content.
*edited because this last confession was confusing readers* – I had lots of pages that showed the music I listened too, books I was reading, my goals, etc….I'm over that now because people are only interested in reading my latest post!
I'm glad you liked my unconventional commercial. I'm still uncomfortable speaking in front of the camcorder!
I don't like when blog friends TOTALLY disregard an event, especially if they host or request things frequently.
I usually read your comments at least twice before responding.  I always check in from my phone on the go.
On comments, I know I posted why I respond to comments just a few weeks ago, but some of the replies made me think about wasting time responding to comments that don't necessarily need a response. I will be changing the way I respond to comments going forward.
I don't like blogging on weekends AT ALL! *I can hear you now* "Yoooo! Why did your party include the weekend???"  It was a challenge 😉 !
Yes, I confess…sometimes I can be a bit of a blogging hypocrite (see previous 2 confessions) *shrugs* 🙂 !
Lugging my big camera around to take good pictures is somewhat annoying and the reason you often times get pictures from my cell phone.
I really want to host a blogger meet up for the purpose of fellowshipping!
I still can't figure out half the stuff you all are doing on your blogs, lol! There is just so much to learn here!
The pressure to have a presence on social networks as a blogger is overwhelming and tiresome!
Just because I blog about health and fitness doesn't mean I don't enjoy a good meal nor does it mean, I have to go to the gym EVERYDAY!
Editing pictures, proof-reading posts, tagging posts, categorizing them appropriately, SEOing, choosing titles of posts, scheduling them on social networks<<<<<ALL some little nuisances we have to deal with as bloggers!
Yes, this may have seemed a bit negative, but with every passion and love, there are cons!  Plus, readers need to know the work that comes with this lovely blogging adventure 🙂 !
Thank you for listening!
Rx Fitness Lady wants to know…
What is your top confession as a blogger, employee, entrepreneur, parent, wife, workout bunny, etc.? 

Which one of my confessions resonates with you?

The following two tabs change content below.
Rx Fitness Lady
Greetings, I'm Joi, a Pharmacist with a passion for fitness & a community leader. I teach BODYCOMBAT, BODYPUMP, Tabata Boot Camp, & serve as a mentor to young girls. My goal is to inspire people to live healthy, active, & prosperous lifestyles through practical blog posts deliveries. You can find me on Facebook and Instagram. You can view more post and subscribe to stay tuned to latest updates
at
Rx Fitness Lady.
Latest posts by Rx Fitness Lady (see all)