I frequently discuss hair as a barrier to workouts in the African American community. Whenever I discover another tweak to the hair maintenance routine of a sister trying to stay fit and fly, I get super excited to share it with you.
My latest discovery is the Flexirod! It has changed my fit, fly, and financial life here the last six months and I will show you how! I think this is an appropriate share for black history month!
This is how I leave out of the hair salon. I literally took this photo at the shop. There is nothing like the feeling you have when you prance around with a fresh new do! The problem is, as soon as you hit the gym, the freshness of you fly goes out the window.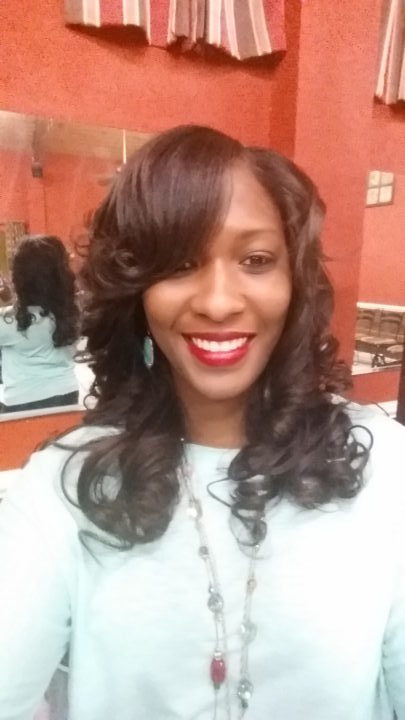 What if I showed you how the flexirod not only helps maintain your hair but it empowers you to get your workout on knowing that you can still keep pretty curls…..WINNING!
This is what flexirods look like. They come in different sizes and as you can see, mine are more than gently used.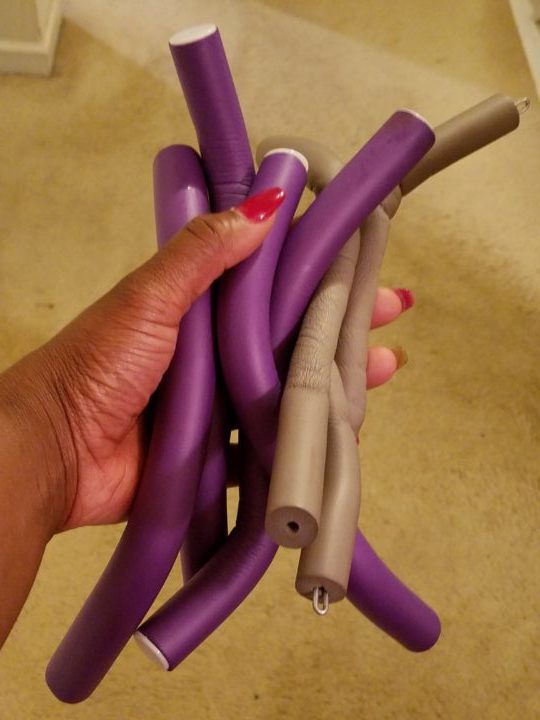 They are VERY easy to use once you get the hang of it. The learning curve is super simple. It seriously took me two nights to pick it up.
Step 1 – Brush through your hair.
Step 2 – Take a small to medium section of your hair and wrap the end tips around the flexirod, then roll it up, curve the ends to hold it in place.
Step 3 – Repeat step 2 until your entire head is rodded.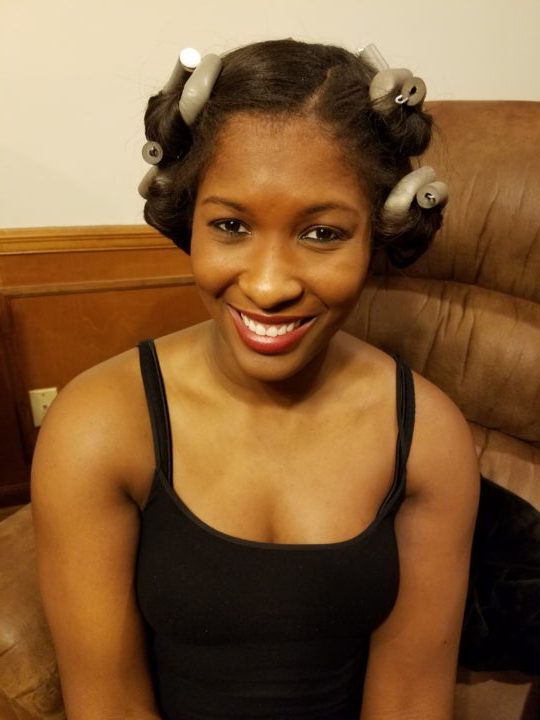 NOTE: I still pin curl my leave out sometimes, however my sister uses the flexirods for her entire hair so that is optional. (Since I first generated this post, I've started to use flexirods for my leave out as well as you can see in the above picture.)
TIP: Try to preserve the white tips on the ends of the flexirods. When they come off, as they have in a number of mine, they can easily get tangled in your hair. If you are frugal like me and don't want to purchase new ones, just rod your hair with great care and dodge the spiked ends 🙂 !
Step 4- Place a satin bonnet over your hair and go to sleep!
Step 5 – Wake up, take the rods out and brush/comb through your hair to shape the curls.
DAY 11 – Here is the end result after almost two weeks of getting my hair done and multiple workouts over that 2 week time frame.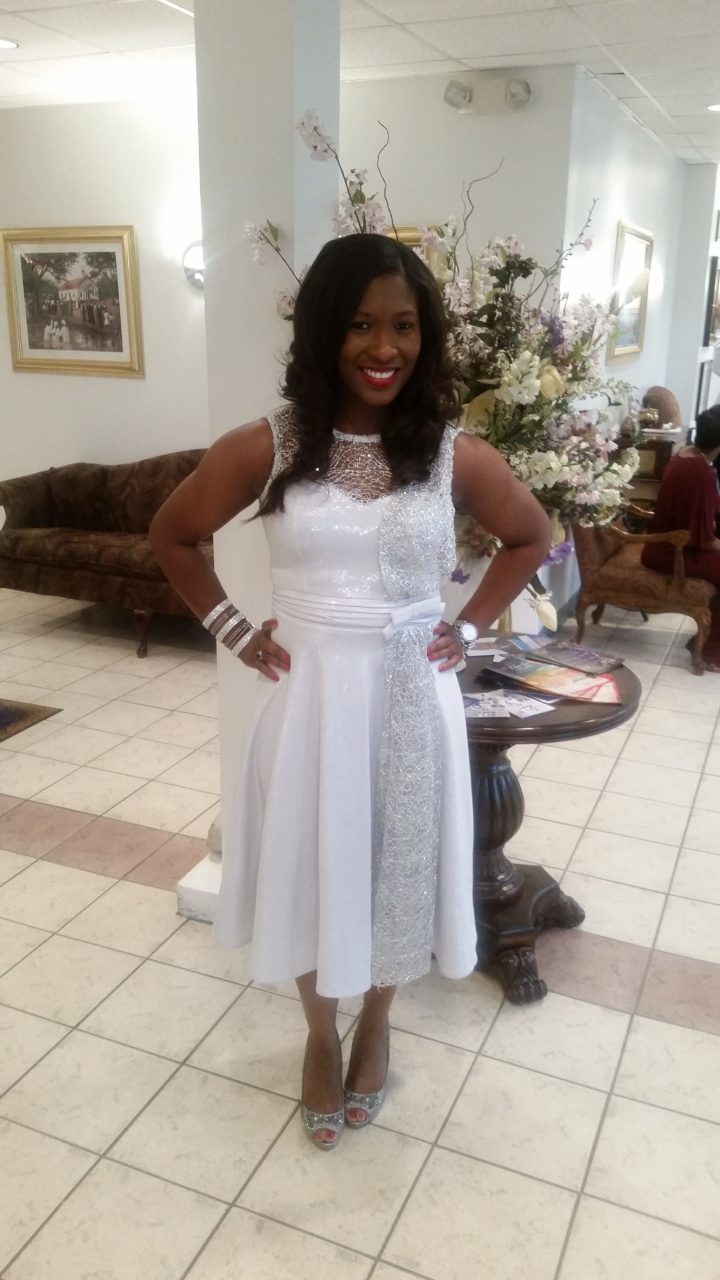 I used to go to the hair salon EVERY week. One week I would go to the salon to get shampooed and curled and the next week, I'd just get curls. Now I can go every other week which saves me time and money. Did I mention, I LOVE THESE FLEXIRODS?
When you have such tight curls in your hair, pulling them up in a loose ponytail to workout DOES NOT affect the grade of the curl. When you pull that ponytail down, you can simply brush through the curls again and it's like new. You may have to touch up your leave out if you had an extremely sweaty work out but I always try to limit heat to my hair.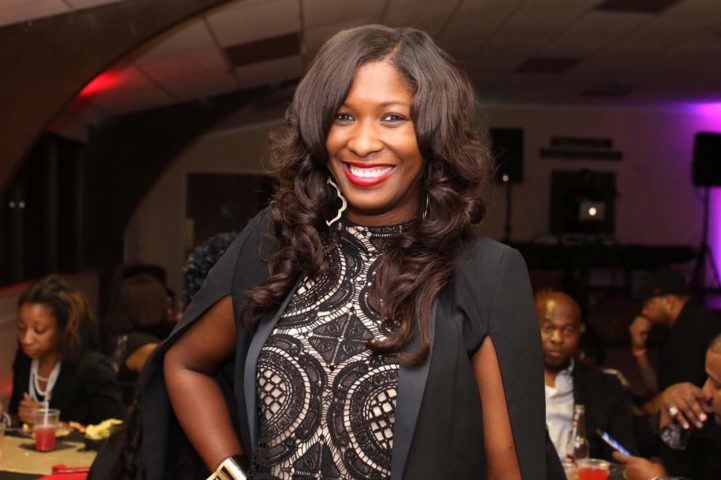 They really save the day on another level when you have more inches. The picture above, I'm wearing 12- 16 inches of hair. That length just doesn't hold pin curls. I had previously just been content with my hair being straight in the back. Now I get to have curls and it's super sweet.
I hope that if you haven't already discovered the flexirod, that you will give it a try and let me know how it works out.
Yours in Healthy, Active, & Prosperous Lifestyles,
Rx Fitness Lady wants to know…
How many times have skipped a workout because of your hair?
What other ways do you maintain your hairstyle while working out?

The following two tabs change content below.
Rx Fitness Lady
Greetings, I'm Joi, a Pharmacist with a passion for fitness & a community leader. I teach BODYCOMBAT, BODYPUMP, Tabata Boot Camp, & serve as a mentor to young girls. My goal is to inspire people to live healthy, active, & prosperous lifestyles through practical blog posts deliveries. You can find me on Facebook and Instagram. You can view more post and subscribe to stay tuned to latest updates
at
Rx Fitness Lady.
Latest posts by Rx Fitness Lady (see all)