I am a member of a gym and I love it! However, I am pro-choice when it comes to your health care and fitness goals. I am familiar with both avenues of gym membership and rocking it out on your own. I thoroughly enjoyed all seasons of my life with regard to fitness.  Here I will give what I have found to be most beneficial to me and other members currently rolling with #teamGym.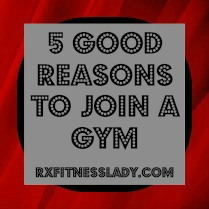 1. Gym memberships come with a FINANCIAL RESPONSIBILITY.  Most often we will not want our money to go to waste, so the idea of money being drafted every month whether you go or not will likely MOTIVATE you to swipe that key card at least weekly.
2. PEER SUPPORT is all around you. You could be and introvert or socialite, either way the people in the gym around you serve as inspiration whether you carry on conversations with them or just watch in awe as they complete some circuit or set that you aspire to do one day.
3. They have FITNESS PROFESSIONALS ON STAFF that can assist you with accomplishing your goals safely & effectively.
4. More than likely they offer some sort of GROUP FITNESS CLASSES with AWESOME INSTRUCTORS. We have discussed in depth an orientation to group fitness.  The bottom line, you get specific motivation and tailored workouts without the associated high cost of a personal trainer.
5. You get a workout WITHOUT DISTRACTIONS of the home: phone ringing, children, husband, and unannounced visitors, etc.
CURRENTLY…
Camaraderie is a major driving force for me at the gym.  I work overnight in a pharmacy where I am solo dolo!  I'm the pharmacist, technician, cashier, answer phones, & let people in the bathroom from time to time, lol.  I do that 7 nights in a row.  I can appreciate seeing people on my work week outside of the home.  Even if it's just for a few minutes before and after class.  I look forward to it.
Diversity I am a group fitness instructor so certain parts of my week are routine.  However, on the 2 days of the week that I don't teach, I have options to take an array of other classes or use the machines on the floor.   I only have DVDS at home (no equipment) and they are diverse but not as fun without the camaraderie.
Convenience I just happen to be a member of a small chain of gyms.  I didn't even know that this could be so beneficial until I joined this gym.  I work in a city 30 minutes from my home.  There are gyms in both locations and between the two addresses I lay my head at night. (That's for another post…just know I'm not shacking up 😉 So I spread my time between 3 locations that are all one gym.  How amazingly convenient is that!
These were just a few of the specifics that make my membership worth having.  Now your turn!
Your feedback would be greatly  valued on this post.  Please take time to answer the questions below over the weekend.  Thanks so much!
Rx Fitness Lady Wants to Know…
What do you think are drawbacks of joining a gym?
What else do you like about your gym membership?
Without going too much into detailed amenities, how much do you think is reasonable to pay for general monthly gym dues?

The following two tabs change content below.
Rx Fitness Lady
Greetings, I'm Joi, a Pharmacist with a passion for fitness & a community leader. I teach BODYCOMBAT, BODYPUMP, Tabata Boot Camp, & serve as a mentor to young girls. My goal is to inspire people to live healthy, active, & prosperous lifestyles through practical blog posts deliveries. You can find me on Facebook and Instagram. You can view more post and subscribe to stay tuned to latest updates
at
Rx Fitness Lady.
Latest posts by Rx Fitness Lady (see all)