I've really been enjoying your responses on the survey from Monday. It is still open for those who haven't made it over yet.  Please stop here and complete it.  I will recap the feedback once I've given everyone a chance to fill it out.  Thanks a ton to all who have already done it. The feedback is VERY helpful.
I'm hosting my first blog event here at PFL and I would be so honored if my blog friends would join me & of course any other bloggers out there that I haven't been blessed with crossing paths with just yet!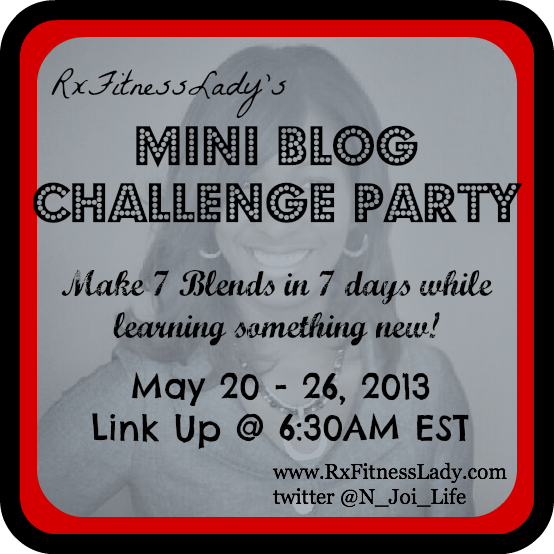 I think most bloggers new and old love making connections with other bloggers and like to achieve goals for their blogs.  I thought it would be nice to do both in a fun way.   I don't usually post everyday, but I think with a little preparation that most can handle 1 week of posting everyday.   With 7 days in the challenge, I thought it appropriate to have a goal of making 7 new friends.
This Par-tay is open to any blogger.  I love following blogs in my niche but what I've found is it's nice to make friends in other niches.  You get exposure to different audiences and you make friends with bloggers who can actually benefit from your post and you from theirs as opposed to just reading 50 blogs and saying Amen every time because you already know everything they are posting about.   This challenge will have something for your blog friends and readers!
Here is the challenge!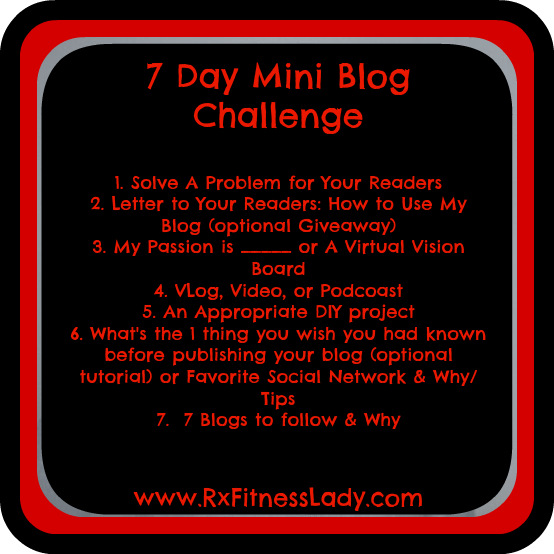 In addition to making friends, hopefully there is something on this list that will challenge you on your blog or give you a chance to enhance something you are already doing.
1. Solve A Problem for your readers within your niche.  Hint: read through your comments and think about what your readers make references to.
2. Letter to Your Readers is your opportunity to explain your blog to your readers/potential sponsors & maybe host a giveaway to entice them to connect with you on a social network or maybe break the ice with commenting.  The giveaway can be as creative as you like.  Hopefully it can be an inspiration for those of us who want them, to solicit a sponsor.
3. My passion is (i.e. Group Fitness…no surprise)!  You can write about any passion that you think your readers would connect with or the inspiration for your blog. Option #2 – I blogged about a vision board for those who are unaware of what it is.  This post could be very similar with captions on the images explaining your goals and plans for your life or the blog.
4. Don't sweat over this one!  If you need to copy and paste a video from Youtube, so be it.  The point is to have a different medium on your blog to reach different readers.  Looking forward to your creativity though here ;).
5. DIY is not everyone's cup of tea but I think we all have a little something up our sleeve to share.  Wish I had saved this post :).
6. While we are making friends, we can learn from each others blog paths.  I also think there are readers out there just itching to start their own blog.  Why not help them out and give them a little advice you would have liked to of known beforehand.
Along those lines, another option is to post about your favorite social network & all the little secrets that make you a ninja there!  Either one is helpful to current and future bloggers.
7.  Show some love to your blog friends and tell us why we should be reading them.
I really hope you all like this idea to make some quality friends and complete a small challenge.
If you liked this post, please share it on your social networks and include  the graphic at the top in a post over the next week to share with your own blog readers with a link back to this post.
RULES
Follow the host,  yours truly on bloglovin here.  You can follow me on social networks here if you like.
Once the party gets started, be genuine with your follows but if someone comments on your blog with the hashtag #MBC (Mini Blog Challenge), then visit them back and comment.  Read this post before getting started 😉 !
This will be a live link party starting May 20th so don't forget to come back and link up!
That's it!  You have 2 & 1/2 weeks to prepare!
Yours in Healthy, Active, & Prosperous Lifestyles,
 Rx Fitness Lady wants to know…
Will you come to my party….Please? 🙂

The following two tabs change content below.
Rx Fitness Lady
Greetings, I'm Joi, a Pharmacist with a passion for fitness & a community leader. I teach BODYCOMBAT, BODYPUMP, Tabata Boot Camp, & serve as a mentor to young girls. My goal is to inspire people to live healthy, active, & prosperous lifestyles through practical blog posts deliveries. You can find me on Facebook and Instagram. You can view more post and subscribe to stay tuned to latest updates
at
Rx Fitness Lady.
Latest posts by Rx Fitness Lady (see all)