Happy Monday PFL! Let's kick this week off with a little blog chat! If you are a regular blog reader, you will notice that some bloggers respond to comments and some don't.  For some blogs, it's impossible to respond to all the comments because there are so many.
CURRENTLY, I choose to respond to people who take the time out to leave a comment on my blog.  This is not an easy task.  Several people have shared that they appreciate my replies & I thought I'd share why I choose to engage ALL of the PFL readers.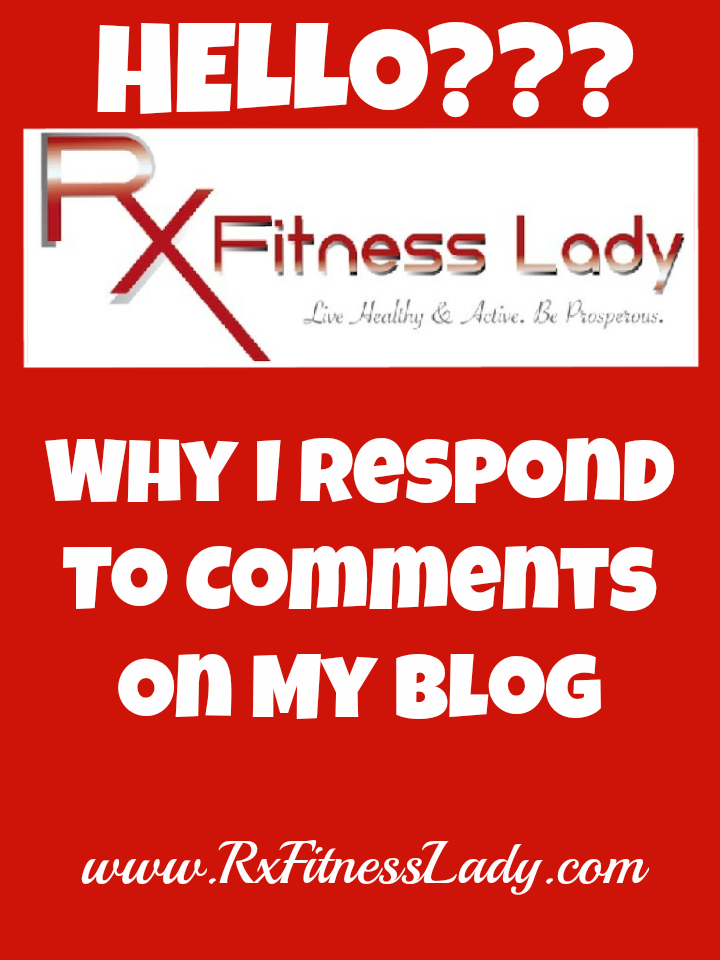 Blog comments to bloggers are like Kryptonite is to Superman! It really makes our day for you to give us feedback on our posts.   If you don't believe how important it is, check out an oldie of mine "24 Reasons You Don't Have Comments on Your Blog" & see how many bloggers stopped by to share their 2 cents on the subject!
I value every single reader of Rx Fitness Lady whether they comment or not.  Bloggers can expect less than 5% of their readers to actually comment on a post! WOW! That's alarming! Just that fact alone to me says that I should let the people who take time to comment know that I am listening and they are appreciated.
In addition, blogging for me is like having my own little community.  My goal is to build relationships with people and the only way to do that is to communicate.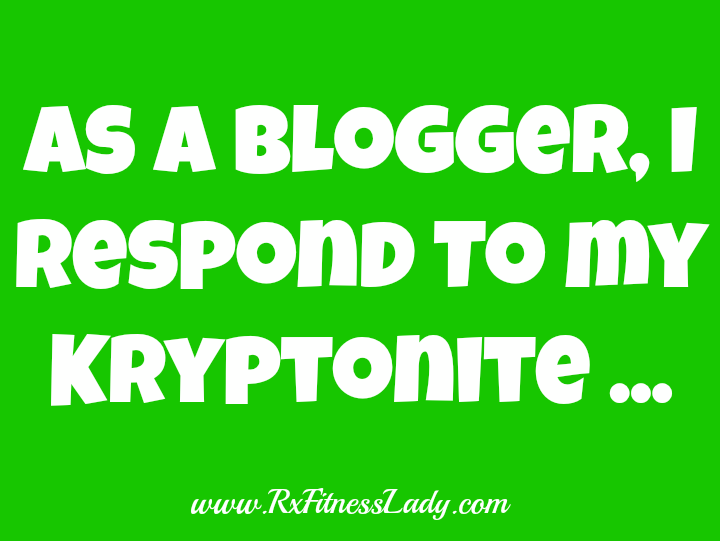 So readers know I read their comment and don't feel ignored or that their time was wasted
To follow up on a thought the commenter triggered that makes the blog post more informative for readers
To clarify my point when readers miss the mark or misunderstand my viewpoint
To answer reader's questions
To let them know I recognize that my opinion is NOT a fact
To welcome them as a new reader
To thank them when they are complimentary, a first time commenter, or have significantly added to the discussion with their expertise
To defend myself when necessary
To professionally advise them when I glean it's appropriate even when they aren't asking
To let them know they made my day with their humorous comments
To show I peeped their snark and let them know I can hand it right back to them 😉
To show similar interest and or sentiments with the reader
HOW I RESPOND TO COMMENTS
I treat my blog like my text messages!  Would you ignore a text message?  How many texts do you get a day? It's easy peasy!
I don't automatically respond to all comments, but if I'm somewhere and there is a moment of downtime, I'll respond to comments from my wordpress app on my Android.
I will immediately respond to a comment that is attacking me 😉 ! Other than that, I block off time to respond to everyone! I try as best I can to respond to at least the first few commenters on the day the post goes live. Sometimes that just is impossible with my schedule.
IS ANYBODY LISTENING???
Nellie emailed me months ago and asked me to install comment reply notification. At the time, I didn't have that many blog friends but currently, I truly value blogs with comment reply notification.  There just isn't enough time in the day to go back and see what you all are replying.
I used fiver to get mine working because I couldn't make it work on my own. I immediately saw an improvement on engagement in my comments section.  I was like shoot, all that good stuff I said for the last 2 and ½ months fell on deaf ears 😉 !!!
Anywho, my boo Veronica just had a recent discovery on her blogger blog, you can read all about no reply bloggers on her post.  Make sure you are not a no reply blogger and please install comment reply notification if you are going to respond to comments!
Non-bloggers definitely appreciate that you do this! It's hard enough to get them over, they surely aren't coming back to see if you reply.  Most times, they don't even know to do that unless they ask you a direct question.
BLOGGERS – DON'T FORGET TO RSVP FOR MY 7 DAY MINI BLOG CHALLENGE PARTY HERE! 
Rx Fitness Lady wants to know…
Do you respond to comments on your blog? Why or Why not?

Readers do you like getting replies? Do you appreciate the replies coming directly to your email?
Do you ever finish a reply to a snarky commenter and have the HUGE urge to add B1TCH at the end, lol?
What can I do as a blogger to make you feel more a part of this community?

The following two tabs change content below.
Rx Fitness Lady
Greetings, I'm Joi, a Pharmacist with a passion for fitness & a community leader. I teach BODYCOMBAT, BODYPUMP, Tabata Boot Camp, & serve as a mentor to young girls. My goal is to inspire people to live healthy, active, & prosperous lifestyles through practical blog posts deliveries. You can find me on Facebook and Instagram. You can view more post and subscribe to stay tuned to latest updates
at
Rx Fitness Lady.
Latest posts by Rx Fitness Lady (see all)