I'm happy to welcome Kita as my very first guest post.  I have grown to love her over the past few months with her personal blog where she keeps it 100 all day every day. I respect & admire her growing online magazine as well which is more business minded and inspires people in diverse lifestyle subject matter. Today, she is dipping in my world and keeping it real while on the subject!  Welcome Kita!!!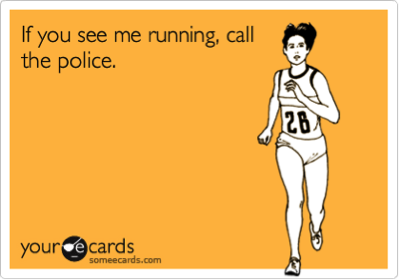 The above statement is true.  If you see me running, someone is either A. after me or B. everyone else is running which means something is after them.
I am a big girl weighing over 200 lbs. I am trying to be more active and running is not in the picture at all. I can barely walk without running out of breath. I joined a group of women last summer and we decided to walk in the evenings twice a week. We started off walking at our local park.  After one lap around the park I was about to fall out.  I lasted one month.  It did get better as I kept doing it.  Then one of the women suggested we pick up the pace and start jogging.  That's when I disappeared.  Seems like I was not the only one who did that.  We started with 5 of us.  After one person said run, no one came back lol.
I was not always like this. I use to play basketball and I was in ROTC not to mention the band too. I was active when I was in high school. I had to run drills often.  I even went to a program where I had to actually do real basic training. I had no problems, but then again I weighed no more than 110.  It's probably one of the reasons I ate so much and never gained. Now after 2 kids and life getting the best of me, I don't move around…at all.  I rarely eat, usually once maybe twice a day and only small meals. The hubs says "I don't understand how you don't lose any weight, you don't eat much of anything".  It's because I don't move. I sit in the front of a computer all day and type away.  If my fingers were fat they would be about 50lbs by now.
Running is a great way to lose weight but it won't be happening over here. I will instead take to walking up my steps 20 times per day, drink more water, cut out soda, stop eating so much pasta/rice, go meatless once a week, and eat more fruits/veggies.
Kita Bryant
www.kokoamag.com  www.saywhatuwanna.com
Kita wants to know…
Do you run?
Is walking the same as running meaning will you still lose the same amount of weight if you choose either or? 

The following two tabs change content below.
Rx Fitness Lady
Greetings, I'm Joi, a Pharmacist with a passion for fitness & a community leader. I teach BODYCOMBAT, BODYPUMP, Tabata Boot Camp, & serve as a mentor to young girls. My goal is to inspire people to live healthy, active, & prosperous lifestyles through practical blog posts deliveries. You can find me on Facebook and Instagram. You can view more post and subscribe to stay tuned to latest updates
at
Rx Fitness Lady.
Latest posts by Rx Fitness Lady (see all)