About a month ago when some lovely local members were gearing up for Les Mills Initial Program Training, I posted Atypical Tips for Les Mills Initial Program Training.  The next step is to Rock Your Les Mills Assessment Video!  I had the opportunity to be a class participant in a BODYPUMP video this week.  That was a lot of fun for me because if you remember A Review of Les Mills BODYPUMP 85, then you know I'm a huge fan of this release.
Mrs. Kelly, a loyal PFL reader that happens to be one of the lovely ladies  that was taping this week, let me snap a few pictures of her for today's post!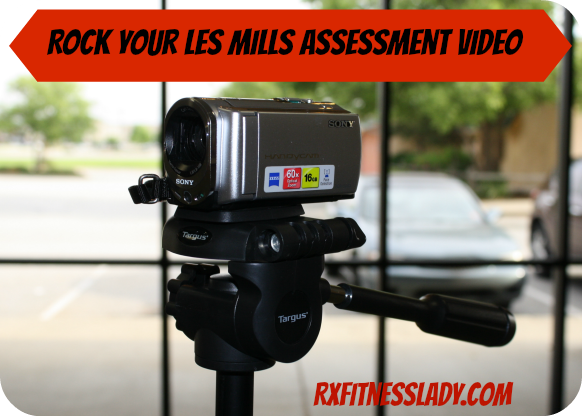 10 Tips for Rocking Your Les Mills Assessment Video
Dress in the essence of the program!  Wear the program colors and wear them well.  That just means to wear something that compliments you!  For BODYPUMP, the program color is red.
Set your stuff up on the stage in an orderly fashion.  Try to keep the stage looking orderly for the entire workout.  This is mostly for a BODYPUMP assessment.  There won't be too much equipment for other programs.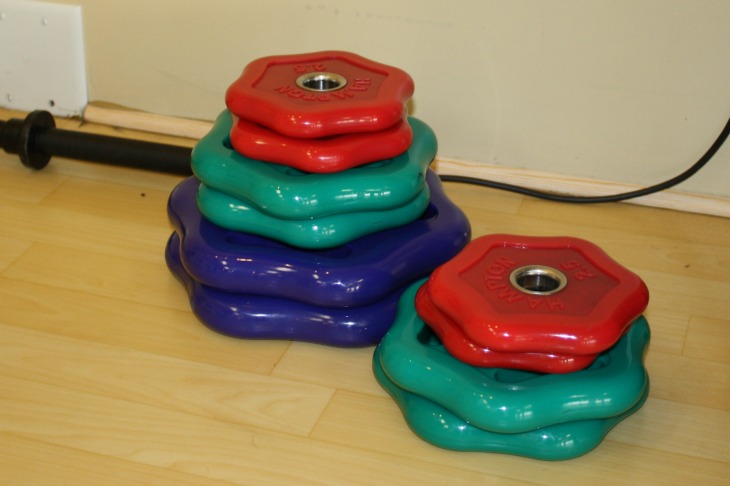 Try to use a microphone and test the mic over music. Record yourself for about 10-15 seconds and play it back to make sure it sounds well on the video.  Also when you do the test, make sure you are in FULL view from head to toe on ALL moves.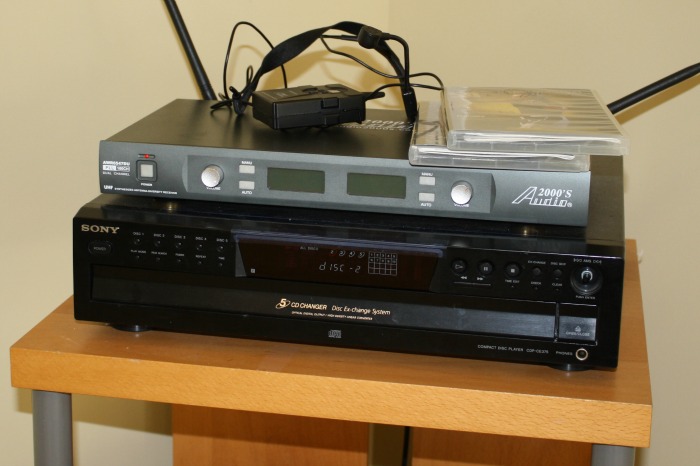 Test the microphone before getting started in all angles (standing, kneeling, and lying down) to make sure it will stay secure on your head.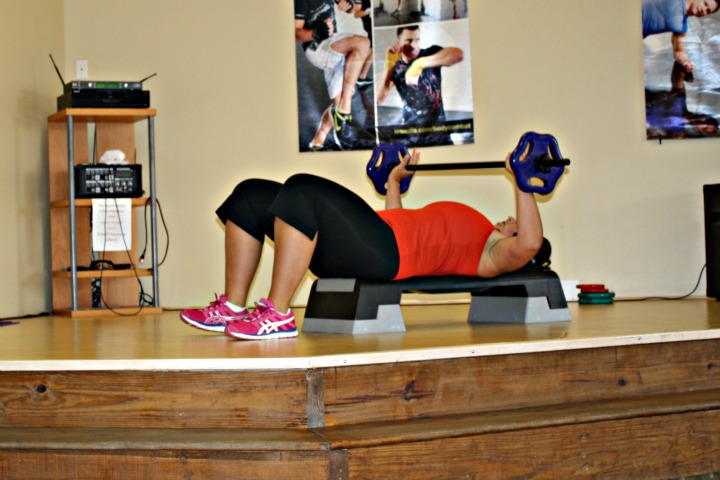 Make sure the thermostat is set at a comfortable temperature before you get started.  I cant tell you how many times during a class, we've been sweating like we stole something & somebody had to run out and get the key to change the temperature.
Plant invite hype men (women) to class!  You know those people in the class that keep it TURNED UP the entire time.  Their energy will keep you motivated and it sounds good in the video.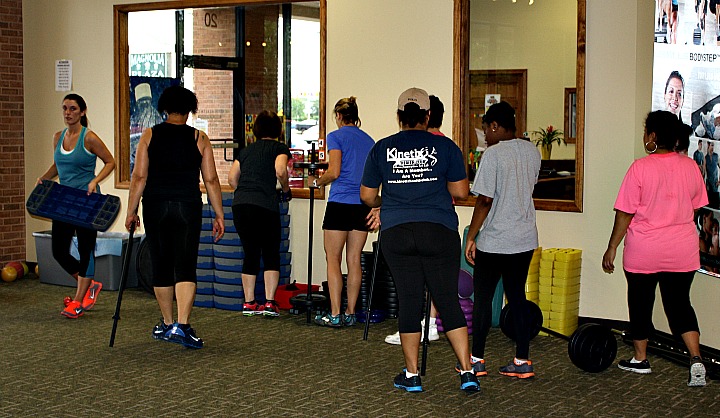 Invite other instructors.  This can help you in a number of ways. Primarily, if you are struggling with a technique,  you can mirror their technique for a specific move/track.  If you forget something (like the stretches in between BODYPUMP tracks), they can cue you.
Ask the crazy blogger chick in the class to take it easy on snapping pictures! 😉 !
If you aren't comfortable in front of the regular classes yet, invite friends to do a mock class at an irregular time slot.  This is perfectly acceptable for your assessment.  This is also the way to get around the time deadline if there aren't anymore classes scheduled and you still aren't happy with any of your previously recorded videos.
SMILE and HAVE FUN!  Now Go Rock Your Les Mills Assessment Video!
That's all I have for Act-Fit Friday!  I do have news though.
If you read my post on Liebster awards or Bloggy Bootcamp Review:Knowing Your End Game in Blogging, then you know that publishing an e-book (or two 😉 ) is one of my goals.  Can I get a virtual pound from my blog boos on being invited to contribute to an e-book that will be published in October of this year!!!  When I finally publish my own works, I will have some published credentials under my belt as a result of publishing this blog and making connections.  SWOON! Isn't blogging just tons of fun in addition to all the hard work we put into it!!!
I hope everyone has a great weekend!
If you liked this post, you might also like;
A Review of Les Mills BODYCOMBAT 55 (Video)
So You Want to Teach Les Mills BODYATTACK
YSABI #2: Tips for Group FItness Instructors
Rx Fitness Lady wants to know….
Do you get nervous in front of the camera?

Do you have any wins you want to share with me from this week?

The following two tabs change content below.
Rx Fitness Lady
Greetings, I'm Joi, a Pharmacist with a passion for fitness & a community leader. I teach BODYCOMBAT, BODYPUMP, Tabata Boot Camp, & serve as a mentor to young girls. My goal is to inspire people to live healthy, active, & prosperous lifestyles through practical blog posts deliveries. You can find me on Facebook and Instagram. You can view more post and subscribe to stay tuned to latest updates
at
Rx Fitness Lady.
Latest posts by Rx Fitness Lady (see all)