No my name is not HOV!!! However, I know some of you had this in your head, so for your pleasure….
Jigga fans stand up 😉 !
Oh, I am supposed to be helping Kim kick off her  September Sapphire Even Day Blog Challenge!
Today's prompt: "Debut" – Introduce yourself and your blog.  What is the meaning behind your blog's name? 
Do you know Kim of Being A Wordsmith?
Btw Kim, you were the top commenter in July.  Email me at RxFitnessLady(at)gmail(dot)com with your mailing address if you want your prize! Congratulations! 
I met her "virtually" about 4 months ago.  What a blessing! Currently, I refer to her as my blog sister. It's not that our blogs are similar, in fact..she's a writer.  Seriously, she has a book coming out this month.  It's the fact that we connect on so many levels about life. We are forever calling out similarities to the point where now, it's just like "of course you do this, because I do it!!!"
Anywho, you know I am supporting her as best I can this month on even days!

She helped me create a new Facebook Cover collage with this prompt!
If you are a newer reader or haven't had a chance to check out my about me page, there's an author box at he bottom of each post that gives you the nitty gritty in a quickie!
THE MEANING BEHIND MY BLOG NAME

Often affectionately referred to as PFL by me.  I spent a few weeks coming up with my blog name and tag line "Live Healthy & Active. Be Prosperous"
Rx = Prescription and it is representative of my healthcare background as a pharmacist.  This is also where the P comes from in PFL 🙂 !
I blog about physical and mental health related issues, so that seemed appropriate to me.
I mentioned in a previous post that it matters not to me whether you refer to me as R-X Fitness Lady or Prescription Fitness Lady as long as you know how to type either one into your web browser…Em K 😉 !
Fitness – of course comes from my background as an athlete turned fitness instructor.  I teach multiple group fitness classes per week and sometimes throw in some other fitness challenges.
I blog about my adventures in the world of fitness, how you can stay motivated to live healthy and active lifestyles, & sometimes include others along their fitness journey for motivation and inspiration.
Lady – was inspired by Melinda Emerson but most appropriate for me.
My mission statement is that I'm a passionate and efficient Healthcare & Independent Fitness Professional who mentors people to live healthy, goal driven lifestyles that promote positive self-images.
At the end of the day, I want to be a good role model in my community and I'd like to be a young lady that women and young girls look up to.
I feel that a Lady, handles her business on a number of levels! This pretty much leaves my blog open to discuss whatever I choose in addition to healthcare and fitness and that is exactly how I like it!
I am more of a Lifestyle Wellness Blogger as opposed to Fitness Blogger.
There you have it! You can read my very first post here is you want a tad bit more!
The prosperity portion of my blog has gone lacking more than I'd like to admit but thanks to Kim, Wednesday's post will fall nicely into that category.
I also have written a few posts on blogging that are always fairly popular and I never even factored that into the equation when I was planning for PFL.  The most recent blog post is "Why I Respond to Blog Comments", check it out! That's another thing I do here at PFL 🙂
That goes to show, when you jump into this blogging world, some modifications are made for the better if they are working for you.
I hope you will continue along this month as I am hosting a 7 day mini challenge as well in a few weeks. You still have time to R.S.V.P. here!  I'll be looking forward to it.  I hope you are having fun preparing your posts!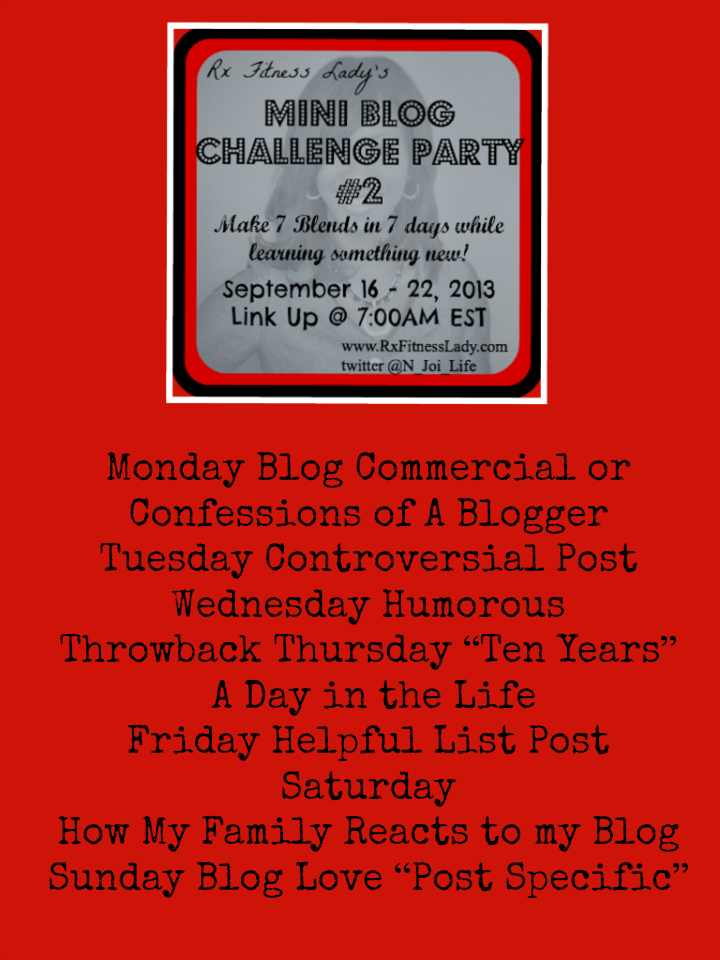 Thank you Kim for today's prompt!
Rx Fitness Lady wants to know…
Do you think I hit the target with my blog posts based on what I've shared with you today?
Have you ever done an even day blog challenge? 

The following two tabs change content below.
Rx Fitness Lady
Greetings, I'm Joi, a Pharmacist with a passion for fitness & a community leader. I teach BODYCOMBAT, BODYPUMP, Tabata Boot Camp, & serve as a mentor to young girls. My goal is to inspire people to live healthy, active, & prosperous lifestyles through practical blog posts deliveries. You can find me on Facebook and Instagram. You can view more post and subscribe to stay tuned to latest updates
at
Rx Fitness Lady.
Latest posts by Rx Fitness Lady (see all)