I LA LA LA LA LOVE my gym boos to the point I get aggravated when they go on vacation or something.  These are a couple of my girls!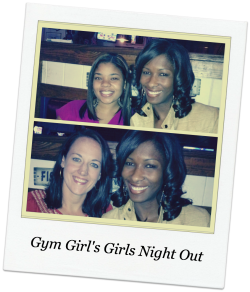 What does a Fitness Buddy Do?
They hold you accountable for attendance to your SCHEDULED f-IT-ness time at the gym, track, neighborhood trail, or whatever activity you engage in together.
They motivate you to finish your workout.
They are a much needed, often neglected regular girl time guarantee with the before, during, and after yapping.
Research shows that people are more successful at exercise programs when they have a friend to engage.  Evidence published in the Royal Society journal suggest that we release more endorphins "happiness hormones" and decrease the feelings of pain when working out with friends.  My personal opinion based on experience in home workouts, group fitness, and sports is that friends make your fitness efforts a totally different experience.  What at first glance seems like a task turns into a passion and fellowship that you look forward to as a regular part of your day.
Finding a Friend
If exercise is a new adventure for you, you can start by telling people your intentions to get started.  Mention it to family, friends, co-workers, church members, and people you do organizational & community work with.  Trust me, people whom workout consistently love to rant and rave about how much they love whatever it is they do.  They will more than likely swoop you right up into the fold.  You may also run across someone with your desires to start the New Year off right and you can go at it together as beginners.
Whatever you do, don't try to force a current friend if they aren't into it. It just won't work.
Make a New Friend Even when everyone is already cliqued up?
Be observant. You will usually find someone you think you would click with.
Smile at EVERYONE whether they return it or not.
Open your mouth and speak to people that you make eye contact with.
Introduce yourself and ask their name.
Try to workout near people that are physically in the same shape as you so neither will intimidate the other.
Draft small talk for the person/people who are responsive to your kindness. See Chart below if you need help with this, everyone is NOT a social butterfly and that is perfectly acceptable.
Trick for the memory factor – After the small talk, you might forget their name. Most people in a laid back environment like a gym will only say "Hi I'm Joi", at the end you can say "tell me your "full name" again.  Then repeat the full name back to them when you tell them how nice it was to meet them. If you have terrible memory like me, text the name to yourself (everyone usually keeps the cell close by).
That trick I just mentioned will also help you find the person on a social network.  Make sure you did indeed click with the person before finding them on their very privately guarded FB page of 1,000 friendsJ.
Regulars, try to latch on to a newbie.  You will probably be their saving grace in getting accustomed to the facility and the members.
Look for ways to help someone. If they're always late, set up their mat or steps for class.  If you see them struggling with a machine you are familiar with, give a little tutorial.
Don't close the opportunity for people that look like a mismatch.  If you are both working out at the same time daily you at least have availability in common.
Invite them to try your favorite class.
Finally, invite them to something other than working out that you think they would enjoy.
Small Talk Starters that keep it Simple and NON-personal!

Small Talk Killers to get you Snubbed quicker than you can do a Squat

Genuine compliments on; Hair, attire, shoe wear, gym mats & bags, etc.
How do you like the facility so far
How is the gym staff treating you
Don't you just love the daycare perks

And what do you do? (5 seconds into the conversation)
2nd favorite – What does your husband/man do? (10 seconds into the convo!)
When are you all going to have kids? (Please people, seriously do you know how emotional people are that are unsuccessfully attempting to have children)
Rx Fitness Lady wants to know… 
Do you find it easier to befriend people or be befriended?
Do you have any more tips for the person intimidated by the early morning/after work rush crowd to make a new buddy?

The following two tabs change content below.
Rx Fitness Lady
Greetings, I'm Joi, a Pharmacist with a passion for fitness & a community leader. I teach BODYCOMBAT, BODYPUMP, Tabata Boot Camp, & serve as a mentor to young girls. My goal is to inspire people to live healthy, active, & prosperous lifestyles through practical blog posts deliveries. You can find me on Facebook and Instagram. You can view more post and subscribe to stay tuned to latest updates
at
Rx Fitness Lady.
Latest posts by Rx Fitness Lady (see all)