Hey Hey! We are here with some fitness inspiration on a Wednesday. A portion of this post originally appeared on Brooklyn Active Mama as my very first guest post. I shared with you Why I Joined the Les Mills Instructor Tribe a few weeks ago. Now I am sharing a few specifics on why you should give the popular original barbell weight class BODYPUMP a shot!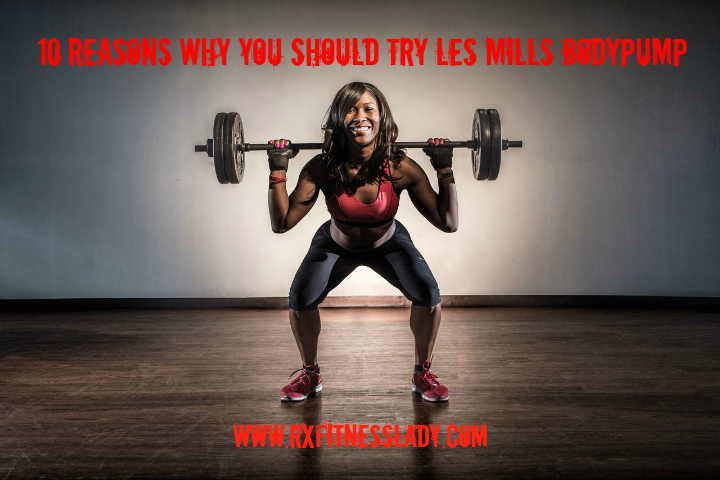 10 REASONS WHY YOU SHOULD TRY LES MILLS BODYPUMP
You BURN CALORIES!
I've learned to appreciate a DIVERSE SELECTION OF MUSIC. When I was growing up, I only listened to gospel, rap, and R&B. Now I bob my head to everything in just about every store I go in because I recognize music for the masses.
The Pharmacist in me has to share the health benefit for ladies and their future. It decreases the risk of OSTEOPOROSIS (condition in which a decrease in the density of bones weakens the bones and can lead to fractures)! Sorry a little bit of medical gibberish here

Laymen's terms: – You have STRONG BONES!
You get more TONED not Bulky.
You get STRONGER.
You get cardio benefits as well as the class is a full hour = BETTER ENDURANCE.
INCREASED METABOLISM a major positive seeing as how women's metabolism begins to decrease at age 20 by 2% each decade.
Better POSTURE!
ANYONE can do it at his or her own pace and weight selection.
My favorite; It's a GROUP EFFORT! Weights can be challenging and it's motivating to do them with others while having an instructor guide you in safety and effective target ranges. Besides, who wants to finagle with the machines out on the floor?
Rx Fitness Lady wants to know…
Have you tried a barbell weight class? How often do you lift weights?

How often do you change up your fitness routine?

The following two tabs change content below.
Rx Fitness Lady
Greetings, I'm Joi, a Pharmacist with a passion for fitness & a community leader. I teach BODYCOMBAT, BODYPUMP, Tabata Boot Camp, & serve as a mentor to young girls. My goal is to inspire people to live healthy, active, & prosperous lifestyles through practical blog posts deliveries. You can find me on Facebook and Instagram. You can view more post and subscribe to stay tuned to latest updates
at
Rx Fitness Lady.
Latest posts by Rx Fitness Lady (see all)