If it's not a Hell Yes, It's a No! My favorite line from a Bloggy Boot Camp conference I attended in Charlotte three years ago. I reflect on the declaration often and decided to make it the topic for today. Even though I have mastered the art of saying no, I have to continue to work at it. It is especially of importance since I've been commuting to work for the last nine months. You may have had a lifestyle change that doesn't permit you to do all the things you did before. If so, I am here to encourage that it is perfectly fine to say N.O.!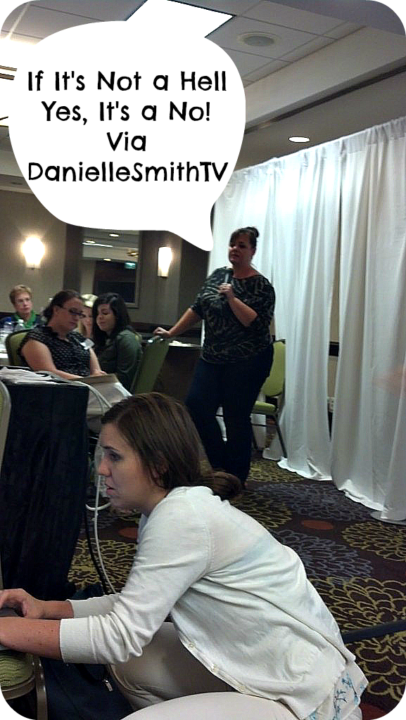 I have learned the hard way that when you are capable physically, financially, and mentally to withstand unusual measures, people will unconciously abuse that quality. People don't truly mean you any harm. You can actually take it as a compliment that they think you are so awesome that they want to entrust you with so many responsibilities. You have to be the responsible one and recognize what is within your boundaries for still functioning at 100% where it counts the most. That could be a number of things based on where you are in life.
Step 1 – Determine what your top priorities are!
Spouse
Children and their activities
Church responsibility
Work
Your passion/Hobbies
Local Civic Clubs
Social Clubs
Collegiate Alumni Associations
Professional Associations
Exercising
There is a hierarchy when it comes to how your time is dished out. For instance, most of us have to work to be productive citizens. When you get off, undoubtedly your priorities are going to simultaneously require your presence. Your first step is to know that hierarchy exist and be unapologetic if you have to send regrets to any other area of your life for that moment.
Step 2 – Don't over commit!
Earlier, I talked about people unconciously abusing your work horse super powers! It is true. They will say things like; Nobody is as creative as you, you are such a good leader, people will listen to you, people will work for you, you are a natural leader, this is right up your alley….anything sound familiar. All though it may be true, it doesn't negate the fact that you work 40 hours a week, have to cook for the family, wash clothes, go to choir rehearsal, EXERCISE 🙂 , etc. If you are in the MEMBERS ONLY club, that is just fine. You can be a part of something and not take on leadership tasks until it is the right time for you and your current lifestyle. I almost started down a rocky road of holding multiple positions in a community organization I am a part of, then I had a eureka moment.
I joined Junior League and they were set up where each person had one placement for the year. Your placement was your responsibility and you supported other functions where suitable. OMG, shut the front door! That made all the sense in the world to me. From that moment forward, I gave myself one role and one role ONLY in every organization I was a part of.
Step 3 – SAY NO!
Now that you've got your priorities and you are dedicated to not over committing, you just have to get comfortable saying NO! Currently, you should have a full plate! At this point, my favorite line comes back into play! If it's NOT A HELL YES, IT'S A NO! Own the phrase and the thought behind it! The answer is NO!
Say it!
Text it!
Email it!
Do what you have to do, just do it! It will get easier.
Them: Can you, will you, please, I really need…..
You: I am not in the position, I don't have it to give, I have enough on my plate, Thank you for thinking of me, but I'm not interested in taking on any more responsibility, My money is stretched thin, do you have any collateral? lol, I don't lend money to friends and family, I'm already committed elsewhere, or you can always stick with just plain NO!
Yours in Healthy, Active, & Prosperous Lifestyles,
Rx Fitness Lady wants to know…
How do you tell people no?
What struggles do you have when telling people no?

The following two tabs change content below.
Rx Fitness Lady
Greetings, I'm Joi, a Pharmacist with a passion for fitness & a community leader. I teach BODYCOMBAT, BODYPUMP, Tabata Boot Camp, & serve as a mentor to young girls. My goal is to inspire people to live healthy, active, & prosperous lifestyles through practical blog posts deliveries. You can find me on Facebook and Instagram. You can view more post and subscribe to stay tuned to latest updates
at
Rx Fitness Lady.
Latest posts by Rx Fitness Lady (see all)