Greetings PFL!  I have some maintenance issues before we get started with the topic for today.  First and most important – I was a guest on Nellie's blog yesterday, YAY!  Please go check out the post and show her some love while you are there. She has shown me so much love and I appreciate her beyond what I can type in this little paragraph.
The SITSgirls featured my post from last week yesterday as well.  The discussion has been steady every since it posted.   I have learned a lot about varying opinions when it comes to commenting on blogs and I appreciate all of your input.   I have found a #25!  Make sure your comment form is visible to the commenter when they are typing their name.  I got checked about 10 times for that 🙂 .  That should be corrected now.  Let me know if you are still having problems.
BTW…how are you liking getting my replies to your comments via email?  I am loving that it adds to the discussion!
Back to regular programming….
Today we are speaking from the prosperity arm of PFL.   If you get your primary income by working for someone else, then you need to read this.  Women and men for that matter that work outside of the home, I have some questions for you.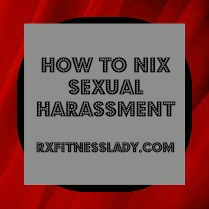 Do you let borderline sexually insinuating comments slide?
Have you ever felt uncomfortable on the job by way of the opposite sex?
Do you roll your eyes at dirty jokes?
Do you ignore inappropriate gestures?
I really starting thinking deeply about this after reading my February issue of Drug Topics where fellow pharmacist Jim Plagakis was featured on the subject "Sexual harassment in the 21st century"  Read the snippet…trust me, it's a good one!
Let me set the scene for you.  30ish year old  female pharmacist, good looking, wearing a skirt and blouse, minding her own business on her lunch break….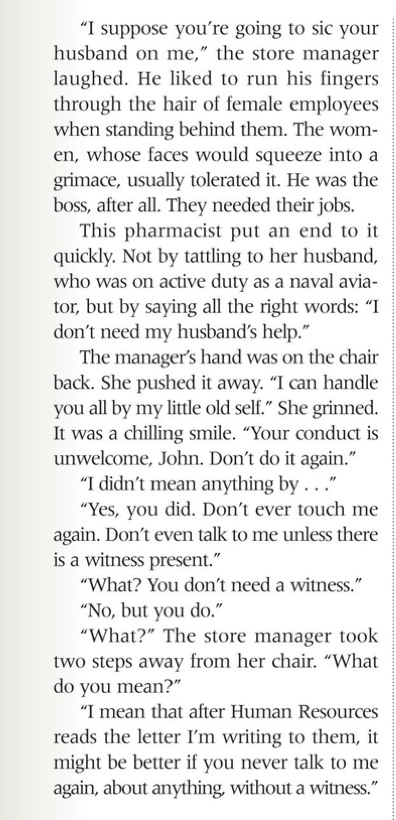 That's my kind of girl!
How It Was Handled
She told him to stop!
She informed him that it was unwelcome!
She requested that he not ever do it again!
She informed him she would be documenting the incident officially!
UNWELCOME is a key word with the U.S. Equal Employment Opportunity Commission.
Don't let it stop there.  You need a paper trail for these instances.  You employer is supposed to take steps toward sexual harassment prevention by stating so in their policies.  You can take steps not to be alone in awkward situations with the opposite sex and not fraternize with known offenders when it's unnecessary.
Well, well, well…you just find all kind of stuff on a fitness blog now huh? 😉
Yours in Healthy, Active, & Prosperous Lifestyles,
Rx Fitness Lady wants to know…
Why do you think people let sexual harassment incidences occur without consequences?

Do you have an incident that you can publicly share and how it was handled?

The following two tabs change content below.
Rx Fitness Lady
Greetings, I'm Joi, a Pharmacist with a passion for fitness & a community leader. I teach BODYCOMBAT, BODYPUMP, Tabata Boot Camp, & serve as a mentor to young girls. My goal is to inspire people to live healthy, active, & prosperous lifestyles through practical blog posts deliveries. You can find me on Facebook and Instagram. You can view more post and subscribe to stay tuned to latest updates
at
Rx Fitness Lady.
Latest posts by Rx Fitness Lady (see all)