Does it shock you to know that there are a massive number of retail pharmacists out there that don't take lunch breaks? You've heard my tales of working the overnight shift in the pharmacy. As a day shift pharmacist, I discovered a new challenge. I was shocked to find I had to orientate my new coworkers to my lunch break method.
I run across a lot of pharmacists that look like a deer stuck in headlights when I inform them that I take a lunch break EVERY day. It has sparked many of conversations so I decided to share it in a post! On Friday, July 1st, I celebrated 10 years with the same retail pharmacy company! Here's what I learned in that time as it pertains to taking a lunch break…

First of all, this blog is Rx Fitness Lady and my tag line is "Live Healthy & Active. Be Prosperous." You can not function properly if you are not eating healthy regularly. You need to eat pretty much every time you're at work!
Secondly, in my ten years, I've worked overnight, as a permanent floater (in the 2 busiest locations in our area), and currently as staff so I can confidently state this method will work in any pharmacy no matter how busy!
So how does one do it? It is simple. You set up some rules and regulations for your staff, hold yourself accountable for workflow methods, and once these are set in place, stick to them no matter what.
Let's deal with the unwritten rule that a retail pharmacist does not take a lunch break. ERASE THAT FROM YOUR BRAIN! Good, dealt with that! Easy right? It really is that simple. You will have to learn to value yourself as the professional in order to communicate the following guidelines in your own pharmacy without disrupting your staff. Every working person I know gets a lunch break. You are no different. There is not a supervisor, DM, nor store manager within in your company who will deny you that right. They are all banking on the notion that you will work like a slave for them and ignore your bodily needs right on through your 7-14 hour shift. DO NOT DO IT. I don't care how "slow" they think you are as a new pharmacist or whatever the reason you don't operate as quickly as the next person (these are some of the complaints technicians will make if you're a newbie). You are still entitled to be treated like a decent human being.
Off the rant and on to the meat…
WHAT TO DO IN PREPARATION FOR YOUR LUNCH BREAK
Bring your own lunch. Do not put yourself at the mercy of your staff running to pick you up something, more importantly at the mercy of their lunch schedule. You need to be able to eat when you are hungry. If you don't cook and you are working a morning shift, Chick-fil-A, Subway, and grocery stores have lunch items you can pick up on your way to work.
Always bring snacks. I eat my 5 meals a day which include a mid morning snack. You may also have exceptional days where you are unusually slammed. On those days, your snack can get you to a comfortable time frame to take a later lunch if need be.
Dump the entire prescription queue for that day first thing in the morning. You want to get as much work out of the way in the first couple of hours.
Work the entire morning and keep your staff working as well. This means do not engage in lengthy conversations about what you did over the weekend, last night, plans for the holidays when you need to get your morning work done. You also don't need to be scrolling Facebook or other social media, calling to check on your spouse/kids, paying your credit card bills, etc. These are all things that you can do on your lunch break. As far as what TO DO…HELP OUT (do your doctor calls & RPH duties but help wherever you can to make the morning go calmly.)
Leave detailed notes in the que on any problem scripts that you had to leave messages on in case nurses call back to explain/correct anything while you're at lunch.
Make a public service announcement 15 – 30 minutes before you go on break to your staff. This will eventually turn into them asking you what time are you going on break, but until they are used to it, let your techs know so they can adjust wait times accordingly.
After you make that announcement, spend the 20 minutes before lunch cleaning house. Stop answering phones, stop helping with drive-thru, and stop helping out up front (you do do those things right?) Check all voicemails, do any transfers, if possible make sure everything is typed and verified so that you can leave your staff with work to do. Finally, make sure you check and bag any prescriptions with a promised time during your lunch break.
Have verbiage cues on deck. "I'm sorry you caught me/the pharmacist just as I was going on break. Your normal in store wait time will be extended today. If you like, I can set you up to receive a text message immediately when I get back and get it ready for you. I apologize for your inconvenience today. If that doesn't work, " I need a break just like everyone else" will do it.
***While I'm at lunch I will only come to the computer to remove a CAP, which doesn't happen too often.*** At my chain, a CAP is a program that allows staff to make recommendations or clarify information with a patient before dispensing.
OPERATIONAL GUIDELINES FOR WHILE YOU ARE AT LUNCH
Take your white coat off. It is more symbolic so you look like you're on break (but it also helps not to mess up your coat if you spill your lunch.) In the picture above, my white coat is off. That happened to be my lunch break and the staff surprised me with cakes and goodies for my 10 year anniversary. Seriously, doesn't seem like anybody minds me taking a lunch break 😉 !
Sit close enough to the consultation window so you can hear the concerns of the customer while you are on break & make appropriate recommendations if need be.
Have clear instructions for phone calls. Doctors & nurses can leave a voicemail. Pharmacists calling for transfers & customers with concerns can call back in 45 minutes. I am not sure why but some technicians because of that unwritten rule we talked about will make up stuff like; "the pharmacist stepped out, she is in the restroom, she's with a customer, etc.". Try to get them comfortable saying "the pharmacist is on break right now…." or else the caller will want to hold on.
Do not allow waiters to be scanned in as waiting. All waiting scripts are placed in order at the pharmacist station for first priority when you return from lunch. If it's a refill, the name is written on a blank piece of paper and put it in the pile as well.
WHAT TO DO IF YOU'RE THE ONLY PERSON WORKING IN THE PHARMACY
Call the manager on duty to come and relieve you. Give them the same courtesy 20-30 minutes notice so they can complete any task they are currently working on. Brief them of the guidelines above and you're good to go.
If for any reason, you experience resistance from the manager on duty, make a mental note to speak to the store manager A.S.A.P. (he or she will know better) for next time. In the mean time, hop on your computer and type out 2 quick notes for the drive-thru and the front counter. You know the note. The ones we put up when we have emergency closings. The verbiage is to this tune "The pharmacist is at lunch. If you need assistance, please come inside the store and ask for a manager. I apologize for your inconvenience."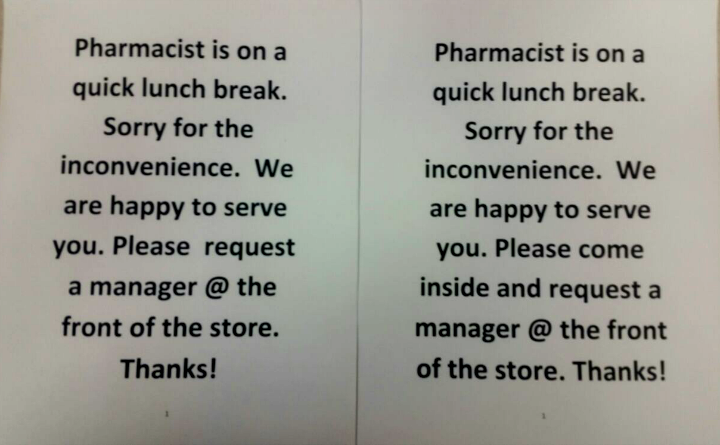 In conclusion, this will require an adjustment. It's easy to do. I've "consulted" colleagues before and watched the transition take place. I remember one technician stood over me begging me to please check just this one script for her. I was like NO, is this your family member or something? Of course the answer was no. I just ignored her additional requests and she got the picture. Techs are just conditioned to think you are at the mercy of the customers. You as the pharmacist have to recondition them to value you as the everyday human being that you are.
Yours in Healthy, Active, & Prosperous Lifestyles,
Rx Fitness Lady wants to know…
Do you take a lunch break 😉 ?

The following two tabs change content below.
Rx Fitness Lady
Greetings, I'm Joi, a Pharmacist with a passion for fitness & a community leader. I teach BODYCOMBAT, BODYPUMP, Tabata Boot Camp, & serve as a mentor to young girls. My goal is to inspire people to live healthy, active, & prosperous lifestyles through practical blog posts deliveries. You can find me on Facebook and Instagram. You can view more post and subscribe to stay tuned to latest updates
at
Rx Fitness Lady.
Latest posts by Rx Fitness Lady (see all)