If you are like me, public speaking can totally give you anxiety!  I would imagine that if you haven't always been invited to do public speaking engagements that now that you are blogging you have more opportunities.  That's if you share your blog with people in your inner circle.  Whenever you do something like, have a blog, you instantly give yourself more credibility.   For one, it's a lot of work and people respect that for whatever subject you choose to blog about.
WAIT, WAIT, WAIT…this is so not just for bloggers!  I've had speaking invitations for as long as I can remember & I'm new to blogging.  I thought of this post while I was preparing for a reunion speech I did at my alma mater.  I blogged all about that fabulous day here.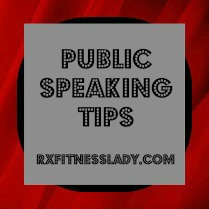 On making speeches, I know of no other activity that can ruin my day and highlight my day at the same dang time! Yes it's My Health Monday and looks like we are sticking with Stress Awareness in different forms all month!  I thought I'd share some tips I find helpful for me in preparing and execution for people who may be just like me.
TIPS FOR PUBLIC SPEAKING 
Don't take too long. 12- 15 minutes is usually long enough to say anything relevant.
Practice your speech in the mirror at least 3 times before actually giving it.
Check your watch/cell phone right before you get up.  Audiences are rude, if you say good evening and it's afternoon, THEY WILL CORRECT YOU with a reply of "Good Afternoon" in the loudest voice imaginable.  The appropriate greetings…
Good Morning – anytime before 11:59 a.m. 

Good Afternoon – 12:00 p.m. – 5:59 p.m.
Good Evening – 6:00 p.m and after
Place both hands flat on the podium the entire time.  This stops your hands from fidgeting and helps you stay in place and not rock back and forth or what not.
Use one hand to guide you through your speech in case you forget something.  If you are following along your notes, it won't be hard to get back on track.
Make eye contact all around the room.
If you don't have a mic, speak up, project your voice and enunciate!
Make it flow.  Have a clear introduction, topic, supportive points (best if 3) and conclusion.  If you have points, it will insure that the listeners have something to take home with them and not just say "oh the speaker was good" but they don't remember jack you said!
Be aware of annoying qualities of yours (i.e. I am always slinging my bangs out of my face…SUPER ANNOYING to listeners..got marked off for that in grand rounds in pharmacy school & still forget to move my hair out of my face before presentations).
Empty your bladder before you get ready to speak.  It would be very awkward to have to go while speaking.
If it is a dining occasion, eat sparingly no matter how good the food is to prevent upset stomach and or gas.  Ladies touch up the makeup after eating.
Jokes – It would be nice to open with an appropriate joke.  Usually it's best to tell a joke on yourself, but if you can swing it talking about someone else, then so be it. If you can make the crowd laugh, they will usually listen to you.  Either way, you only have about 30 seconds after getting up for them to decide wether they will listen to you or tune you out and start playing angry birds on their cells.  You might want to run that joke by someone before getting up in front of people though, JS ;).
Listen to what is happening ahead of your speech on the program.  I ALWAYS am able to pull something from a previous person to make my speech more conversational.  This is a part you can't plan for but if you recognize the opportunity when it presents itself, you have a chance to connect with the audience.  When it does, just jot it off in the margin of your notes (or tablet) as a trigger to mention it.
Now… Go rock that next speech!
Yours in Healthy, Active, & Prosperous Lifestyles,

Rx Fitness Lady Wants to Know…
What additional tips/questions do you have about public speaking?

What drives you nuts when a speaker is before you?

The following two tabs change content below.
Rx Fitness Lady
Greetings, I'm Joi, a Pharmacist with a passion for fitness & a community leader. I teach BODYCOMBAT, BODYPUMP, Tabata Boot Camp, & serve as a mentor to young girls. My goal is to inspire people to live healthy, active, & prosperous lifestyles through practical blog posts deliveries. You can find me on Facebook and Instagram. You can view more post and subscribe to stay tuned to latest updates
at
Rx Fitness Lady.
Latest posts by Rx Fitness Lady (see all)