This is probably one of only a select few  DIY projects you will ever find on this blog.  It's National Poison Prevention week in case you missed my boring informative post from Monday :).   It was more for my Mommy friends and so is today!  Trust me, it benefits everyone though.  In keeping with Poison Prevention week, I thought I'd share one of my favorite gifts to give.
Almost three summers ago while I was awaiting these two to enter the world…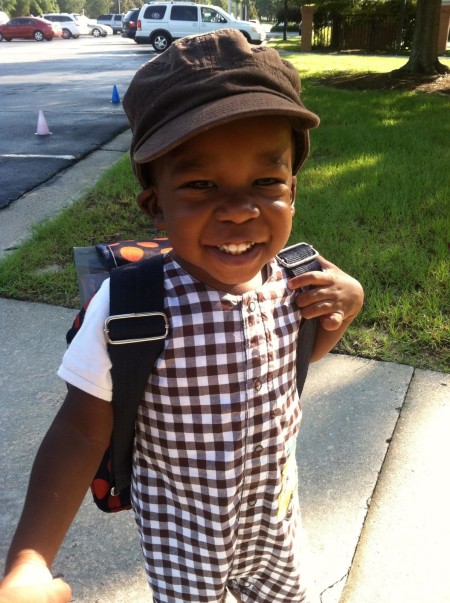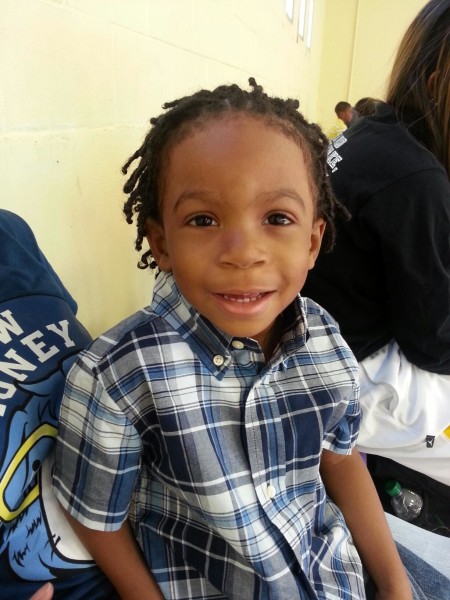 I was frustrated because it's always hard for me to pick out baby shower gifts.
Auntie Joi
La Tia
God Mommy Joi…
is so practical and always likes giving gifts that can actually be used. Later for all that fru fru stuff…leave that to their Grandparents who usually SPOIL THE CRAP OUT OF THEM, get them lots of cute and pretty things.
I was noticing that Mothers were always coming in the pharmacy at odd times of night because a new mommy is not playing about her baby.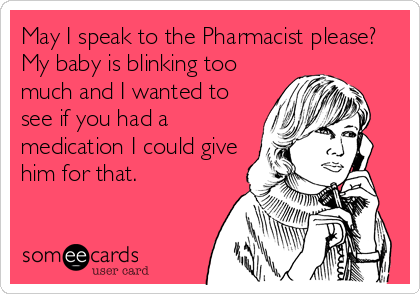 They would be looking for different items.  I thought, how convenient would it be for them to already have the most needed items on hand the first time they ever needed it.  Thus came the idea for this baby pharmacy.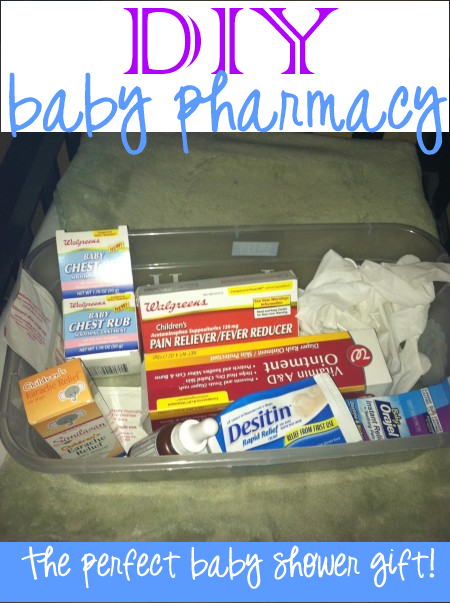 Every new Mother since has gotten the same gift from me (tailored for their baby of course).  I have gotten nothing but appreciative comments and compliments on this VERY practical DIY Baby Pharmacy.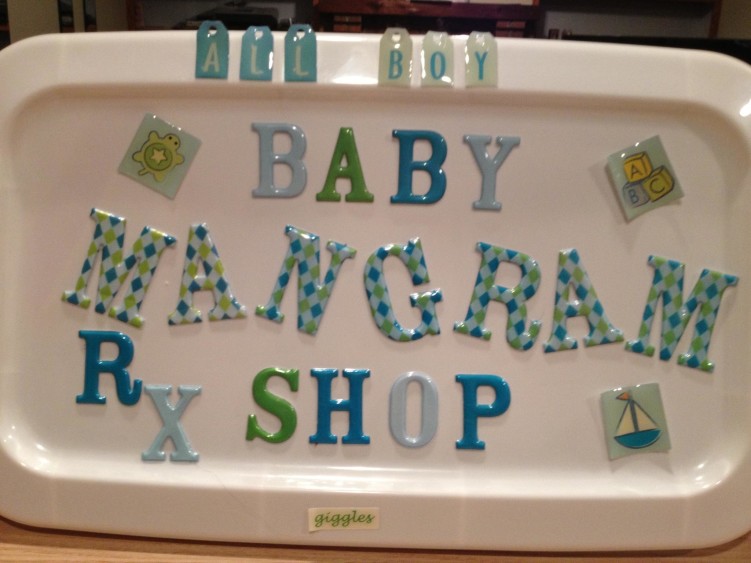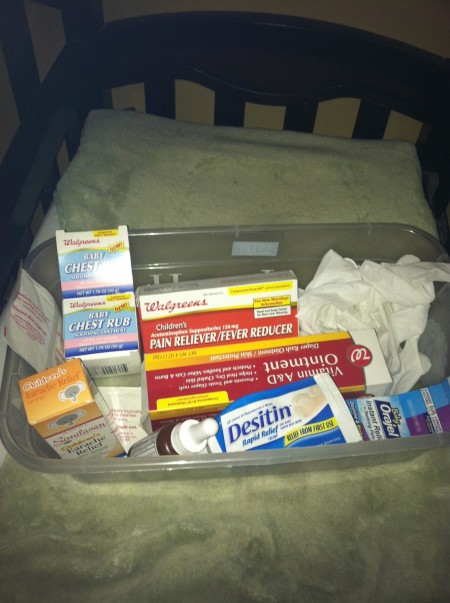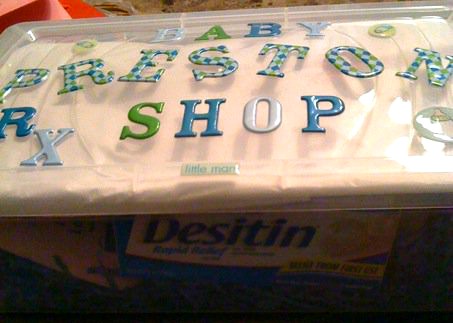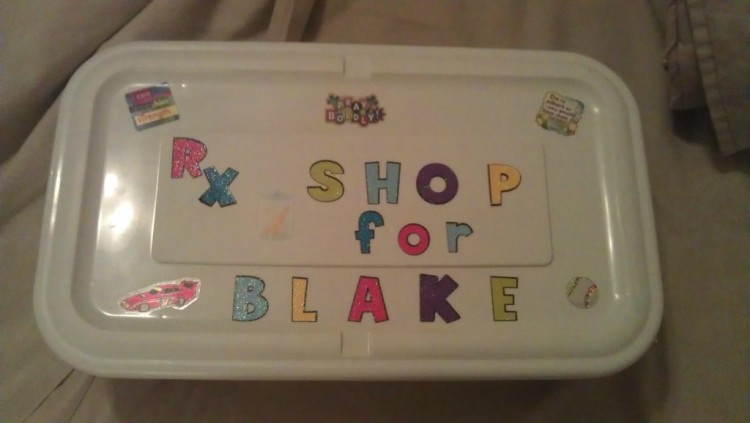 What You Need
Plastic Storage (Shoe box) Container
Stickers*autocollants of letters and any baby themes you want to incorporate (Craft Stores, Superstores, & Dollar Stores) Theme sticker examples – Doctor or Nurse, Sports, Dance, cheer leading etc….anything for kids or if the parents like something in particular, you can throw some of those stickers on the outside of the box.
Shred Basket Filler like what's in Easter Baskets (optional – I get it year round from the $ Store)
Infants' TYLENOL®
Infants' MOTRIN® Concentrated Drops
Infants' MYLICON® Drops – This one seems to be the favorite
Little Noses® Saline Spray/Drops
Vicks® BabyRub
A+D Diaper Rash Ointment & Skin Protectant
Glycerin Infant Suppositories
JOHNSON'S® travel size Baby; Lotion, Oil, Shampoo, and Powder
Decorative Band-Aids
Nasal Aspirator
Different size medicine syringes droppers
Thermometer
I don't have children yet but I choose the ingredients based off my frequently asked questions from the pharmacy.  Wherever you shop, THE STORE BRAND IS JUST AS GOOD AS THE NAME BRAND!  I always give store brand from my pharmacy to ease the apprehension of a new Mommy to do so!  This gift can get as pricy as you desire, so choose ingredients wisely based on your budget.
Directions  – Level of Difficulty – EXTREMELY TOUGH 😉
Put it all together and decorate the outside.
It's a plus if you know the baby's first name.
STORAGE OF MEDICATIONS
Real quick tip on that whole Poison Prevention week thing, store your medications in a cool and dry place.  That does not equal the cabinet beside/above the stove or the bathroom cabinets.
That's why I love the baby pharmacy.  You have a nice cool and dry box to store the medications and you can place it up high where the children can't reach it when they are older (like in the closet).  You can leave it out for décor during the infant stages.
These are so much fun to make and I love giving gifts that people don't really think of and that Mothers genuinely appreciate.
I don't want the gift to ever be used, but unfortunately, that is part of life. To date…there are several kiddos in the Baby Pharmacy Hall of Fame.  Here are a few more who's Mothers chose to share with me for today's post.
All of my little guys are growing up. My Mother loves boys.  Hopefully I can join my girls and have a boy one day…but I secretly want a girl 🙂
*Please consult your pediatrician for dose before using Over-the-Counter medications for your infant/child under the age of 2 years old* Always note my disclaimer in the sidebar.
Rx Fitness Lady Wants to Know…
Where do you currently store your medications?
If you have children, what is the Baby Pharmacy Item that you would/would have used the most?
Do you like my God Mommy monikers? I know La Tia is "the aunt" in Spanish but somehow I can't imagine my God Son calling me God Mommy Joi like the girls. 

The following two tabs change content below.
Rx Fitness Lady
Greetings, I'm Joi, a Pharmacist with a passion for fitness & a community leader. I teach BODYCOMBAT, BODYPUMP, Tabata Boot Camp, & serve as a mentor to young girls. My goal is to inspire people to live healthy, active, & prosperous lifestyles through practical blog posts deliveries. You can find me on Facebook and Instagram. You can view more post and subscribe to stay tuned to latest updates
at
Rx Fitness Lady.
Latest posts by Rx Fitness Lady (see all)