It's DAY 2 of my first blog event: the 7 Day Mini Blog Challenge Party!  Today's topic for bloggers participating is "Write a Letter to Your Readers: How to Use My Blog (Optional Giveaway)".  Bloggers just joining the party, link up for the challenge here.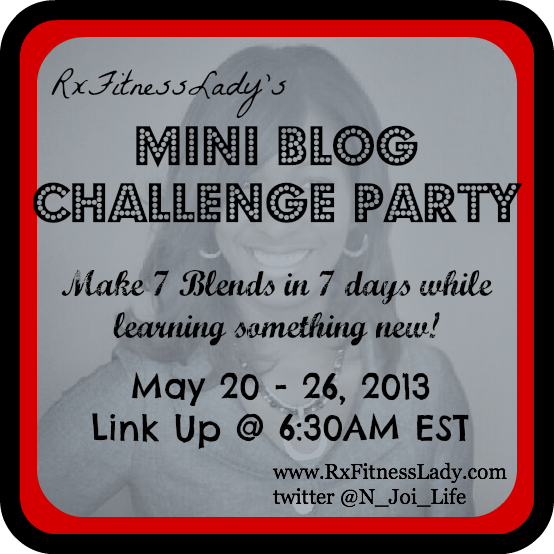 One fabulous perk of reading blogs are all the fun giveaways!  Who doesn't like free stuff? They are easy to enter and a fun way for bloggers to give back to their readers.  I'm excited to officially host my first one today.
CONNECTIONS
Most importantly I would love for you to subscribe via email to make sure you get each post directly in your inbox. This way, you will never miss out on all the fun that's going on over here. You do have to confirm the email subscription, that's it!
Bloggers please add me to your readers or follow here on bloglovin! Readers who follow lots of blogs, if you weren't aware, you can make a bloglovin account as well.
I do have an active Facebook fan page, twitter, and sometimes post cool pictures on Instagram.
Pin away from my Pinterest if you choose.
COME AND TALK TO ME
Now that you are getting all of my post and engaged on social networks, the next biggest thing on a blog is interaction.  This is a place for like-minded people to engage in whatever you like.
It's very easy to do.
I know it seems like a lot, but the good new is: usually, once you do it once, your little smart device will save the information.  That means when you come back, you can just comment.  I love chatting with readers and you can see that by clicking on any post of mine.
SHARING IS CARING
So, you made it over and commented; now you want to share with your network.
If you read something that really speaks to you on this blog; tweet it, share it on Facebook , Google +1 it, or like it on FB.  All of these things help us get more exposure to your friends and family. When we get more exposure, we get more opportunities to improve the blog for you!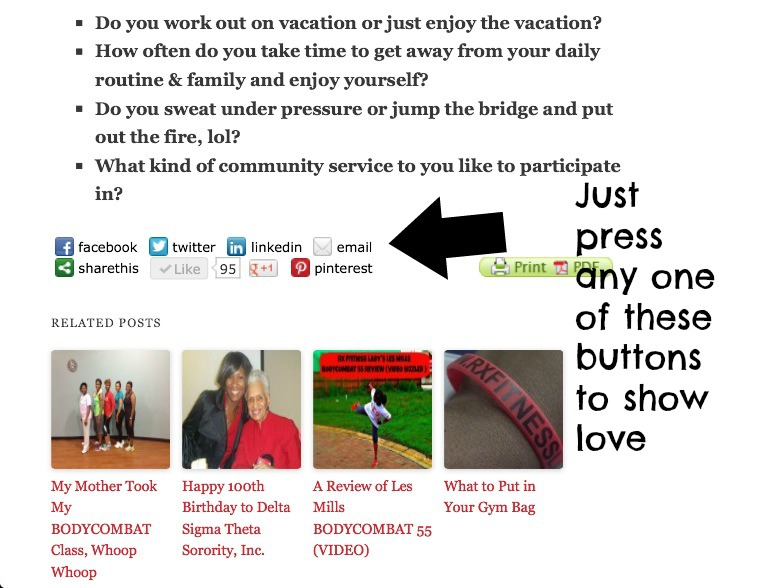 For today's giveaway, you get to practice sharing 😉 !
KEEP READING
If you are a new reader to PFL, chances are you will come across something else you would like to check out. Be on the watch for these 3 things!
In each post, I usually link to an older post!  For instance, one of my favorite posts is A Girl's Weekend & A Crouching Tiger Story! <<<<Click on it 😉 !
Related posts are always featured at the end of the post.
Popular post in the last few days are over in the right sidebar, check out what the rest of the community is reading!
GRAVATARS
Do you want me to see your pretty little face when you comment?  It's very easy to set up a gravatar at this site. CLICK HERE!  It takes all of a couple minutes, then your face will show up all around the Internet whenever you use that email to leave a comment.
SUGGESTIONS AND FEATURES
Do you want your weight loss, fitness, financial story featured?  Email me @ RxFitnessLady(at)gmail(dot)com.  I'd  love to have you!
I also welcome your suggestions for the blog & you can complete this survey from a few weeks ago as well.  I'm still checking in on it through out this month.
PFL LOYALTY REWARDS
Finally, I'm happy to announce my new loyalty program.  It's very simple!  I love that when I'm loyal to local businesses, I usually get something free after so many visits.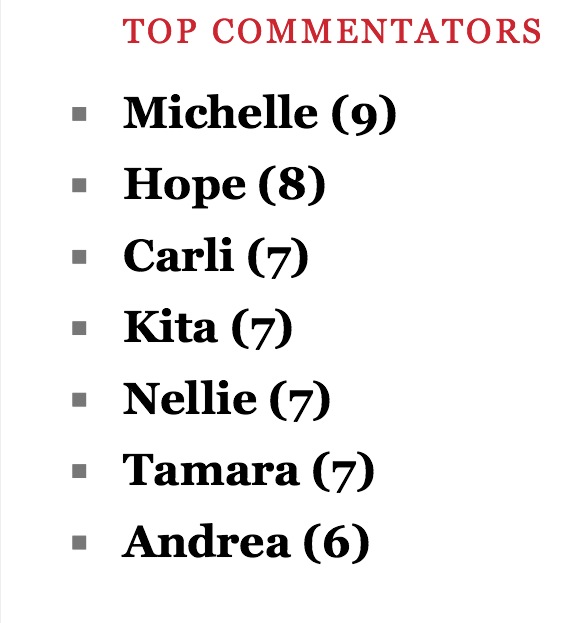 Here at PFL, I've installed the Top Commentators Widget in my right sidebar!  At the end of the month, the top 5 people engaging on PFL will either receive a small token from me or 1 randomly chosen top commenter will receive a little nicer token.   How fun is that.  I'll post winners for the month in my first post for the next month!
I really appreciate all of you and that is what this entire post is about!
GIVEAWAY TIME
Prize – $100 Visa Gift Card
You want to find out how I'm sponsoring my own giveaway for just a couple a dollars???  SUBSCRIBE…there will be another one next month 🙂 ! I'll tell all, I promise 😉
TO ENTER:
MANDATORY: Subscribe to RxFitnessLady via email or bloglovin & leave me a comment telling me where you follow.  (If you e-mail subscribe, use the same email to place your comment)
ADDITIONAL ENTRIES
TWEET this post
Share it on Facebook
Just be sure to leave 2 additional SEPARATE comments telling me you tweeted and/or posted to FB!
You have until Sunday to enter!
GOOD LUCK PFL!!!  Winner will be announced Wednesday, May 29th. 
***BLOGGERS PARTICIPATING IN THIS MINI BLOG CHALLENGE PARTY – Leave your links in the link up  below, choose a pretty picture for your thumbnail, and please remember to HOP AROUND THIS WEEK (at least 1 new connection a day) to show some love to other bloggers & make new friends!***
Don't forget to hashtag #MBC when you leave a comment so the blogger knows you are participating in this Mini Blog Challenge & they will visit you back!

The following two tabs change content below.
Rx Fitness Lady
Greetings, I'm Joi, a Pharmacist with a passion for fitness & a community leader. I teach BODYCOMBAT, BODYPUMP, Tabata Boot Camp, & serve as a mentor to young girls. My goal is to inspire people to live healthy, active, & prosperous lifestyles through practical blog posts deliveries. You can find me on Facebook and Instagram. You can view more post and subscribe to stay tuned to latest updates
at
Rx Fitness Lady.
Latest posts by Rx Fitness Lady (see all)