You all seemed to be very grateful for the prompts in 30 Ideas for Blog Posts When Your Mind Draws a Blank & the Accountability partner in Know Your Personnel: The Right Mix of Blog Friends & Real Friends was pretty popular as well.  This all got me to thinking that maybe I should turn this post into a link up!
Great prompt that can help hold us all accountable!  It's something about writing something down and sharing that increases your success rate drastically!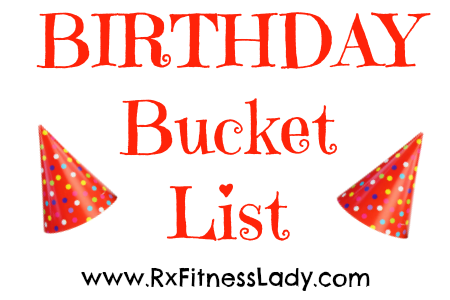 When Hope posted her 40 Before 40 list, it occurred to me that this would be the first time I could share some of my annual goals by way of Rx Fitness Lady.  After expressing my fear of completely opening up, she replied to my comment encouraging me to just share what I wanted to share…very simple.  Thanks Hope!
Anywho, every year for my birthday, I assess my goals.  It is the best feeling to check off goals, see progress, & enhance your social life.  I had a chance to make a new list after my birthday last month and I would like to share the process and "Joi" that comes with accomplishing goals and task with the PFL community!
If you have a bucket list of any sort already posted, please link it up.  If you want to join in (doesn't matter when your birthday is), draft a post and link it up!
33 Before 33 – Rx Fitness Lady 
In no particular order…
Add a Macon feature and page to my blog
Complete NaBloPoMo (National Blog Posting Month) in November & blog everyday
Obtain a new fitness certification to diversify my fitness portfolio
Get a blog intern
Choreograph a fitness class
Teach a fitness class at a conference or convention
Interview a celebrity on the blog
Close a brand ambassadorship relationship
Complete a guidebook
Have a Cousin's reunion on my Daddy's side
Have a Cousin's reunion on my Mother's side
Have a Holiday Paparazzi party
Host a community fitness event (I have the deets in my head)
Be featured in a magazine (this can be local 🙂 )
Set a date for my Paris, London, and Amsterdam trip
Host a bi-weekly family home-cooked dinner
Publish an e-book
Finish my online photography lessons
Attend a book club convention with my book club members
Create an e-course
Go to Six Flags &/or a Water Park
Complete an AIM 1 Les Mills workshop for BODYCOMBAT
Establish a routine girls night out/in
Add a Monday class to my group fitness instructor schedule
Start a seasonal Midnight basketball league
Host or attend a blog meet up
Vacation at an all-inclusive resort
Host my long overdue summer camp for teens
Complete my blog tweak list
Blog vacation link up (seriously think we all need a free week – I'm thinking last week in October before NaBloPoMo
Attend a fitness blog conference
Take a cross fit class
Host a Tabata boot camp at church
ROLL CALL 
I am tagging 3 people other than Hope & Nellie (link up ladies) since I know they already have list up;
If you already have a list, feel free to tag 3 people on twitter to link up with us.
I will leave the link open for a while. Let's help each other be accountable in this blog space that we hold so near and dear to our hearts!
XOXO!
Rx Fitness Lady wants to know…
Do you make New Year's Resolutions or Birthday list and write them down?

How do you celebrate accomplishing your goals?
Who is your accountability partner?
Do you take a COMPLETE vacation from you blog?

The following two tabs change content below.
Rx Fitness Lady
Greetings, I'm Joi, a Pharmacist with a passion for fitness & a community leader. I teach BODYCOMBAT, BODYPUMP, Tabata Boot Camp, & serve as a mentor to young girls. My goal is to inspire people to live healthy, active, & prosperous lifestyles through practical blog posts deliveries. You can find me on Facebook and Instagram. You can view more post and subscribe to stay tuned to latest updates
at
Rx Fitness Lady.
Latest posts by Rx Fitness Lady (see all)