Yesterday, I attended a local event in support of National Healthy Lunch Day. The goal from the American Diabetes Association was to move people toward making healthier choices for lunch.
I was happy to be amongst some of my city's fitness professionals while supporting the national efforts of ADA and the local efforts of the Georgia Wellness and Fitness Festival.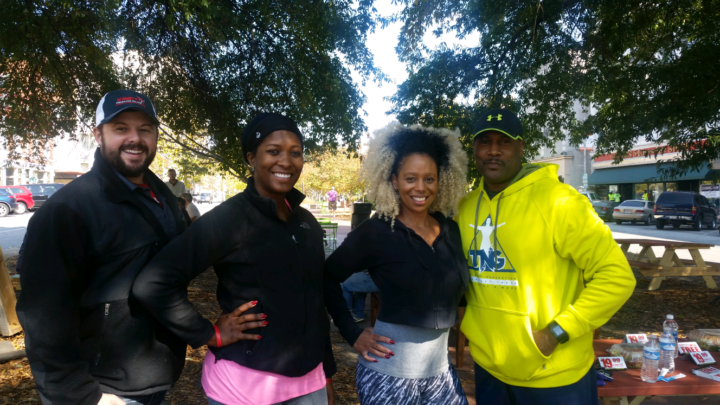 I am sharing a couple of the American Diabetes Association's infographics today and dropping my 2 cents in as well!
Taking your healthy lunch to work saves you money and this infographic beautifully supports this statement.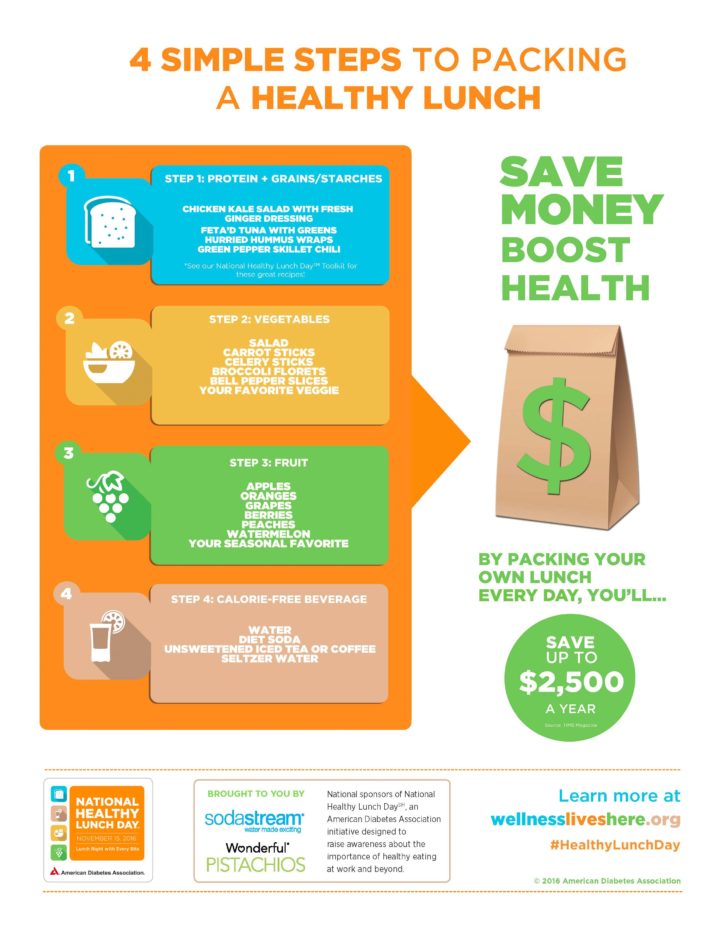 Eating a healthy lunch makes you more productive for the rest of your work day. How many times have you over eaten or eaten an unhealthy lunch and went back to work feeling DONE DONE! That is not a good feeling and doesn't leave much room for productivity.
Keep the camaraderie by sharing the burden! At my last store, the two technicians that worked Monday nights with me were a serious tag team. They took turns bringing each other dinner Monday – Friday. It would be much easier to eat healthier lunches if you grabbed an accountability partner and you two shared the burden of preparation.
Order from/Visit healthier restaurants.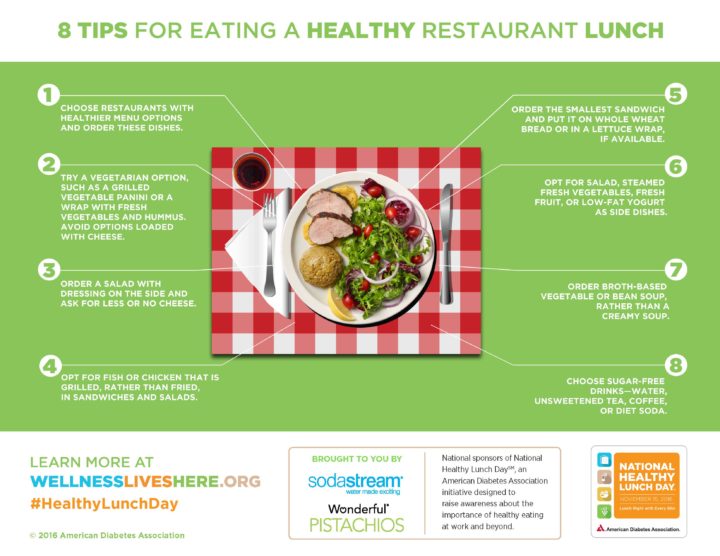 You all know, I haven't mastered cooking on a regular basis, so with that last infographic, I'm going to add my go to places to help you with your healthy lunch options when you want to pick something up quick. A couple of these are only for my fellow Mac-town homies but hopefully the rest of the PFL audience can find success in the other listings for healthier lunch options.
9 Places for A Busy Girl to Create a Healthier Lunch World QUICKLY
Chick-fil-A is number one on my list because they serve lunch options early in the morning when I'm on my way to work. My favorite selections are a market fresh salad and grilled chicken wrap!
Subway is number two on my list for the same reason as Chick-fil-A. I rarely ever go there anymore but it is my back up for when I work day shift. I like the Turkey sandwich on wheat and grilled chicken salad.
McAllister's Deli is my favorite on my off day after I teach my class. They have the best grilled chicken salad and many other healthy options to choose from as well.
Salads 2 Go is my hair salon lunch spot. It is right up the street from my salon and you know I am in for the long haul on beauty shop days. I have to take a meal with me and Salads 2 Go never disappoints.
Panera Bread is similar to McAllister's Deli with variety. I really love the red apple as the side there.
Walmart has very inexpensive salad selections. I am a fan of the Southwest chicken salad.
Publix has slightly more expensive options but they are healthy and a little bit more of a variety than Walmart.
Zaxby's has the best Zax Salad ever! Maybe because it has a few unhealthy ingredients, but you can ask them to hold the fried onions.
S&S Cafeteria is by far my favorite place to eat in Macon. My family goes EVERY Sunday after church. I take it a step further and have Meatless Monday "Lunch" and get my veggie plate on Sundays for my Monday lunch.
I enjoyed this delicious greek salad (Publix) yesterday for healthy lunch day while fellowshipping with the Biggest Loser crowd and guests for National Healthy Lunch Day.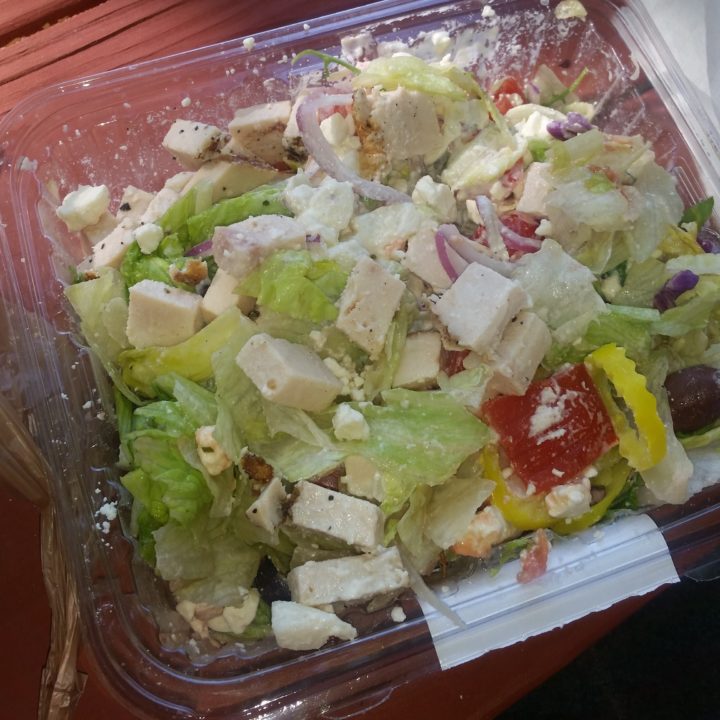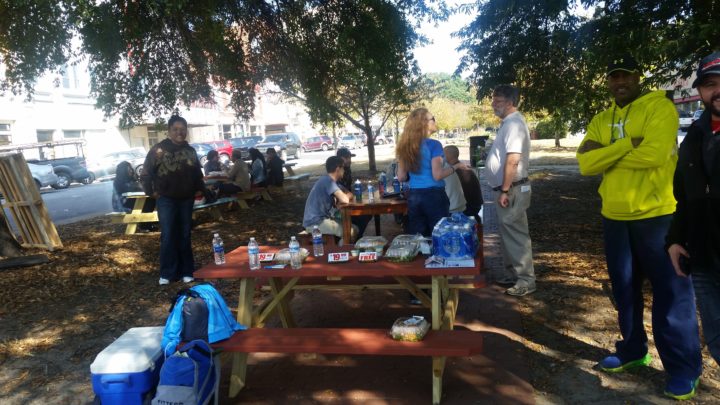 I hope you will make healthier choices for your lunch going forward wether it's packing or eating out.
Yes, I know that this title said for a busy girl but it rhymed with world, so ladies, just take notice when you cook prepare lunch for the Misters 😉 !
Yours in Healthy, Active, & Prosperous Lifestyles,
Rx Fitness Lady wants to know…
What is your healthy lunch go to restaurant?
What is your healthy lunch go to meal prep?

The following two tabs change content below.
Rx Fitness Lady
Greetings, I'm Joi, a Pharmacist with a passion for fitness & a community leader. I teach BODYCOMBAT, BODYPUMP, Tabata Boot Camp, & serve as a mentor to young girls. My goal is to inspire people to live healthy, active, & prosperous lifestyles through practical blog posts deliveries. You can find me on Facebook and Instagram. You can view more post and subscribe to stay tuned to latest updates
at
Rx Fitness Lady.
Latest posts by Rx Fitness Lady (see all)