It's a new year and for some of you, a brand new day! Through out life, major milestones require us to switch up our routines. Some of those routines can have us floating on cloud nine rocking this journey of life to the fullest.  Yet and still, when change happens, we are forced to adapt that routine.   Working out is not always going to be your TOP priority, however, we can aim to keep it pretty high so that when change occurs, we find new ways to continuously move our bodies!
My favorite form of working out is group fitness classes! I think you new that considering I write a whole blog about it!  However, last year I took a position in my company that requires me to commute to work and decreases the amount of time and energy I have through out the week to devote to going to the gym.  I was forced to start doing some workouts at home.
I am here to encourage that you too can modify your normal routine and do some activities at home.  This isn't the easiest task, but when you consider the alternative which is NOT working out at all, this becomes slightly attractive.  You may feel like you are cheating on your trainer, group fitness instructor, running group etc., but in the fitness relationship ONLY, you actually get permission to have a side bae!  I'm hoping to help you treat them right 😉 !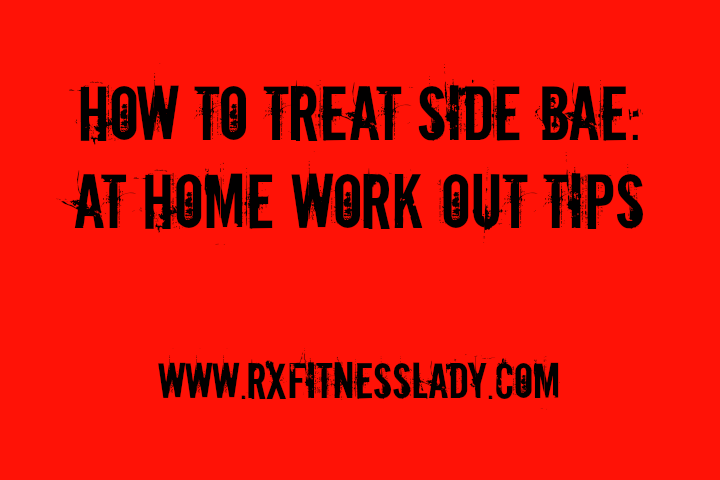 First of all, you have to have something to do at home.  Create a Library!
Just like any hobby, working out requires an investment.  You will likely have to invest in some equipment, subscribe to a workout channel, or purchases some workouts.
If you are willing to put in sweat equity, you can probably build a pretty diverse library for free on youtube.
If you have old DVDs, organize them by types of workout.  If you like doing HIIT workouts, you can create your own lesson plan book and get you a grease board for WOD!
Workout In the Early Morning
Early mornings truly are the only uninterrupted time frames most of us can stick to.  Undoubtedly, there will be things that pop up in the evenings that you will have to go to.  There aren't many interruptions going on at 5:00 a.m..  A good goal would be three days a week.  Don't over do it.  If you choose this option, you must go to bed a a decent hour.
Aim for shorter workouts.
When you go to the gym, you may take two classes or do a session with your trainer plus do some cardio on the machines.  At home, there will be several distractions.  It has been my experience that a shorter workout makes you the winner in not quitting.
Sleep in your workout clothes.
I really can't take the credit for this.  I actually started doing this after I read a blog post from a friend of mine last year.  Early mornings are tough and when you are tempted to hit snooze, just think about the wasted workout clothes you slept in and won't use.
Go on social media. 
Obviously you can't do this every day. However, if you are really struggling, you can go in a focus oriented group and post your video for motivation or encouragement.  If you really need a boost you can go live on any number of platforms.
Get all you need to do done the night before.
If you have to iron, do it the night before.  If you are taking your lunch or packing the children's lunch, do it the night before.  Pretty much anything, that can be prepared the night before, DO IT.  Go ahead and get your towels that you are going to shower with out and in the bathroom ready to roll.  Put your ice water in a Yeti (similar cooler), it will still be cold.  I go as far to lay out my underwear, socks, and shoes.  It is a real struggle for me to do early morning workouts. Know what's for breakfast.   Don't look at social media.  Make it a simplistic morning. 
Pull up workouts and have them ready to go!
This could have gone under the last heading.  I separated it out because the workout is the most important part of preparation.  If it's a DVD, have it ready to roll. Youtube, press play and get after it.
If you are a runner, you have it made, assuming you live somewhere that there's a safe jogging route.  Hopefully some of the tips above will motivate you to find more time to workout at home (in the neighborhood).
The other great thing about working out at home is you can wear old clothes that don't fit, you don't have to match, you don't have to worry about your hair….you get the picture!   It's completely chill!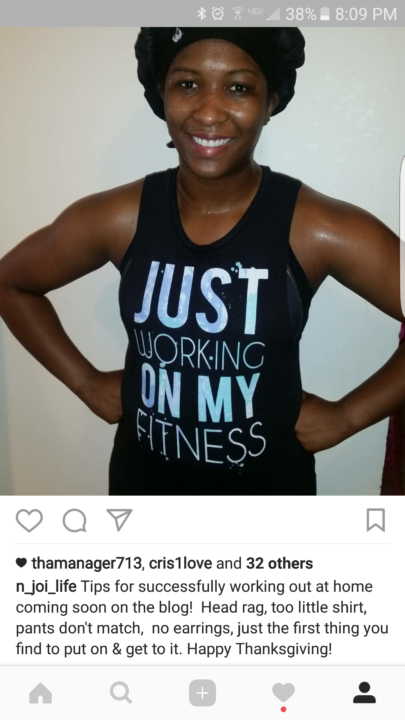 I have been adopting these practices since May of 2016.  It has been a MAJOR adjustment for me, but it is very doable.  My first love will forever and always  be group fitness classes at the gym but side bae will have to suffice two days out of the week.  I have treated side bae very well over the last eight months. I hope you give her/him the respect it deserves.
Did you see how I tried to have a love post this week?  Hope you all had a great Valentine's Day.
Yours in Healthy, Active, & Prosperous Lifestyles,
Rx Fitness Lady wants to know…
How to you encourage yourself to workout at home?
What is your favorite form of working out?

The following two tabs change content below.
Rx Fitness Lady
Greetings, I'm Joi, a Pharmacist with a passion for fitness & a community leader. I teach BODYCOMBAT, BODYPUMP, Tabata Boot Camp, & serve as a mentor to young girls. My goal is to inspire people to live healthy, active, & prosperous lifestyles through practical blog posts deliveries. You can find me on Facebook and Instagram. You can view more post and subscribe to stay tuned to latest updates
at
Rx Fitness Lady.
Latest posts by Rx Fitness Lady (see all)