My club just launched Les Mills BODYCOMBAT 68 last week and new releases will come out in two weeks. Thanks to my girl Michelle attending an Advanced Instructor Module (AIM) 1 on BODYCOMBAT 68, we have the review before I had to teach it over 2-3 weeks. Michelle and I are like Les Mills twins! We both teach BODYPUMP and BODYCOMBAT and are professional healthcare workers. I love when I get the chance to attend either of her classes. I know you will enjoy getting to know her while she answers the big question on your mind "Should I attend a Les Mills AIM training" and offers tips on BODYCOMBAT 68. Welcome Michelle!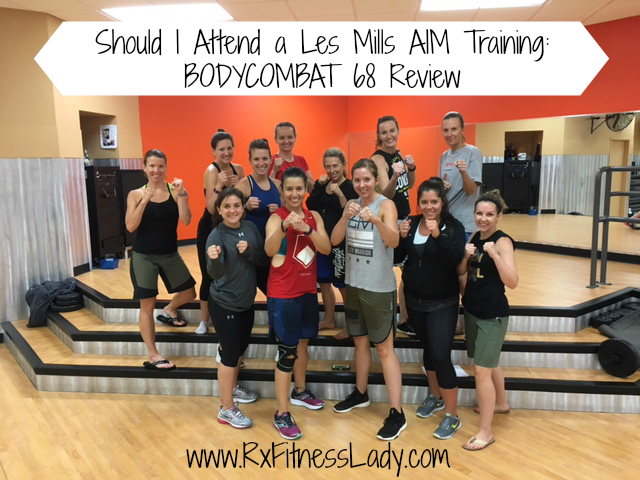 Please tell us a little about yourself (work, personal, fitness) and why you decided to become a Les Mills BODYCOMBAT instructor.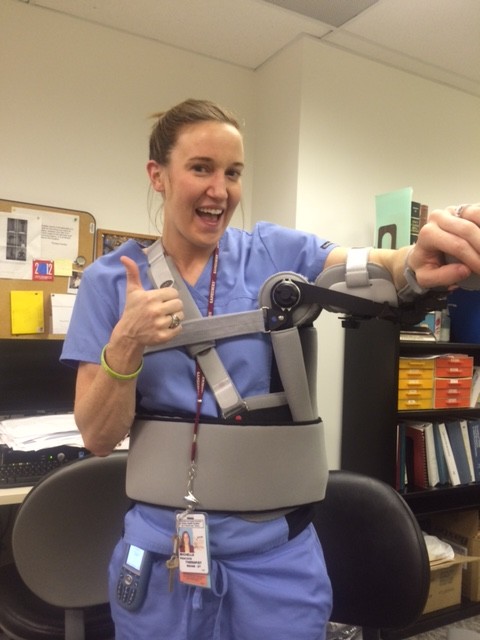 My name is Michelle Harbin. I am an occupational therapist at the Medical Center Navicent Health by day and a group fitness instructor by night. My husband and I live in Forsyth, GA. We just celebrated our 2 year anniversary! We have 2 very adorable and demanding German Shepherds who keep us busy! I went to undergraduate school at the University of South Carolina on a cheerleading scholarship where I cheered for four years and was captain my last year. When in graduate school at the Medical College of Georgia, in Augusta, GA, I was looking for something to fill the void of cheerleading. It was my whole life since I was 10 years old. I walked into the gym and took my first Body Combat class and was immediately hooked and knew group fitness would become my new passion! I went to my Body Combat initial training only one month after my first class!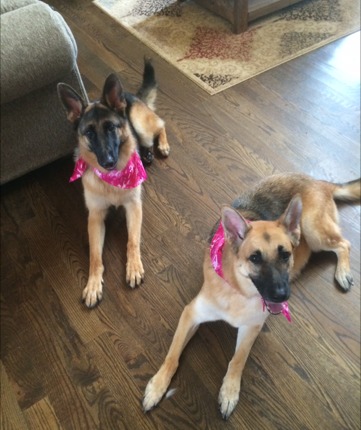 How did you decide it was the right time to attend and AIM 1 training?
This coming October I will be certified in Body Combat for 5 years! Time flies! In the last year or so I was constantly trying to think of ideas how to make my classes better. I took extra time to work on my form or attempt to come up with new cues. The last few months I felt like I had plateaued and needed help or advice to get over the hump. That is when I immediately signed up for AIM 1!
Without giving away all the goodies, can you walk us through a day of AIM 1 training for BODYCOMBAT?
The first thing you do right off the bat is present! I was so nervous and to make things worse you only present 2 minutes of your assigned track. This is just for the trainer to see where you stand with your style of teaching, form, and cueing. You spend the rest of the day diving into the roots of mixed martial arts. Your trainer will go through each discipline to go over form and how to feel more authentic. Spoiler alert, you might get to do a few cartwheels and hit something other than the air! At the end of the day with your new knowledge of the program, layer 2 cues, and authentic feel, you get to present a second time and receive feedback. This time, you get to present the whole track.
What was your biggest takeaway from AIM 1?
I loved getting to learn more about the different disciplines. I was really only confident about boxing. All the other mixed martial arts- TKD, karate, capoeira, and muy tai- I felt out of my comfort zone when teaching. The more I learned about each style throughout the day, the more confident I became in my form, cues, and abilities to provide an authentic class.
Do you recommend instructors go to an AIM training and why?
I really do recommend AIM 1! I received a lot of good feedback during my presentations. I now feel more organized when I teach and have nearly doubled my layer 2 cues, have learned to incorporate and embrace silence in my class, and finally learned to use my words with a purpose eliminate the fluff. The main reason I would recommend AIM 1 is to feel more authentic. I can hear myself using this word a lot in the interview but it is the main focus of AIM 1. Become authentic to help your members feel the essence of Body Combat. It is so true and important.
What is your favorite and least favorite track on BODYCOMBAT 68 and why?
If you would have asked me before AIM 1 training my response would be track 2 is my favorite and track 4 and 6 were the least favorite because of the KATAs. However, after AIM 1 my view is different! Track 2 is still my favorite but tied is also track 6. After learning about capoeira and TKD and how to incorporate in this track, it takes it to the next level. Track 4 is still my least favorite track but for a completely different reason! I originally did not like it because of the blocks. I hated blocks. After further education on the purpose of blocks, perfecting form with blocks, and further coaching on how to help members like blocks, this track has really improved! It is now my least favorite because the floor work is so hard I want to throw up!
Was the BODYCOMBAT 68 choreography easier or harder to learn in comparison to other releases? Please share any tips on potential flubs.
I found the choreo was easier to learn! There seem to be fewer combinations that you perform for longer. Track 3 for example, 1 combo throughout the entire track. This is why I like this release SO much! It is going to be easier for members to follow and we, as instructors, will be able to help them perform with more intensity and increase their work out. My advice is to perform the kick KATA in track 6 on both legs multiple times before teaching, if you just practice in your head and not on your feet it comes out very awkward at first! Track 5 is so fast! On the pulse in between the triple hook combo, you may have to shorten your pulse to be able to move on time. Finally, in track 8 we are mainly using front stance as opposed to right or left combat stance so make sure members are performing correctly.
How did members respond to the release the first time you taught it (were they able to follow the moves well)?
Everyone wanted to die after track 2 and track 5! I have heard some gabber in the gym and it appears BC 68 is a success! I did notice a bit of a struggle on track 6 initially. After going to AIM 1 I really spent time scripting this track to focus on solid layer 1 cues to set the class up to move successfully and confidently. Also after track 9 last time I taught someone yelled from the back of the room, "This is the hardest core track EVER!" Overall, I think the members give this release a thumbs up!
What are the fitness magic opportunity moments in you opinion for this release?
I think there is excellent potential for fitness magic in the upper body warm up! Which is fantastic. The lyrics are so great and you can easily play off them to have an early chance to engage with the class. Same thing goes for track 2 and 6, great lyrics with good opportunity to play off the words and both these tracks have fun opportunities to bust out a dance move prior to the track beginning and during the break before hitting the other side. Finally in track 8 after the 4 hook combo and you jack back to front stance and do the double jabs before returning to singles, the music gets quiet. This is my favorite moment in the release, you can just whisper double jabs, then the music explodes and you can yell singles. Just an amazing opportunity to use volume of your voice to connect with the class.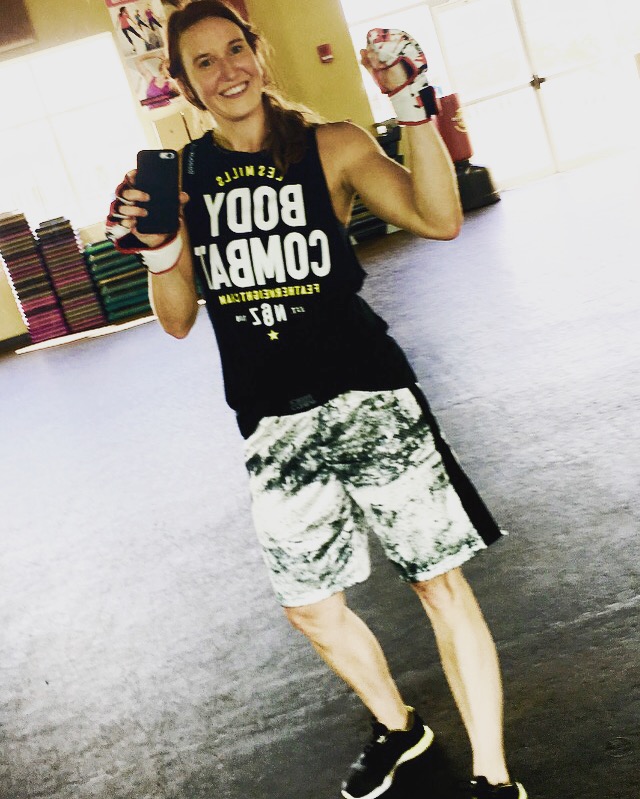 What additional advice to you have for anyone thinking of attending an AIM training or instructors preparing to launch BODYCOMBAT 68?
I was way to nervous going into AIM 1. I would tell everyone to RELAX! AIM 1 is not a pass or fail. You go, present, get feedback, done. There is nothing but GOOD to come from going to AIM, you can literally only leave feeling more educated and confident. As far as preparing, know your choreography and be you. Be real. The more true to yourself you are when you present the more you will benefit off of your feedback to become better. I already can't wait for AIM 2! 🙂
There it is PFL! You heard it straight from an AIM 1 Certified BODYCOMBAT Instructor. I loved her tips. I will not add anything extra because I asked the questions I wanted the answers to 😉 ! I hope those of you out there in Les Mills land enjoyed our visitor today. She is simply amazing!
Yours in Healthy, Active, & Prosperous Lifestyles,
Rx Fitness Lady wants to know…
Do you invest in development courses even when you are already performing well?

What did you think of BODYCOMBAT 68?

The following two tabs change content below.
Rx Fitness Lady
Greetings, I'm Joi, a Pharmacist with a passion for fitness & a community leader. I teach BODYCOMBAT, BODYPUMP, Tabata Boot Camp, & serve as a mentor to young girls. My goal is to inspire people to live healthy, active, & prosperous lifestyles through practical blog posts deliveries. You can find me on Facebook and Instagram. You can view more post and subscribe to stay tuned to latest updates
at
Rx Fitness Lady.
Latest posts by Rx Fitness Lady (see all)