I love group fitness!  That is not a secret.  It can work wonders in the weight loss department with all the friendly faces in the room and the motivating instructors to cheer you along.  One of my goals here at PFL is to inspire readers to stay active and get fit.  Group fitness is one of many ways to do so.  It just happens to be the way that I choose to stay in shape and it has become one of my passions as an adult.  When blogging about fitness, I would like to connect with some like-minded people be it instructors or people who take classes and hopefully tempt some newbies to try a group fitness class.  One of the new things here at PFL will be review of classes.  So after teaching this new release 6 times, here we go with my first PFL review of Les Mills BODYCOMBAT 54.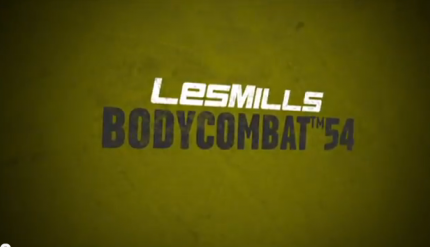 Just in case you are unaware of what this class is, here is a typical intro you'd get from me if you came to visit. 
GOOD MORNING EVERYONE!  My name is Joi & I'm your Les Mills instructor for the morning.  This is BODYCOMBAT the 55-minute mixed martial arts inspired cardio class where you burn over 700 calories & you will leave feeling totally empowered.  We have upper and lower body strikes that help you shape and tone the body & we practice reactive core training throughout so keep your belly engaged on all movements and it's the equivalent of doing like over 1,000 crunches! 
1a Upper Body Warm-up – What Doesn't Kill You (Stronger) by Dirty Scandal
This was a great feel good song to get our upper body moving and ready to throw some punches.  It had a couple of quick changes with some quirky upper cuts but the energetic theme of the song comes through most excellently to get you started for 55 minutes of fighting.  What doesn't kill you does indeed make you stronger!
1b Lower Body Warm-up – Blow by Diva Chain
We don't stop and go right into the lower body warm-up with this powerful song by Diva Chain.  It was a great warm up song, nothing complicated or tricky with the lower body strikes.  I tried to really drive home the fact that kicks are personal and you can kick as low or high as your heart desires.  Heart rate was lifted and we were off to our 1st fight!
2 Combat 1 – Turbulence by Laidback Luke & Steve Aoki feat. Lil Jon 
Ok, this was a LONG track 2!  The song is one of the most KRUNK songs ever on a Body Combat release.  It was a very challenging track with SOOO many roundhouse kicks while performing a balancing act!  The members really seemed to enjoy the long combination that started this track off.  Your coordination will be tested here for sure!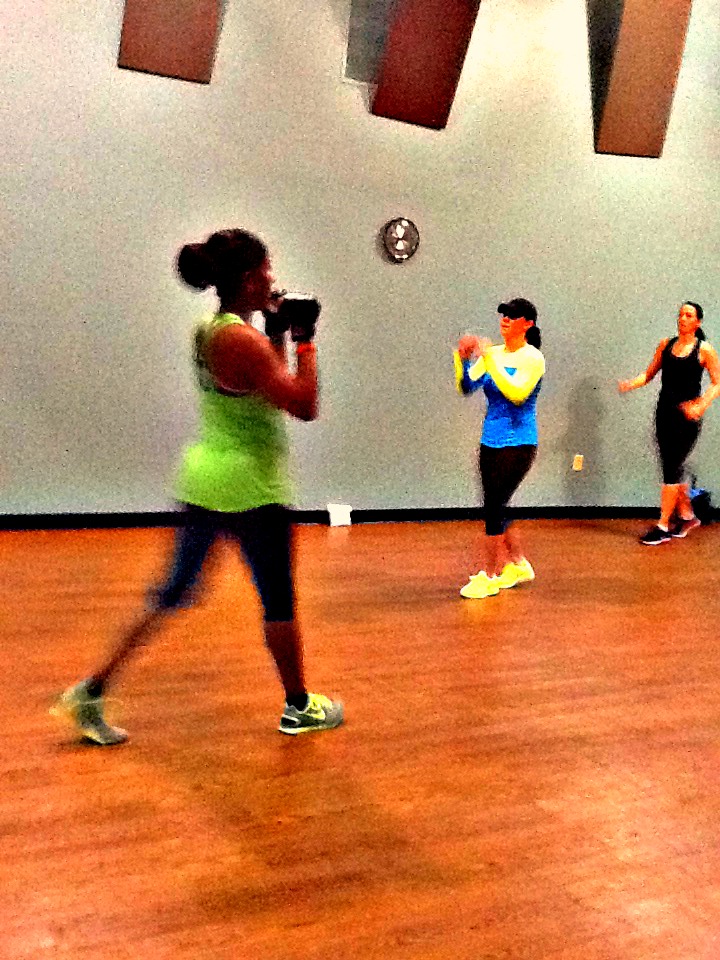 3 Power Training 1 – Gona Love Me by Hixxy & R. S.R.
This was a very authentic boxing training track that I absolutely loved!  The last round of double punches on both sides was the perfect ending.  This is a close tie for my favorite track on the release.  The song is most appropriate and euphoric!
4 Combat 2 – Paradise City by Rising Edge 
This was the most challenging with the cross, block, and front kick combo.  The rock song I actually like, but I could have done without the choreography this time.  Sad to say, this one won't be on the repeater list too often.
5 Power Training 2 – Invincible by Sharnee
Fierce, high-energy song…LOVED IT!  The combos are so empowering and we finish both rounds with something like 30 plus hook repeaters!!!
6 Combat 3 – DOA by Telstarr
Song was fabulous!  Talk about power and really getting into the essence of the program.  New to me in this track was the BLITZ!  I just love saying it.  It's a Karate punch that drives the fist foreword hard for MASSIVE impact!    We had fun with this one.
7 Muay Thai – The Switch by DJ Recoil
This would be close tie for 1st place.  The song is off the chain! We immediately flipped the switch and jump right into this fast, hardcore, relentless track.  The repeater knees, elbows, and street brawl downward punches were killer!  My favorite though was pushing those opponents off then kicking them…violent much, lol!
8 Power Training 3 – Dark Skies by Hixxy Dougal & Grammer
This song was great for the last cardio track.  We incorporated the use of the word POOOWWWW to finish off the main combo that ended with the popular speedball.  The POW really set the class off & motivated them to endure to the end.
9 Conditioning  – Internet Friends by Captain Karate Intention
Weird little song here talking about "you blocked me on Facebook and now you're going to die", ROTFL what was that about?  The ab moves are killer!  Four levels beginning in what I've never heard of …the Brazilian Jiu Jitsu Hover position (like a push – up with bent knees).
10 Cool down – Payphone by Audiogroove
What can I really say about a cool down? It is what it is.  This song though…buddy was whining about he was at a payphone trying to call home all of his change he spent on the chick.
Have you seen a pay phone anywhere lately?
Overall, not the best release in the world, but a tough and challenging workout that you will appreciate.  So to my class participants, if you've joined me for a few releases, please go on the Les Mills site and take the survey to rate this release and tell them your opinion on this one.
You want to know how to start group fitness and get the most out of it, stay tuned for next week's Act Fit Friday!

Rx Fitness Lady wants to know…
Have you taken/taught this release yet & what did you think?  If not, does it sound like fun?
If you're not into group exercise, what is your favorite way to burn calories?

The following two tabs change content below.
Rx Fitness Lady
Greetings, I'm Joi, a Pharmacist with a passion for fitness & a community leader. I teach BODYCOMBAT, BODYPUMP, Tabata Boot Camp, & serve as a mentor to young girls. My goal is to inspire people to live healthy, active, & prosperous lifestyles through practical blog posts deliveries. You can find me on Facebook and Instagram. You can view more post and subscribe to stay tuned to latest updates
at
Rx Fitness Lady.
Latest posts by Rx Fitness Lady (see all)