It's DAY 3 of my first blog event: the 7 Day Mini Blog Challenge Party!  Today's topic for bloggers participating is "My Passion Is (Fill in the Blank)" or "A Virtual Vision Board".
If you're just tuning into this PAR-TAY, ENTER MY $100 GIVEAWAY HERE!
Many of you probably gathered that I'd talk about group fitness or maybe breakdown my vision board from the girl's weekend!  I beat that horse on a regular around these parks! Today for the party, I'm sharing something very near and dear to me.
My childhood best friend's mother instilled in me these recycling habits and they stuck!   Nothing irritates more than to see things being wasted. That's exactly what we do when we don't recycle…create waste!  I recycle all kinds of stuff and I advise you do the same if you have access to recycling pick up in your neighborhood.  All though, my best friend's mom use to transport that stuff downtown herself!  Anywho, Today I'm talking recycling in the pharmacy.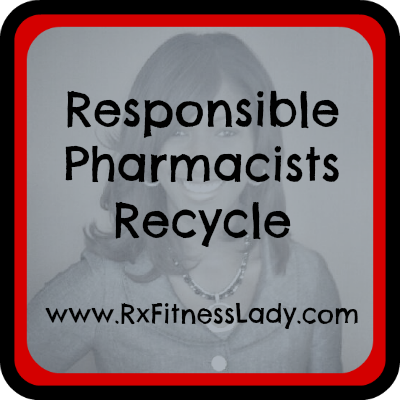 It's a very easy process.  I tried for a couple of years to figure out why major pharmaceutical companies weren't recycling seeing as how they use up SOOOO much plastic from week to week.  It boils down to a financial issue, so I've heard.  It cost too much to pay a pick up company to come get the recyclables.
I HAVE THE SOLUTION!  You can just call me the RECYCLE WOMAN!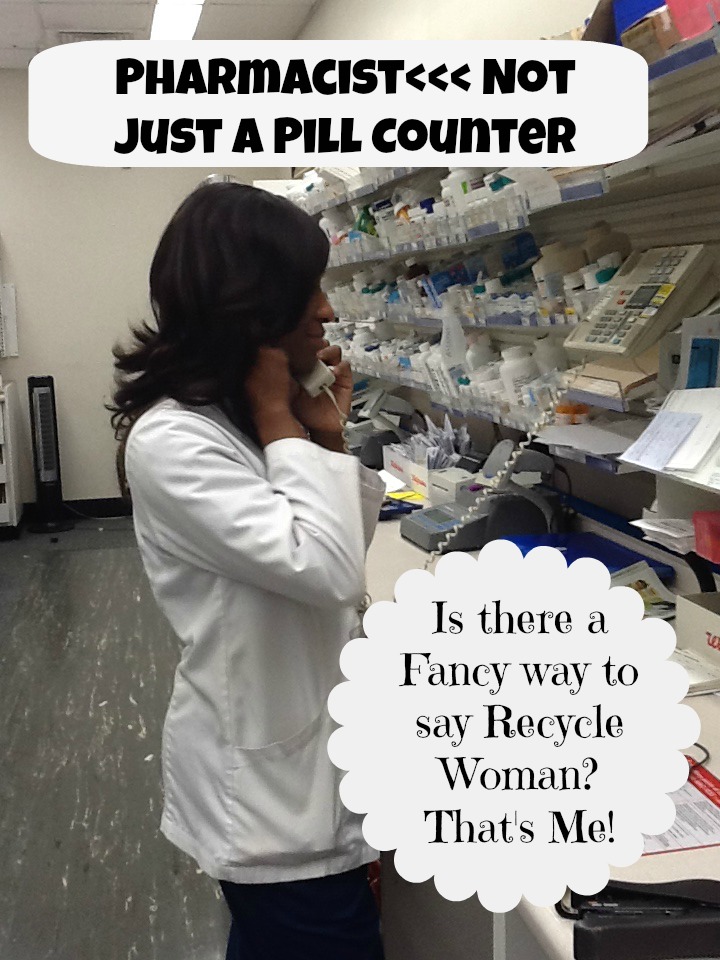 THE PROCESS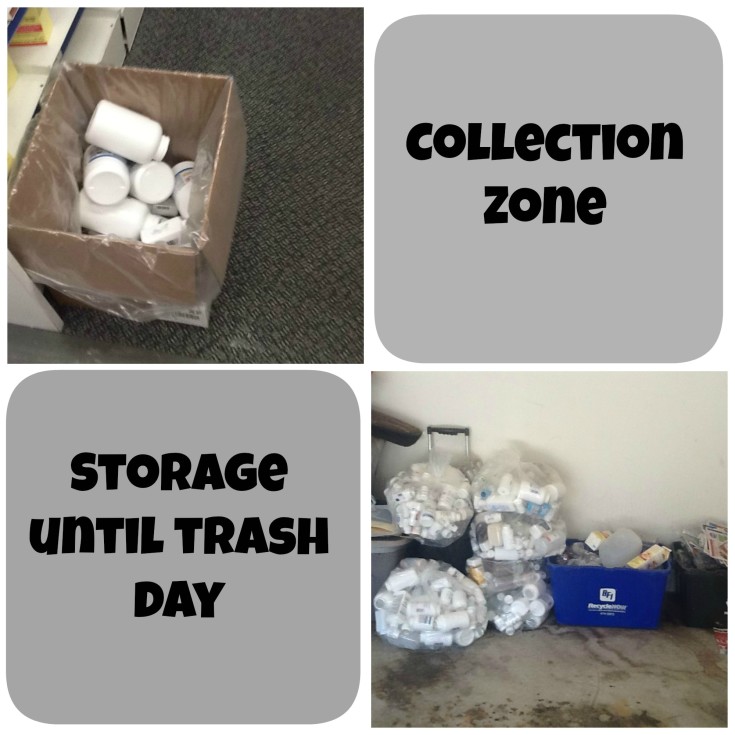 Check the stock bottles for a recycle number 1 or 2 on the bottom (mostly all have them except the brown bottles)

If they fall into the appropriate recycle category, trash the top, trash the cotton & descant on the inside of the bottle, then toss it in the collection receptacle
If you put drink bottles and cough syrup bottles in the receptacle, leave the top on (I have to go through those bottles to make sure no pills are left in them & I don't need residual syrup and drink all over my hands please & thank you)!
HOW EASY WAS THAT?
So many people don't do it.  Clearly you see my collection from just 7 days of working and that is only probably about 35% of it because everyone doesn't participate and I can't force them.  I definitely can't collect on my off week, but just think if we all worked together. How much more responsible stewards would we be of the resources on earth?
I know this post was very specific with reference to audience, however I hope you got something out of one of my deepest passions.  I'm sure you can apply the principles of recycling somewhere in your life. Thanks for reading it!
Yours in Healthy, Active, & Prosperous Lifestyles,
Rx Fitness Lady wants to know…
What are your limitations to recycling?
What are you passionate about?
***BLOGGERS PARTICIPATING IN THIS MINI BLOG CHALLENGE PARTY – Leave your links in the link up  below, choose a pretty picture for your thumbnail, and please remember to HOP AROUND THIS WEEK (at least 1 new connection a day) to show some love to other bloggers & make new friends!***
Don't forget to hashtag #MBC when you leave a comment so the blogger knows you are participating in this Mini Blog Challenge & they will visit you back!

The following two tabs change content below.
Rx Fitness Lady
Greetings, I'm Joi, a Pharmacist with a passion for fitness & a community leader. I teach BODYCOMBAT, BODYPUMP, Tabata Boot Camp, & serve as a mentor to young girls. My goal is to inspire people to live healthy, active, & prosperous lifestyles through practical blog posts deliveries. You can find me on Facebook and Instagram. You can view more post and subscribe to stay tuned to latest updates
at
Rx Fitness Lady.
Latest posts by Rx Fitness Lady (see all)