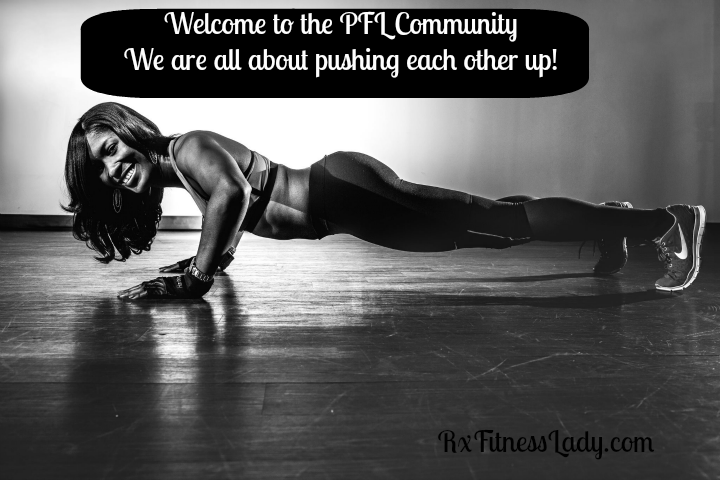 Become an active member of the PFL community and guest post for FREE 🙂 !
1. The first step of course is to subscribe to Rx Fitness Lady via your favorite reader.
2. Engage in the community by leaving valued comments.  You should be able to contribute to the conversation by answering questions, making your own observations from the post, or jumping in to engage/encourage a previous commenter.
If you want to know what not to do here, read 24 Reasons You Don't Have Comments on Your Blog!
3. Get Social!!! You can follow me on Facebook (my primary social medium currently), twitter, Pinterest, & Instagram and stay engaged!
4. Share the Info!  Bookmarking for yourself is lovely, but sharing is caring! This is an unselfish blogging community. If you find something helpful….
Primarily, I'd appreciate your likes on Facebook!
Secondly,  anybody that shares post on twitter at Rx Fitness Lady, I usually shout them out on Thankful Thursdays and Follow Fridays.
Thirdly, I don't come up with questionably pretty pinnable images for them to sit on my blog!  Pin it 😉
5. I am the quarterly host of the 7 Day Mini Blog Challenge Party! Prompts subject to change.  Surely, if you attend my party and party hard, I have to grant you the opportunity to be a guest in my home 😉 !
There you go!  It's easy peasy to subscribe, share a post or like something on Facebook, visit the blog, and comment regularly!
I look forward to getting to know you better 🙂 !
Contact me if you have any questions @ RxFitnessLady@gmail.com.
The following two tabs change content below.
Rx Fitness Lady
Greetings, I'm Joi, a Pharmacist with a passion for fitness & a community leader. I teach BODYCOMBAT, BODYPUMP, Tabata Boot Camp, & serve as a mentor to young girls. My goal is to inspire people to live healthy, active, & prosperous lifestyles through practical blog posts deliveries. You can find me on Facebook and Instagram. You can view more post and subscribe to stay tuned to latest updates
at
Rx Fitness Lady.
Latest posts by Rx Fitness Lady (see all)