Every since I was a little girl, people thought I was mean and stuck up! I always get the "SMILE", "It's not that bad", "Why are you looking so mean", etc.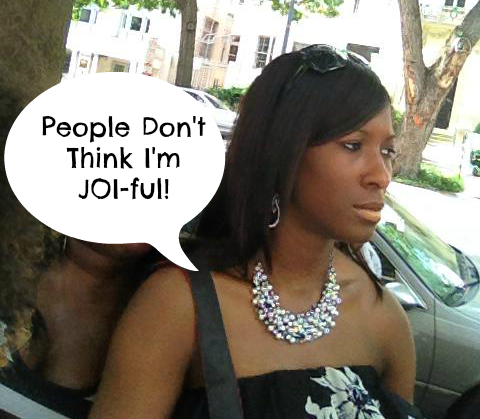 This post is for  Kim's September Sapphire Even Day Blog Challenge! We are almost finished.  Great prompts from a FABULOUS host!
Thursday, September 26, 2013: Remediation.  List 3-5 myths that people have/had about you and then list the facts that prove the myths to be false.
#1 MTYH ABOUT JOI – SHE IS MEAN! 
I mean seriously, I get it! I told you I have a mean streak!  I didn't really understand why people were always making comments about me looking mean though until I saw this clip from A Girl's Weekend!
MAN,  I was looking mean! Sad too, because that was one of the best weekends ever! I was very happy there!
The fact is, if you would just give me a chance and speak or talk to me you'd find out that I am not so mean after all.  Seriously, "SHE DOESN'T SPEAK TO ME"! What is that about??? Open your mouth and speak to ME, geesh!!!  I don't bite 🙂 !
People just gave me stuck up probably because I'm one of those  "you don't mess with me, then I don't mess with you" type of people!
I can't help my disposition.  I promise though, I'm not thinking about whoever thinks I'm mean mugging them.  I just am who I am!
Every since watching that video, I have tried to take my own advice and SMILE a little more often 🙂 !
Rx Fitness Lady wants to know….
What is your natural disposition?
Did you think I looked mean in the video? If you know me IRL, do you think I look mean in person? If you've met me before, please disprove this mean Joi theory 😉 ! 
What was your best workout this week?

The following two tabs change content below.
Rx Fitness Lady
Greetings, I'm Joi, a Pharmacist with a passion for fitness & a community leader. I teach BODYCOMBAT, BODYPUMP, Tabata Boot Camp, & serve as a mentor to young girls. My goal is to inspire people to live healthy, active, & prosperous lifestyles through practical blog posts deliveries. You can find me on Facebook and Instagram. You can view more post and subscribe to stay tuned to latest updates
at
Rx Fitness Lady.
Latest posts by Rx Fitness Lady (see all)