Yes I'm Quid pro quo, let's get over that and talk about why quality over quantity might be more beneficial to your interaction!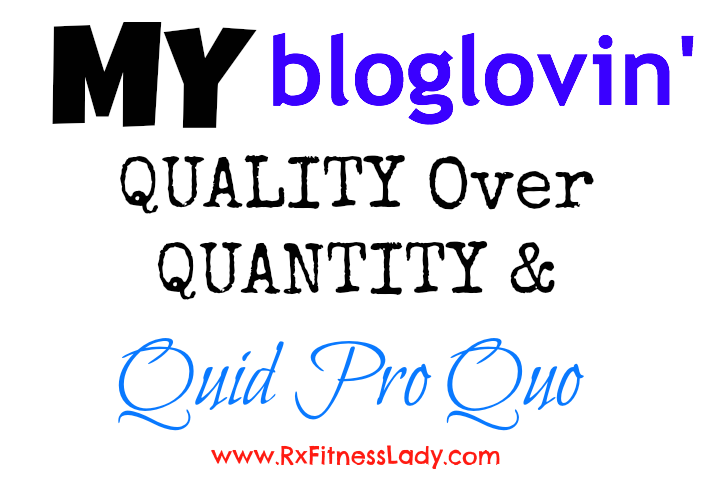 Are you spazzing out about the number of followers you have on bloglovin? Why does it matter?
I have tried to make quality relationships with bloggers as opposed to making a million follow me – I follow you, and we both just scroll past each other's post everyday!
One of my blog friends wrote that she follows over 1,000 blogs, seriously! That's Kray to me (she will know who I'm talking about with that line), I probably don't have to worry about her seeing that 🙂
Quid Pro Quo
I had a couple of people leave comments in 24 Reasons Why You Don't Have Comments on Your Blog, & say something about only commenting to get a comment back was this and that….
WHATEVA!!! I"ve thought I loved a blog so much before, but I fall out of love real quick when they don't ever respond to my comment or visit my blog. I mean seriously, On to the next one!
The truth of the matter is, none of our blogs are soooo freaking amazing. The ones that get 100K visits a day, may look EXACTLY like yours. I will follow yours if you follow mine, because duh….I feel more connected to you than the celebrity blogger!
I know you've read several bloglovin post lately. Michell & Nellie wrote great ones more than a few weeks ago on some benefits. This post was inspired by Kim, after reading her post about blog time management…
You may remember my post, Nobody Told Me Blogging Took so Much Time. Well, nothing has changed! Fostering blog relationships is a huge part of that time commitment in blogging. In response to my dialogue with Kim, I decided to draft a post on the subject.
My bloglovin and Time Management
Several people break down their readers/bloglovin based off of Catergories: Fashion, fitness, mommy, business, etc.
I breakdown my bloglovin based off of Time Management & Quid Pro Quo, because before I started blogging I was already super busy! I honestly don't have time to read a million blogs just because.
DAILY – These are people who read and comment on 95% of my post! I clear out this folder first and foremost, ALWAYS!
Beyond this point, I set an alarm and when it goes off, I stop reading!
WEEKLY – These people usually stop by once a week, you get it….I make sure I read a few blogs in the weekly folder each day.
SPARE TIME – HA HA HA, is this a joke? I don't really have much of this, but if I do, I'll see what these people are up to. These are people that have been to my blog before and tend to come back, but it's so sporadic…like maybe monthly.
INFORMATIVE – These are blogs that help me with things; blogging, business, money management (not that your blogs aren't helpful, but these are usually insanely popular ones that I read for information, not to get to know the blogger).
NOSEY (yes the folder is named nosey) – I snoop around these blogs and follow on Facebook and maybe twitter as well and see what they are posting about to stay competitive.
BLOG HOPS – I made this folder back when I was linking up more regularly. I barely click on this folder anymore.
SN – Hosting a regular linkup in my opinion doesn't solidify a follower, bc clearly, you see, I just follow to see when the link parties are.
Scrolling through bloglovin' is time consuming. I choose to go through folders and if I miss something, that daily email with all of your blog feeds will help you see if there is something of particular importance you may want to read.
I follow about 115 blogs broken down in the folders mentioned above. Less than 15 of them are in the daily folder!
I cannot stress enough, once that daily folder is cleared out, I DO NOT STRESS about reading anymore. Time is money, and as much as I LOOOOVVVEEE blogging, Currently, I make my money elsewhere!
My method seems to be working. I think most people consciously, or not, do something similar. Those weekly and monthly visitors make for a good discussion board in the comments. I appreciate them all!
Food for thought on those feeling overwhelmed keeping up in your blog community and or like you don't have enough followers!
Rx Fitness Lady wants to know…
How many blogs do you follow?
Are you happy with your discussion forum on your blog?
How is your bloglovin'/reader set up?
Do you find my quid pro quo method childish or responsible in time management?
DON'T FORGET TO FOLLOW ME ON BLOGLOVIN' BELOW 🙂 !

The following two tabs change content below.
Rx Fitness Lady
Greetings, I'm Joi, a Pharmacist with a passion for fitness & a community leader. I teach BODYCOMBAT, BODYPUMP, Tabata Boot Camp, & serve as a mentor to young girls. My goal is to inspire people to live healthy, active, & prosperous lifestyles through practical blog posts deliveries. You can find me on Facebook and Instagram. You can view more post and subscribe to stay tuned to latest updates
at
Rx Fitness Lady.
Latest posts by Rx Fitness Lady (see all)