I was asked the question on Christmas by a close family friend, "Why do I love Macon?".  I spent a pretty minute going in on this friend that was trying to push my buttons.  I was recently informed of a deadline for getting 2,000 more pledges over at ILoveMacon.org  and was happy to write my reasons for the love of the city in support of those efforts.  I was pretty clear in my very first post about my love for my city!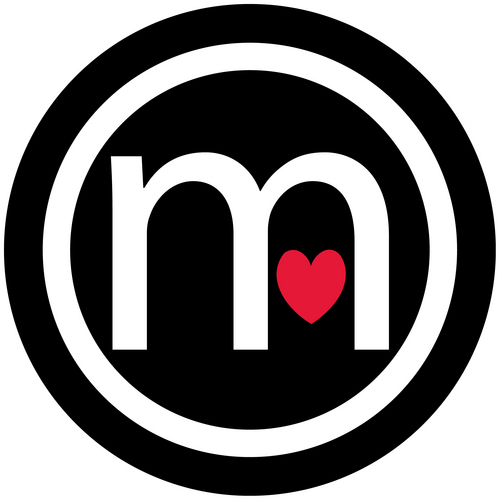 Family
My number one reason for loving Macon so much is because my immediate family is here.  I know everyone has love and affection for their family members.  I however, desire to fellowship in that love on a day-to-day basis as much as possible.  That is just me!  I was uniquely created by God to be extremely family oriented.  I like to be close by in the event that any one of my family members needs me.  Some might be thinking…. OMG, leave and cleave *shrugs*, to each his own.  I am enjoying my home cooked meals from Mother when I feel like it, worshiping at the same church on Sunday, participating in civic work together in the community, and just enjoying their company.  With that said, I probably would have loved whatever city my family was in, but they are in Macon, so Macon it is:)!  Family breeds a positive quality of life, which results in better mental health!
Economical
The cost of living here is very affordable compared to some major cities and "more desired" places to live.   That is all I have to say about that.
Our Future
Macon is not the safest city to live in nor can we boast about high academic achievements across the county.   I feel that the way to improve that and the mindset of the young people of Macon is to show them a better way of doing things.  I respect everyone's decision to practice their profession wherever their heart desires.  I have a heap of respect and gratitude for individuals that are raised here and get an education and return to Macon or open a business here.  Most of those people have a positive presence in the community and attend inner city career days and participate in mentor programs.  Having an active presence in your local church and participating in community-organized events all help to plant seeds in the minds of our youth that there are possibilities beyond their surroundings.  This is one of the reasons, that I will never leave my inner city church, why I will accept every career day that will fit into my schedule, and mentor as many young girls that are willing to accept the relationship.
 Around the Town Out & About 
When I'm off from work there are some things that are classic to little ole Macon, GA that I can say I truly look forward to.  I just love the lemon pepper wings at Francar's Buffalo Wings located in the Mercer Village.  I mean, I eat at A LOT of wing spots and there are none like these.   Another secret would be the tater sauce that kicks at Fish Port located on Montpelier Ave.  This little spot is what you call a whole in the wall but we all know about these types of places.  Fish Port is one of my guilty pleasures.  Finally in the eating category, out on Lake Tobesofkee is Fish N' Pig.  You have your choice of pork or seafood on the lake!  It's the best.
There are so many other things culturally the City of Macon has to offer.  Some of my favs are the GA Sports Hall of Fame, The Tubman African American Museum, and The Museum of Arts and Science.
I'd rather talk about this though;).  I am a shopaholic!  Usually, I shop online but Ginger Michelle always delivers for me.  It's my go-to for last minute shopping and for a little retail therapy!  I actually have grown quite fond of Mrs. Stephens over at Stephens Fashion.  I don't shop there, but I usually spend about 2 hours in there at a time waiting on my Mother to try on just about everything in the store.  I have so much respect for that family in the Macon Middle GA community.  There are 10 siblings in that family and each and every one of them operate a business. They are an awesome example of a family prospering in Macon, GA.
Word on the Street
I love Macon first because it is where I was born and raised. I love the strong sense of community, my job, the rich culture and history, great weather, and how everything is conveniently nearby: shopping, restaurants, hospitals, colleges. All in all, this is a great place to live!!! Tanya G. Allen, Principal Burdell-Hunt Magnet School
"A few weeks ago, I was on the Riverwalk, and I looked up and realized how beautiful our city is. That's why I love Macon." Shana Johnson Burton, author and educator.
"When I moved back to Detroit for a while, I missed the trees in Macon. The trees are why I love Macon." Latesha Vinson, Virginia College student
"Being an outsider, I love and appreciate Macon's musical history." Steven Robinson, Virginia College student
My name is Todd Davis also known as Dj T.Luv, and I am a deejay who was born and raised in the city of Macon. I love Macon for its deep roots of music and history. My grandfather, Mr. Walter E. Davis Sr, has a street named after him in the Fort Hill neighborhood, right off of Fort Hill Street, called the "Walter E. Davis Sr. Boulevard. So with that aspect, I feel honored and truly blessed to be apart of history. So with that I can truly say I love my city of Macon, Ga.
I love Macon because I was born and raised here and never can imagine living anywhere else! Well, maybe the beach…haha! Great people and community, great places to eat and shop, great gym….Kinetix! Had to get that plug in! Shawna Holloway Floyd
LARRY GUYTON / GUYTON ENTERTAINMENT "LOVE is LOVE"………… I LOVE MACON BECAUSE MACON LOVES ME! I see the GROWTH and POTENTIAL GROWTH of the city and hopefully I can help and grow with it!
I love Macon because it has such a variety of all that I need; a job that I love, a neighborhood that I love, great shopping places for most of what I need, and wonderful people.  Macon is just large enough that daily travel within the city is not too troublesome to make it anywhere I need to go without the stress of traffic jams.
Simply put; Macon is just HOME and I've never found Macon to be a place that I've had a desire to leave.  I have traveled to numerous other cities but have not been to one yet that I would trade Macon for. Cynthia Patterson
Signing the Pledge
Please read the pledge below.  We are challenged as signers to get 5 other people to join us in signing.  I would encourage you to join me and show your pride for the Cherry Blossom Capital of the World and go on over and sign.
If you are visiting me today from outside the great city of Macon, GA, please do come visit us one day!  We'd just love to know we were Macon a difference in YOUR life:)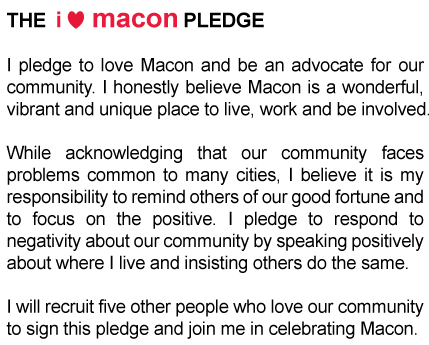 Source
Rx Fitness Lady wants to know…
           How do you feel about your hometown?
           Would you rather be in town with your parents or distanced?

The following two tabs change content below.
Rx Fitness Lady
Greetings, I'm Joi, a Pharmacist with a passion for fitness & a community leader. I teach BODYCOMBAT, BODYPUMP, Tabata Boot Camp, & serve as a mentor to young girls. My goal is to inspire people to live healthy, active, & prosperous lifestyles through practical blog posts deliveries. You can find me on Facebook and Instagram. You can view more post and subscribe to stay tuned to latest updates
at
Rx Fitness Lady.
Latest posts by Rx Fitness Lady (see all)