It is true that white men have the highest risk of attempting suicide.  Women and teens have had reported attempts as well.
No one is excluded from the possibility!
A young white man that I used to baby sit when I was a teenager, committed suicide at the age of 21 right when I came out of pharmacy school.
I had a cultural eye opener a few summers ago when 2 suicides of young black men occurred within 1 week & I experienced the community fall out surrounding those 2 incidents.
Just this summer, I had an older white female patient commit suicide.
That is a diverse pool of people!
For My Health Monday, I am bringing awareness on Rx Fitness Lady for the observance of "World Suicide Prevention Day" tomorrow, September 10th.  You can click the link to get a wealth of information or here for the prevention lifeline.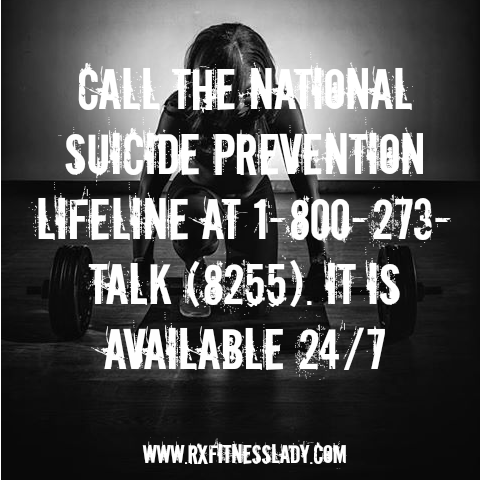 My friend Carla over at Real Into advised us last week that if we want something pinned, that we better SAY SO and MAKE IT EASY TO DO!  Every now and then I have a post, like this and "Oh No, I Think I've Been Poisoned" when I want you to make sure you hold on to the information.
PLEASE PIN THIS POST! You never know who might need this information, right at this moment.
As a pharmacists, I just wanted to briefly touch on the suicide risk associated with the use of Antidepressant medicines.
Several people use SSRIs commonly known as: Prozac, Paxil, Celexa, Zoloft, and others.
Depression is nothing to be ashamed of.  I dispense a truck load of antidepressants so if you think you are battling depression, please don't be fearful of seeking treatment. I like my job and am happy to service you.  That is what the medication was made for.
PLEASE DON'T SIT ON THE SIDELINE BECAUSE YOUR CULTURE TELLS YOU TO JUST PRAY ABOUT IT!!! Yes I'm talking to my own people!!!
Back to business…
A FEW TIPS FROM THE MEDICATION GUIDE 
These medications may increase suicidal thoughts or actions in some children, teenagers, and young adults when the medicine is first started.
Some people may have particularly higher risk if their is a family history or current diagnosis of bipolar disorder or suicidal thoughts or actions
Watch for & prevent suicidal thoughts and actions by paying close attention to any changes, ESPECIALLY SUDDEN changes in; mood, behaviors, thoughts, or feelings – VERY IMPORTANT WHEN MEDICATION IS FIRST STARTED!
Keep all follow visits with healthcare providers
NEVER stop an antidepressant without first talking to a healthcare provider!
On a lighter note…
This portion of the post is for Kim's September Sapphire Even Day Blog Challenge!
Yesterday's prompt – Guffaw: Discuss 2 blogs you read that always force a belly laugh out of you & Why?
Kita at Say what U wanna hands down has been making me laugh since the day I started blogging! She has funny conversations on Fridays! The thing about Kita's blog, is she keeps it 100 in EVERY SINGLE POST! I mean seriously, in her blog banner are the words;  Really doh, side-eye, and SHAT…Enough said! Check her out!
She doesn't do pictures, so just trust me and visit her please!
My sincerest sympathy goes out to any reader who has had to deal with the affects of a suicide.
As usual, for a My Health Monday post, please take heed to my disclaimer.
Rx Fitness Lady wants to know…
If you read other blogs, what is a blog that makes you laugh?

What do you think the top reason or reasons are for people attempting, pondering, or committing suicide?

The following two tabs change content below.
Rx Fitness Lady
Greetings, I'm Joi, a Pharmacist with a passion for fitness & a community leader. I teach BODYCOMBAT, BODYPUMP, Tabata Boot Camp, & serve as a mentor to young girls. My goal is to inspire people to live healthy, active, & prosperous lifestyles through practical blog posts deliveries. You can find me on Facebook and Instagram. You can view more post and subscribe to stay tuned to latest updates
at
Rx Fitness Lady.
Latest posts by Rx Fitness Lady (see all)