My blog post are FREE of course. Subscribe below and you'll never miss what's new on Rx Fitness Lady!
Rx Fitness Lady Free Discount Prescription Drug Card
I'm sure most of you probably have some form of prescription coverage for your medications.  However, there are some medications that insurance companies just won't cover, like diet pills! Huh, imagine that. If you are lucky enough to get everything covered all the time, Congratulations! Otherwise, download this card, or just give the information to your Pharmacist right off  your smart phone the next time they inform you that your insurance company is not paying for your medication.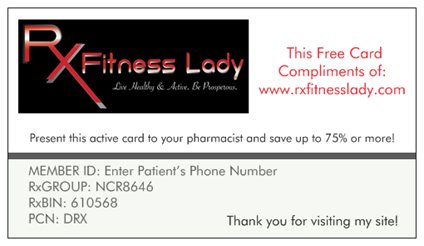 Here is a list of the type of places that will accept this Free Discount Card;
| | | | |
| --- | --- | --- | --- |
| ADS | FOOD LION, LLC | KMART | SUPERVALU |
| ALBERTSONS | FRED` S GEORGIA PHARMACY | KROGER CORP. STORES | TARGET CORPORATION |
| BI-LO | FRED`S PHARMACY | Medicine Shoppe | WALGREENS |
| COSTCO | HEB | PUBLIX | WAL-MART |
| CVS | INGLES PHARMACY | RITE AID CORP. | WINN DIXIE |
| DBA RITE AID | Kerr Drug Inc. | SAFEWAY INC. | |
The following two tabs change content below.
Rx Fitness Lady
Greetings, I'm Joi, a Pharmacist with a passion for fitness & a community leader. I teach BODYCOMBAT, BODYPUMP, Tabata Boot Camp, & serve as a mentor to young girls. My goal is to inspire people to live healthy, active, & prosperous lifestyles through practical blog posts deliveries. You can find me on Facebook and Instagram. You can view more post and subscribe to stay tuned to latest updates
at
Rx Fitness Lady.
Latest posts by Rx Fitness Lady (see all)