I intentionally started drafting this Les Mills BODYPUMP 92 review right after teaching this for the first time!  I really wanted you all to feel the soreness in my legs. I was bending down in the pharmacy the next day to pick up patients packages and making all kinds of sickening moans and groans music for their listening pleasure!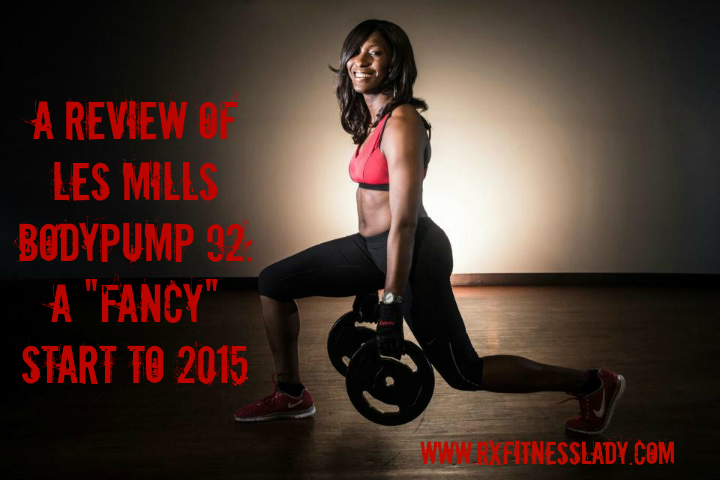 So why did I coin this release A "Fancy" Start To 2015?
First things first I'm the realest (realest)  – The tracklist is SICK!!! The music was giving me life!
At the top of my list was the #1 Hit from Iggy Azalea, thus my little title 🙂
Check it out…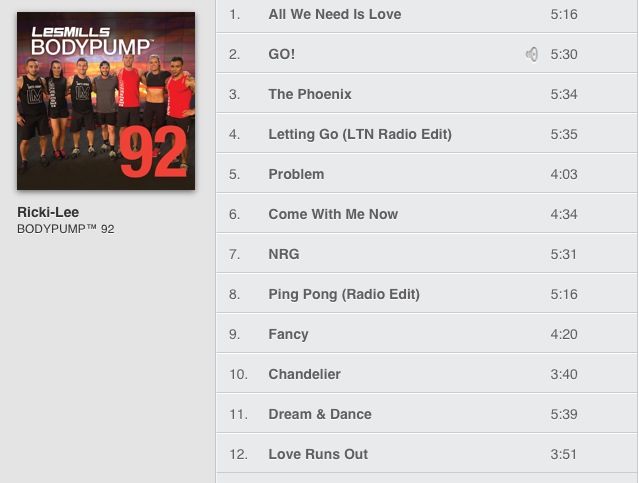 Track 2 (SQUATS)   – You not sure how to execute the squat? I have you covered with this SQUAT post!  Track 2 was our first introduction to the BODYPUMP 92 special combo.
I really appreciate the program taking you through a journey on each release.  For BODYPUMP 92 the journey consisted of a challenging combo of 3 singles followed by a hold. It showed up in the SQUATS, CHEST, BICEPS, & SHOULDER tracks!
NOTE – I increased my squat weight. That is a fitness goal of mine for 2015! I have been stagnant with BODYPUMP on weight selections for a minute.  It felt good!
Track 3 (CHEST)– I think the track list had me from the jump when I saw one of my favorite Les Mills BODYCOMBAT tracks included in this release. I heard comments from other instructors that the chest track was hard to learn.  However, I think my love addiction with the song from COMBAT allowed me to pick up on the choreography easily.  For me, it was so in tune with the lyrics and beats!
Track 4  (BACK) –  IT'S A KILLER!!! This was one of the most challenging back tracks we've had in while simply because of the progressive addition of weights. I seriously didn't sleep New Year's Night before teaching wondering what weight selection I'd choose! Heres what worked for me..
Round 1 – 1 big (11LB) and 1 small (2.2 LB) on each side = 26.4 LB
Round 2 – 1 big (11LB) and 1 medium (5.5 LB) on each side = 33 LB
Round 3 – 1 big (11LB), 1 medium (5.5 LB), and 1 small (2.2 LB) = 37.4 LB
Again, this track spoke to me, but the timing was tricky for some of our team.
Instructor Tip (from my GFM) – For every HOLD, verbally cue 4, 3, 2, 1, up to stay on tempo.  I noticed it really worked for them!
APPARENTLY I'M A GOOD FUDGER!
One might take offense to being called a fudger! Not ya girl! I take pride in it! After teaching this release for the first time, my GFM told me I was quite talented in basically screwing up the choreography but getting back on track without the members ever being the wiser 😉 I really hammered the 1st part of the SQUAT track!
Hey, it happens to the best of us! You are bound to forget something at some point! There is no reason to be ashamed, JUST ADJUST! That's my motto, I'm sticking  to it.
Speaking of fudging…
Track 6 (BICEPS) – Choreography was extremely tricky to learn.  It just didn't flow naturally FOR ME! I found myself "fudging" my way through a few bumps!
When team teaching, fudging can be annoying I'm sure to your partner! I just want to shout out my girl Michelle for hanging in there with me!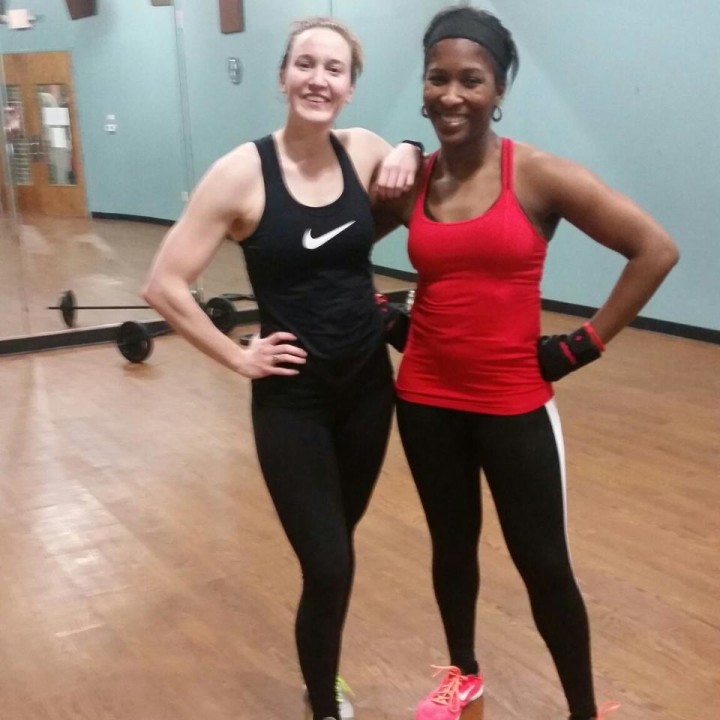 Track 7 (LUNGES) – I thought this track was going to be easy until it hit!  Lesson learned: never underestimate the choreography of Glen Ostergaard (BODYPUMP Choreographer)!
Track 8 (SHOULDER) –  This was not the most challenging one but I did enjoy that combo for the push ups. You will feel it for sure on the 5 push ups from the bottom.
I usually don't mention the Cool Down, however I will just say I couldn't help but add my own little grooving swag to the track.  The beats on Chandelier by Sia are the perfect finish to the perfect start of 2015!
JUST FOR FUN – Look what happened at one of the classes!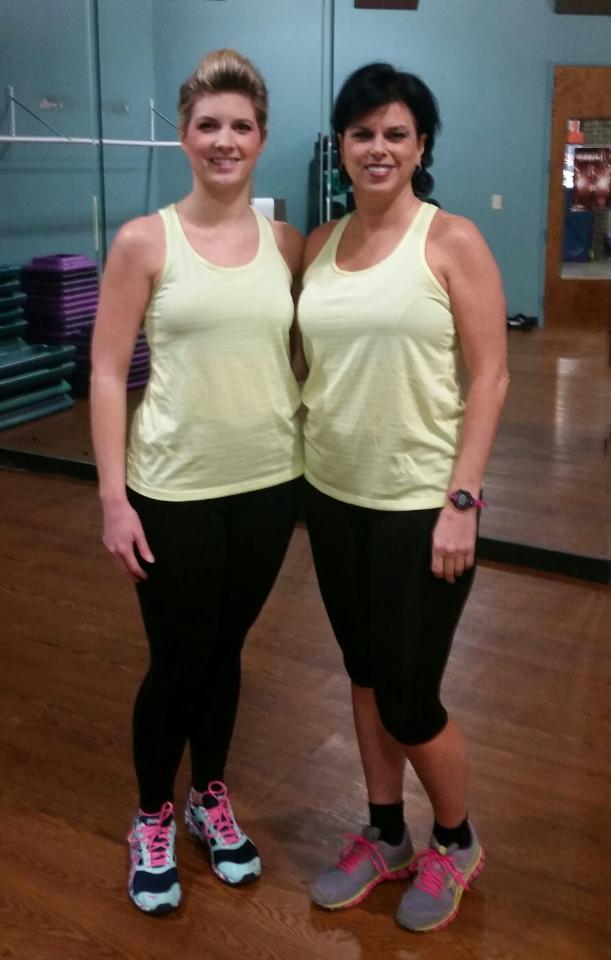 This mother daughter team showed up dressed alike and they were coming from separate places. How freaking cute is that?!
Have fun and enjoy BODYPUMP 92! We are still launching, so come see me Friday at 10:00AM!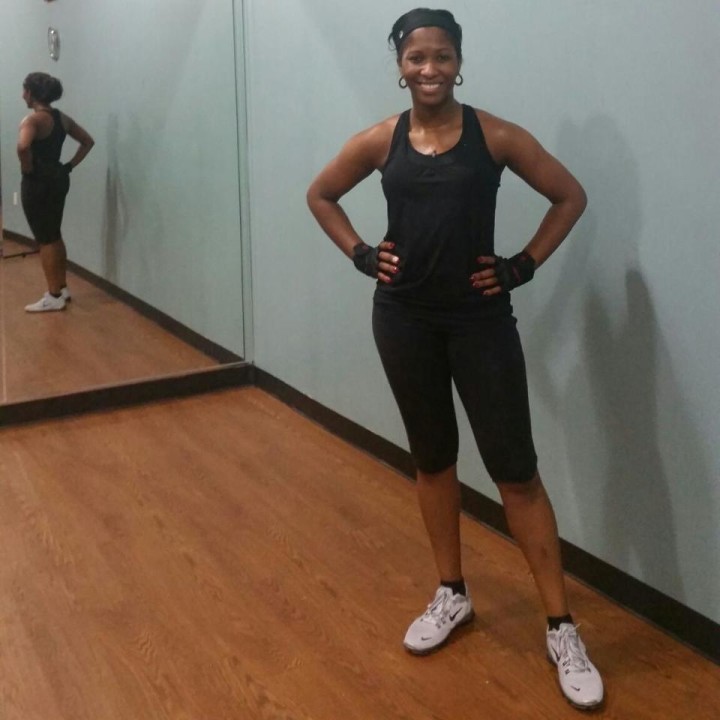 Yours in Healthy, Active, & Prosperous Lifestyles,
Rx Fitness Lady wants to know…
What did you think of BODYPUMP 92?

Do you and your mother dress alike?
What was your first workout for the year?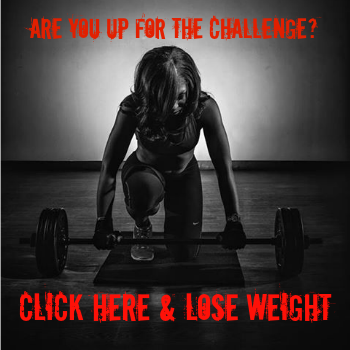 The following two tabs change content below.
Rx Fitness Lady
Greetings, I'm Joi, a Pharmacist with a passion for fitness & a community leader. I teach BODYCOMBAT, BODYPUMP, Tabata Boot Camp, & serve as a mentor to young girls. My goal is to inspire people to live healthy, active, & prosperous lifestyles through practical blog posts deliveries. You can find me on Facebook and Instagram. You can view more post and subscribe to stay tuned to latest updates
at
Rx Fitness Lady.
Latest posts by Rx Fitness Lady (see all)