T.G.I.F. PFL!  It's Act-Fit Friday and I'm here with another review of Les Mills BODYPUMP Program with release 86.
I have taught this release 7 times at the time of this review!
BODYPUMP is the original barbell weight class that strengthens and tones the body! Here is the official sizzler!
This review will look a little different from usual.
For this one I will highlight what I liked specifically and some discoveries! You know I was a super fan of Les Mills BODYPUMP 85 and my feelings are very similar for this release!
WEIGHTS
I will start with the discoveries.  I'm not sure if you noticed in the sizzler, but the ladies in the video had a very challenging squat weight compared to what most individuals use in our gym.
I've been playing around with the same squat weight for a little longer than I'd like to mention.  Some days I would go up but then some days I wouldn't want to compromise my form while teaching and would not stick with the increases.
When I was learning BODYPUMP 86, I was inspired by the closeups of the 2 ladies teaching on the DVD.  I have heard rumors that the U.S. is often cracked on for our lack of increasing weights so from the beginning, I always wanted to aim to represent the full essence of the program.
This release had the longest squat track ever 6 minutes and 30 seconds! However, I'm happy to report that I managed to increase my weight and keep good form while providing initial, safety, and motivational cues through the entire track!
I also went up on my chest and back weight successfully.
MUSIC
The music was so LIVE!!!  My favorite was the lunge track "Don't You Worry Child" by Swedish House Mafia feat John Martin and the Shoulder track; "We'll Be Coming Back" by Upon Havoc.
These were the wins!
FAILS
Triceps!!!  This tricep track had so many dips in it I thought the choreographers had lost it, lol!  It was a major challenge. It is by far the most challenging tricep track I have had to teach since being trained in the program.  WATCH OUT for this one people and please take the option if you need it.
I often get asked, how can I get my arms to look like yours?  Well, challenging tracks like the tricep track and taking BODYPUMP is the key to staying toned and looking great!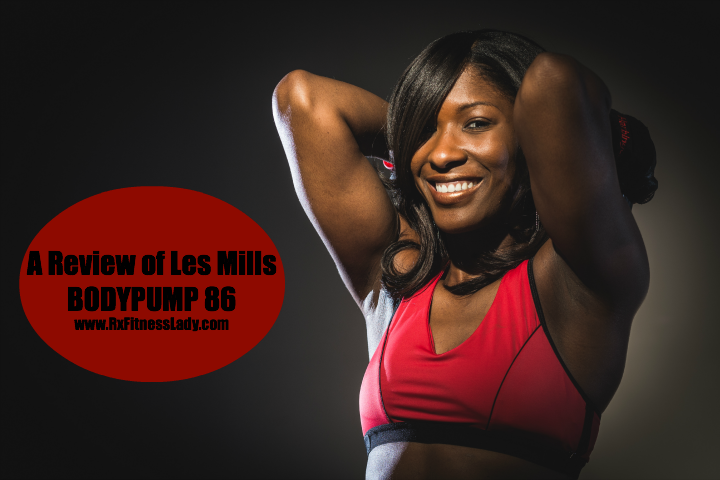 SN – Yes, I have this image I want you to pin way down here at the bottom of the post 😉
The new chest fly move was funny for me.  The key for this move is to keep your elbows slightly bent throughout the movement.  The first few times, it was uncomfortable.  If you can't find your groove with this innovation, then please feel free to use the bar as usual and do chess presses.
My fails were really not fails, just challenges and adaptations that needed to made.  This is all a part of successful workouts and continuously challenging your body!
Overall, BODYPUMP 86 is like a 9! I loved it! I will keep this one heavily in the rotation!
PFL, I hoped you like this review a little better.  I tried to review it in a way that it would be beneficial to all readers.  Let me know what you think!
If you liked this post, you might also like;
A Review of Les Mills BODYPUMP 85 
Rx Fitness Lady wants to know….
What physical wins or fails did you have this week?

Have you taken BODYPUMP 86 and if so, do you like it and the new moves?
When is the last time you increased your weights?

The following two tabs change content below.
Rx Fitness Lady
Greetings, I'm Joi, a Pharmacist with a passion for fitness & a community leader. I teach BODYCOMBAT, BODYPUMP, Tabata Boot Camp, & serve as a mentor to young girls. My goal is to inspire people to live healthy, active, & prosperous lifestyles through practical blog posts deliveries. You can find me on Facebook and Instagram. You can view more post and subscribe to stay tuned to latest updates
at
Rx Fitness Lady.
Latest posts by Rx Fitness Lady (see all)