Greetings PFL!  As you know, I teach Les Mills BODYPUMP; the original barbell weight class that strengthens and tones the body.  It's an hour long class that works all the major muscle groups!  I teach it twice a week and usually take it one other time from another instructor.
Every 3 months, the international company sends it's instructors brand new choreography for every program that we teach. It is like CHRISTMAS year round.   BODYPUMP 85 is the second release for 2013 and oh it definitely didn't disappoint, so let's jump right into it.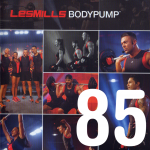 *At the time of writing this post, I've taken/taught this release 5 times.*
BODYPUMP 85 IN REVIEW
RATINGS (1 >>>10) WITH 1 BEING DISLIKED AND 10 BEING LOVED
WARM UP – HEARTBREAK ON HOLD – Alexandria Burke
This was a very fast pace warm-up to match the song! There were no tricks here, just setting the mood with the euphoric tune while warming up all the major muscle groups using the lightest weight of the class.
SONG – 10
CHOREOGRAPHY – 10
SQUATS – ANTIDOTE – Swedish House Mafia vs. Knife Party
The choreography was very easy to learn and coach.  There were only 2 rounds in this squat track.  The first round was with a mid stance and the focus of our work was in the quads.  Round 2 utilized a wide stance, which transitioned the focus to our gluteus.  I used my regular squat weight.   I cranked the music for this one.  The track is HARDCORE & really matched the tempo changes well!!!  I don't know about you, but that really makes the squat track easier to survive for me.
SONG – 9
CHOREOGRAPHY – 10
CHEST – UPRISING – Muse
The difference in this chest press from usual was we had a different starting zone.  We started from the bottom and went up.  It forces you to work a bit harder because you are loading the muscle for a longer period of time.  A new release with a new challenge<<<this is why you keep coming to Les Mills's classes.
SONG – 8
CHOREOGRAPHY – 8
BACK – THE RHYTHM OF THE NIGHT (Ryan T. & Rick M. Radio Edit) – Cascada
SECOND FAVORITE TRACK ON THIS RELEASE!!! 🙂 🙂
Instructors who might be reading this, there was nothing tricky about teaching this one or catching the start of each round.   For members, it's the best as usual!  The difference here was a wider grip on the bar for deadlifts.  There are two combos one that included the POWERPRESS!  I used my normal back weight.
SONG – 10 🙂
CHOREOGRAPHY – 10 🙂
NOTE: NEW MEMBERS TAKING THIS CLASS, THIS IS THE POINT WHERE YOU CAN CHOOSE TO LEAVE.  YOU CAN COME BACK EACH WEEK AND ADD AN ADDITIONAL TRACK FOR BETTER SUCCESS IN GETTING ACCLIMATED TO THE LES MILLS PROGRAMS.
TRICEPS – LET IT ROLL – Flo Rida

You can use heavier weight on the bar because there are only 2 rounds with tricep presses!  We move right into triceps dips off the bench.  This is the part where I love instructing and showing an option 😉  I always glance around for someone who is really struggling and show an option.    If that wasn't enough, we got blasted at the end with tricep overhead extensions.   The song really hyped this track.
SONG – 10
CHOREOGRAPHY – 9
BICEPS – BLOW ME (ONE LAST KISS) (Clean Radio Edit) – Pink
Now here is some honesty for that you know what!  My bicep weight happens to be my warm up weight.  I can't see going any higher for this track.  There is a combo of a bottom half curl followed by a single curl.  The final round is pure misery!  Put your big girl panties (undies for the fellas) on for this one!
SONG – 8
CHOREOGRAPHY – 10
LUNGES – SPECTRUM – Loyal Crown
ABSOLUTE FAVORITE ON THE RELEASE!!! 🙂 🙂 🙂
So this track had a brand new move called a plyometric straddle jump on top of the bench<<<<KILLER!  The plyo jumps really crank the heart rate like no other track that I can remember.  Before we even got to the jump we did a round of squats to warm the legs back up and static lunges on each side.  The good news is, most people sang along to distract themselves from the pre-fatiguing of the legs. The song is that real!
Recommendations – Regulars use the heavy plates for part one.  The front loaded squat challenges the body differently and you want to continue to change the stimuli.  Once you've taken it a few times, alternate between the plates and the bar.
Instructors – DEMO the straddle jump WITH THE CLASS like at least 2 times so they can get the swinging momentum of the arms on and off the bench.
SONG – 10 🙂 🙂 🙂
CHOREOGRAPHY – 10   🙂 🙂
Could you tell I liked that one???
SHOULDERS – THIS IS HOW WE ROCK! (Hardforze H.A.R.D. Remix Edit) – Brooklyn Bounce
Everyone in my Warner Robins Class wants to know how many pushups before we start the track.  You know there are 3 options low, mid, and high intensity.  There are more than usual but you can do them on your toes!  That is what they really want to know.  I don't know why they ask, I could say 65 and they would still rock it out on their toes….Lil mama standing next to me in the red top is a beast 😉
Make sure to place heavier weight on the bar to finish the work with in the last round with the push presses that will challenge you.
Instructors – I would preview the side raise and mac raise EVERY time you teach it.
SONG – 5 🙁
CHOREOGRAPHY – 8
CORE – ONE MORE NGHT  – Eastern Clause
My only recommendation for this is to keep a medium size plate close to you and if the heavy weight is too much to complete the core work safely, then switch it out.
SONG – 8
CHOREOGRAPHY – 4 🙁
COOLDOWN – FOREVER – Six60
SONG – 10
CHOREOGRAPHY – 7ISHY – I didn't appreciate the quirky little changes from an instructor standpoint but I loved the song so much that I gave it a 7 :)!
THAT'S IT!!!
One day I will add a video to these reviews, but until that day…..
Here is the official sizzler.  I like it but it doesn't do the release justice.  The lunge track was by far the most innovative and inspiring and it was left off the sizzler, go figure!!!  If you ever wonder where the Les Mills instructors get these workouts from and who are our role models…take a quick peek!
I honestly think this is my favorite release since 78!  Please, Please, Please if you have Les Mills classes offered at your gym, go try out this BODYPUMP 85 release and let me know what your think!
Members please visit the Les Mills website and take the after the class survey on this release.
Yours in Healthy, Active, and Prosperous Lifestyles,
Rx Fitness Lady Wants to Know…
What do you think of the music that you are familiar with?  What's your favorite song?
If you've done this release, what did you think/favorite track? If you haven't, what sounds appealing to you about it?
I'm on a work week, please humor me with any fun weekend plans of yours so I can live vicariously through you 🙂 

The following two tabs change content below.
Rx Fitness Lady
Greetings, I'm Joi, a Pharmacist with a passion for fitness & a community leader. I teach BODYCOMBAT, BODYPUMP, Tabata Boot Camp, & serve as a mentor to young girls. My goal is to inspire people to live healthy, active, & prosperous lifestyles through practical blog posts deliveries. You can find me on Facebook and Instagram. You can view more post and subscribe to stay tuned to latest updates
at
Rx Fitness Lady.
Latest posts by Rx Fitness Lady (see all)