With the Holiday season comes extreme loneliness for some people.  Some people reside in nursing homes and don't get visitors. Other people are sick in shut in and cannot attend church services.
If you want to brighten someone's holiday that is ill or may have recently lost a loved one, here is an act of love that is appropriate year around. I just thought I'd share it with you on My Health Monday to promote some positive mental health for a friend or stranger.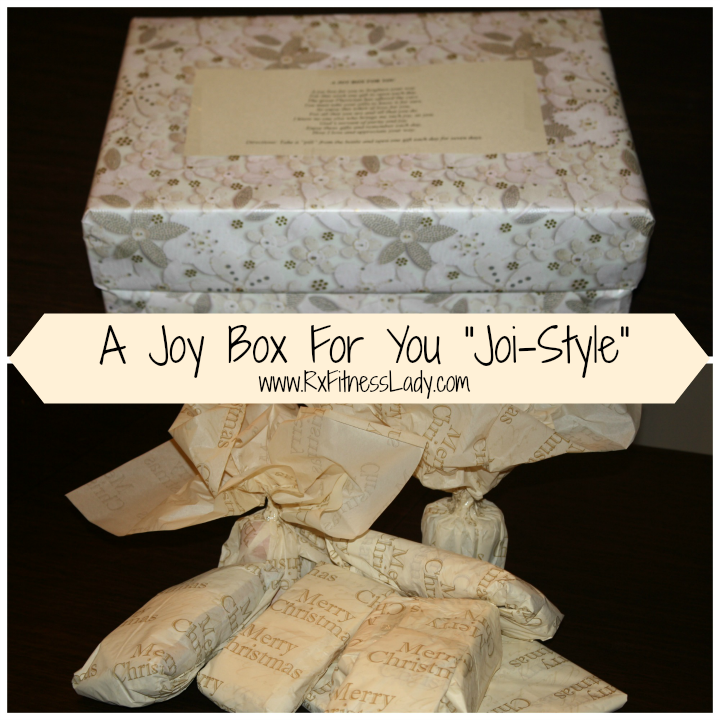 Step One – Wrap an old shoe box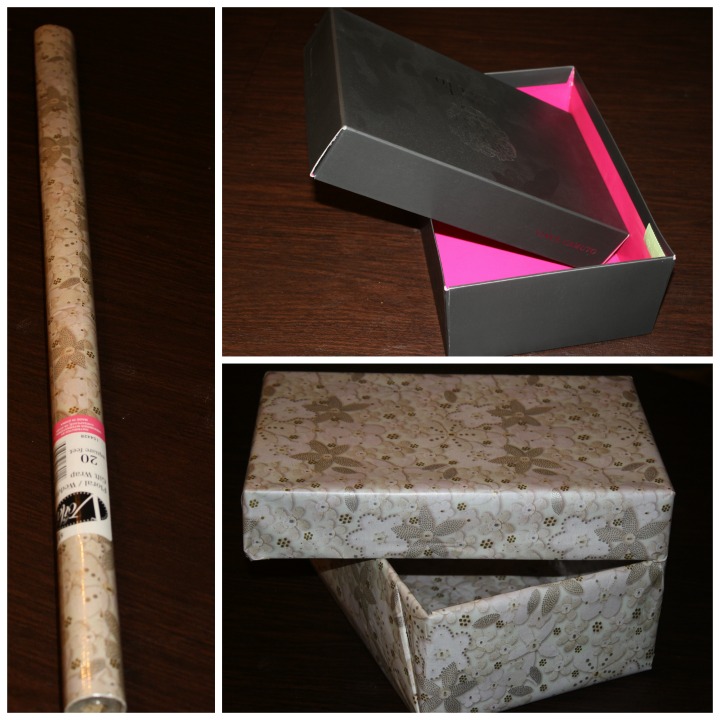 Step Two – Choose 7 appropriate gifts to go in the Joy Box.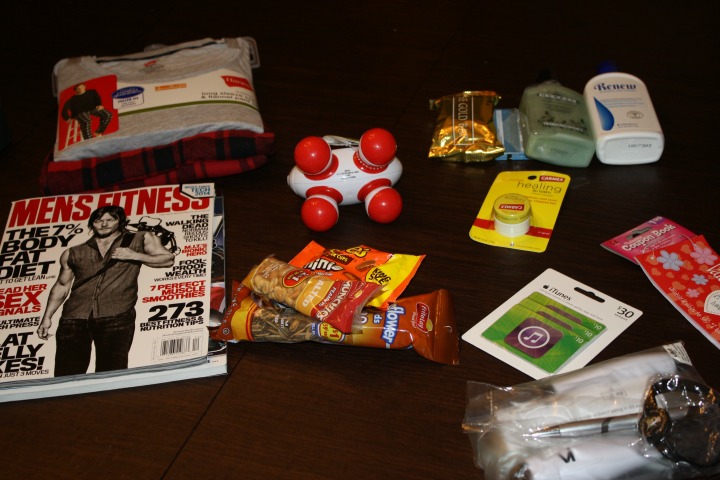 This Joy Box was made for a very special man (Hush Andrea), so the gifts were chosen appropriately.
Depending on how close the person is to you, you may end up spending a little money on the box.
In Sunday School, we usually make a Joy Box filled with tokens. Most gifts can come from the dollar store.  I usually get at least one gift that the patient will like that I spend a few dollars on.
You should be able to make a box for well under $20.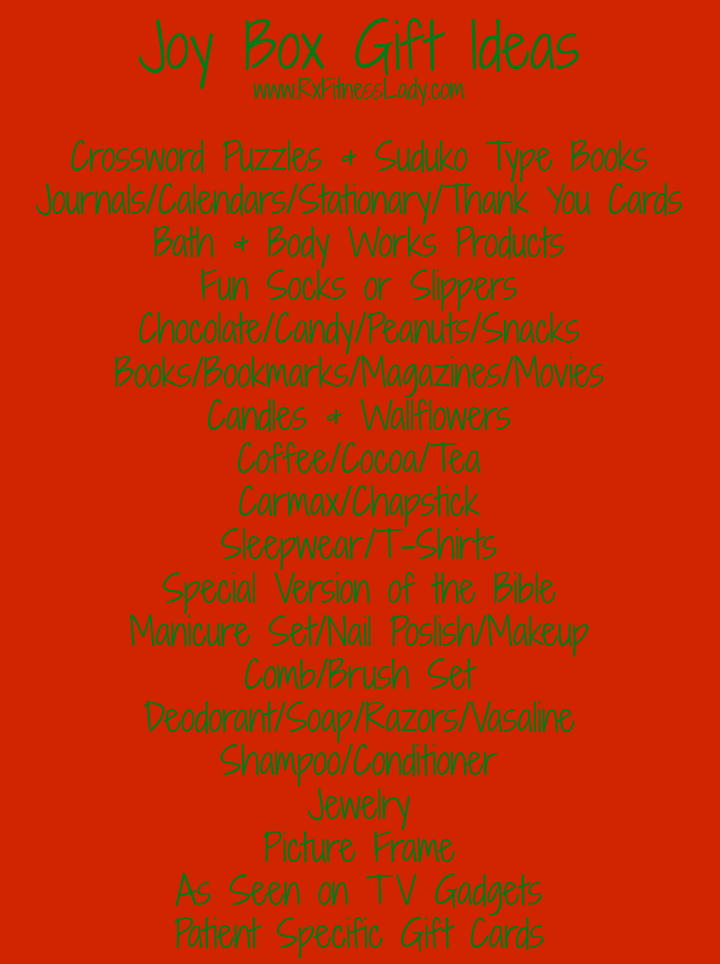 Step Three – Wrap the gifts in tissue paper & try to fit them in the box 😉 .  I used Christmas paper just because it was available in the stores and it kinda matched my wrapping paper for the Joy Box.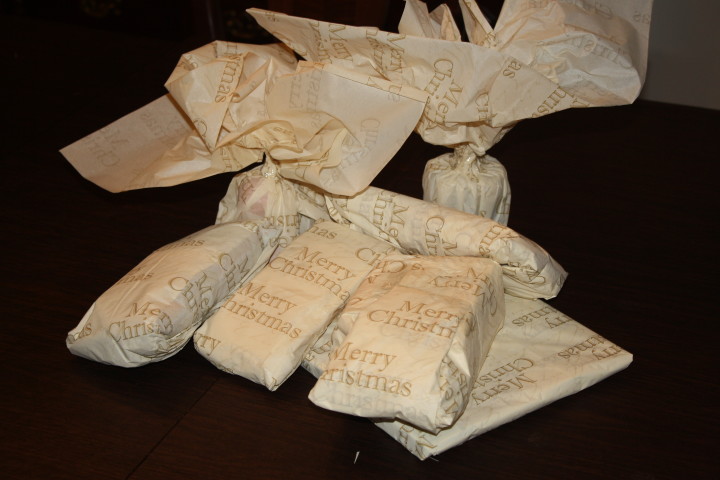 Step 4 – Place the Joy Box poem on the outside of the box.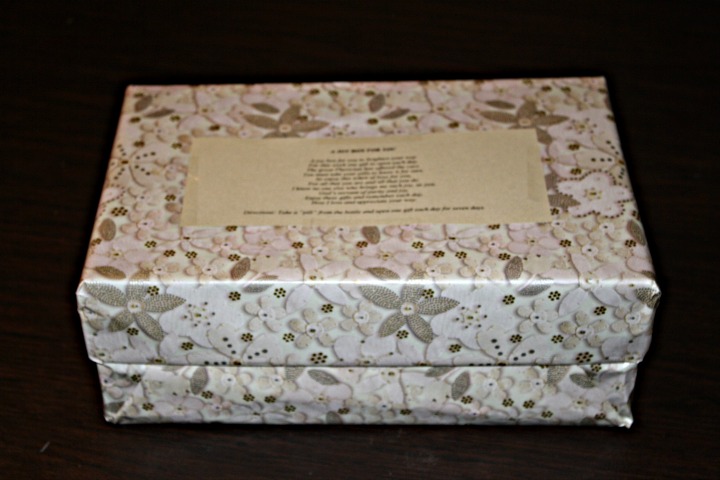 Step 5 – Make your Joy Pills!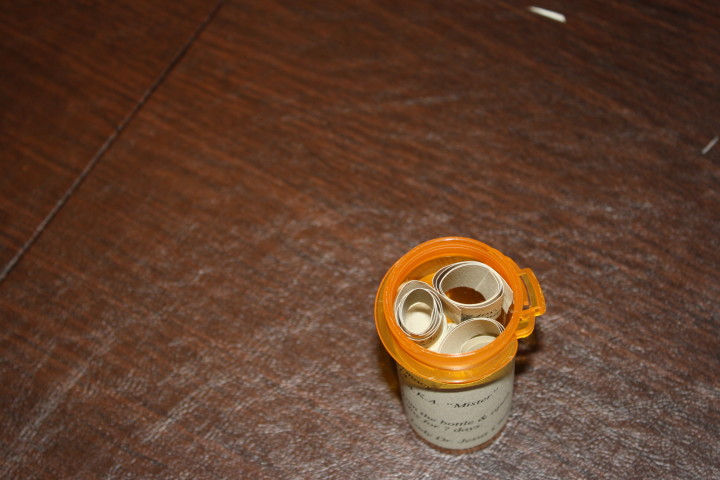 Joy Pills are scriptures from the bible version of your choice.  I chose the NIV version.  I don't want to choose your scriptures for you but so you have an idea, I'm sharing some "pills" I use for ill patients mixed in with pills for those that are grieving.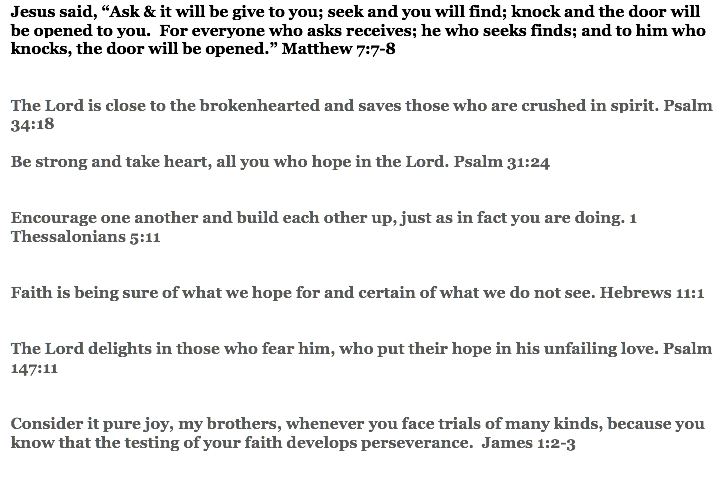 Once you choose your scriptures, just cut the slips of paper and use a pair of scissors to curl them up like when we were kiddos 🙂 !
Step 6 – Make your prescription Joy box label "Joi-Style" 😉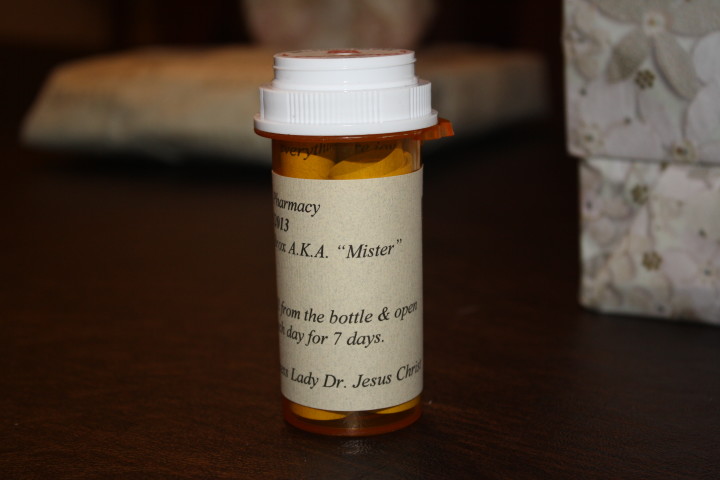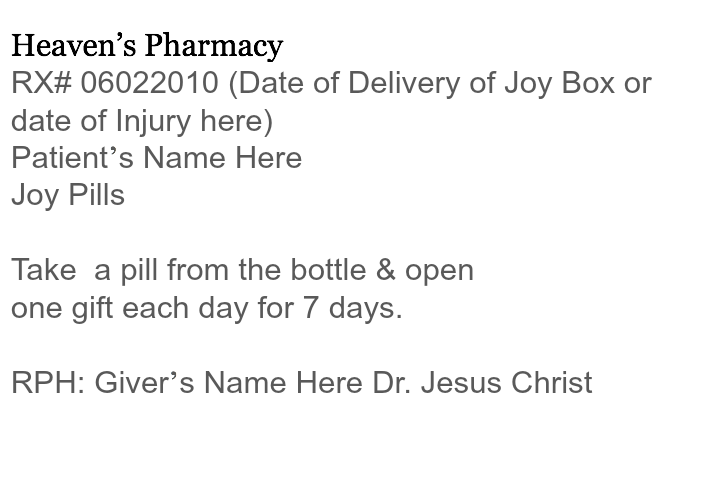 They will appreciate this little act of love more than you would ever imagine.  Hope you enjoyed! Don't forget to pin it 🙂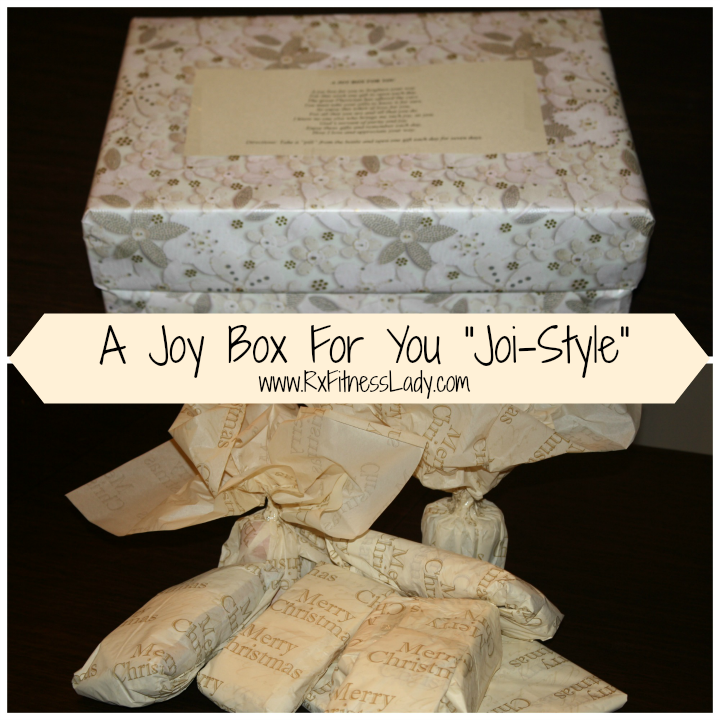 WHILE WE ARE ON THE SUBJECT OF GIFTS, DON'T FORGET TO MAIL YOUR GIFTS TODAY FOR THE HOLLY BLOGGY CHRISTMAS PARTY 🙂 !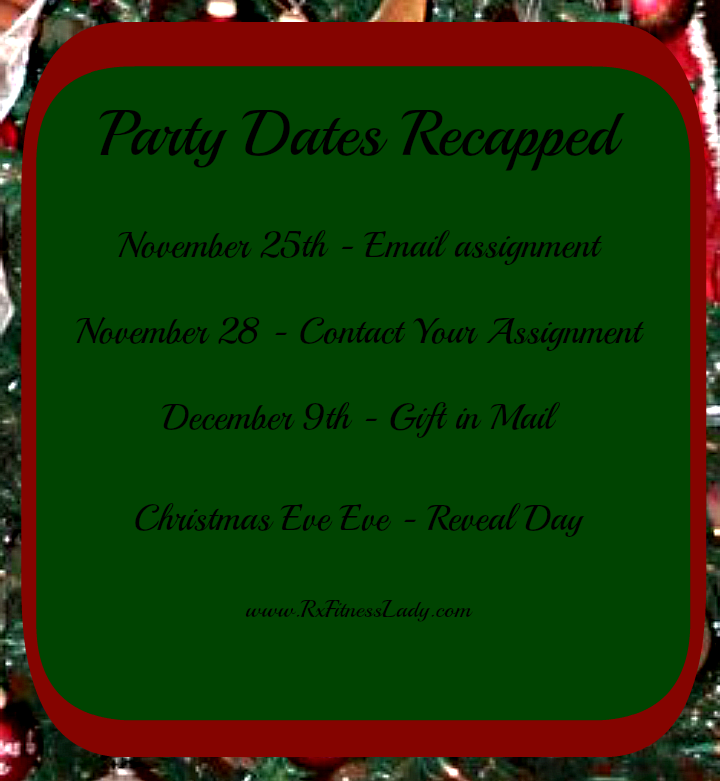 Oh & I simply couldn't resist sharing with you the little one's Junior League assignment this weekend….
Character Breakfast 2013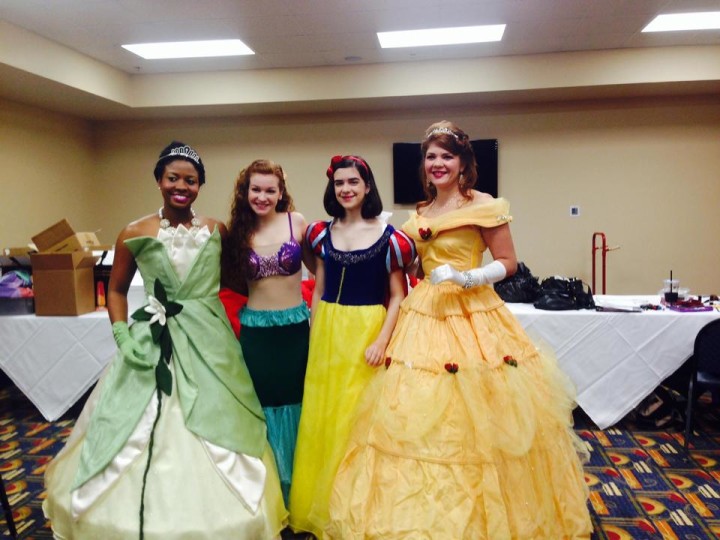 Isn't she lovely 🙂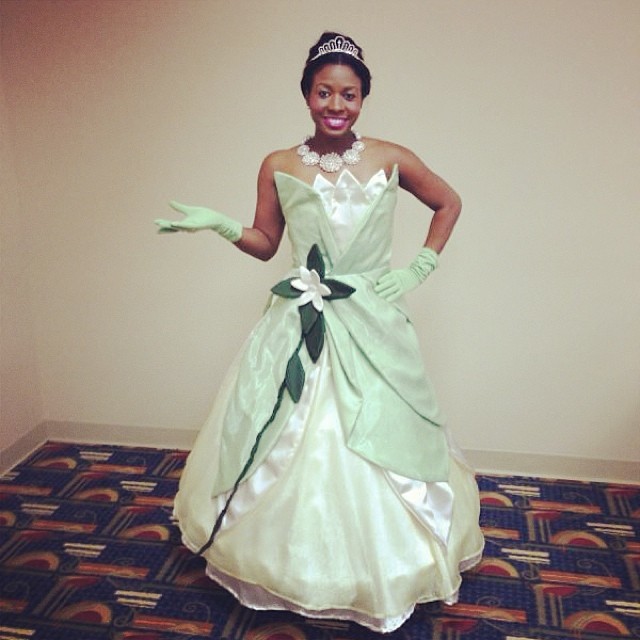 Yours in Healthy, Active, & Prosperous Lifestyles,
Rx Fitness Lady wants to know…
What do you do or what ideas do you have for the sick and shut in or those that may be lonely for the Holidays?

What other gifts would you put in a Joy box?
Besides flowers & dinner, what other gifts/tokens do you usually take to a hospital, to someone that is at home and sick, or to someone who recently lost a loved one?
Do you recognize the characters?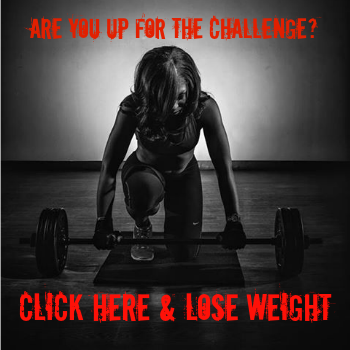 The following two tabs change content below.
Rx Fitness Lady
Greetings, I'm Joi, a Pharmacist with a passion for fitness & a community leader. I teach BODYCOMBAT, BODYPUMP, Tabata Boot Camp, & serve as a mentor to young girls. My goal is to inspire people to live healthy, active, & prosperous lifestyles through practical blog posts deliveries. You can find me on Facebook and Instagram. You can view more post and subscribe to stay tuned to latest updates
at
Rx Fitness Lady.
Latest posts by Rx Fitness Lady (see all)