December is here and it came rather quickly!  What will come even quicker is Christmas day!  Most of us have special people we have to take care of before Christmas with tokens  of appreciation. Everyone wants to know that they are appreciated and the Christmas season is the perfect time to do something a little extra for your tribe.  No matter if it's your; child's teachers/aid, staff, boss, Pastor, beautician, etc., here are some winners.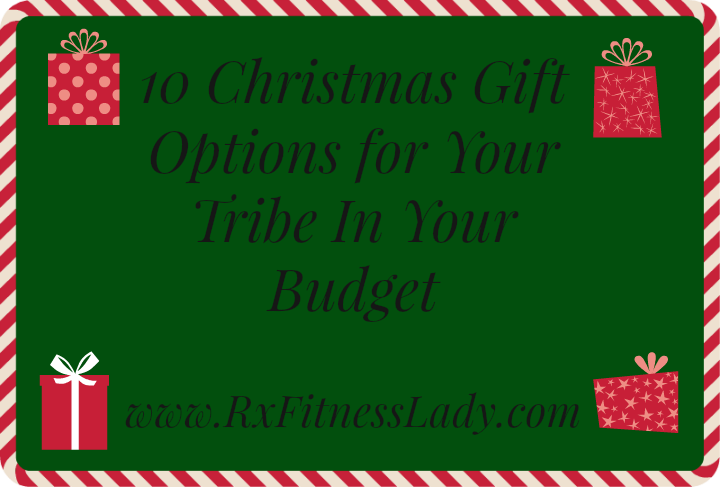 "This post was brought to you by Total Health Chiropractic and Wellness Center."
Monogrammed Anything; Lunch boxes, Work Bags, Handbags/Wallets, Clothes, Throws 
I have two monogrammed lunch boxes, a small one and a large one.  These are extremely practical and I've used and appreciated mine immensely over the years.  Thirty-One offers an array of choices of lunch boxes, all kind of bags (carry ons, purses), and fonts.   If you hurry, you can still order from them in time for Christmas.  However, in my hometown there are several stores that monogram and they carry a smaller line of bags but you should be able to find something you like in your own hometown.  My sister got me a gym bag/carry on with Rx Fitness Lady monogrammed on it for my birthday.  The store pulled the image right off my blog, so you can imagine how tickled and appreciative I was when I saw that!
I pulled my GiGi last year for our line exchange and she was so in love with her monogrammed throw.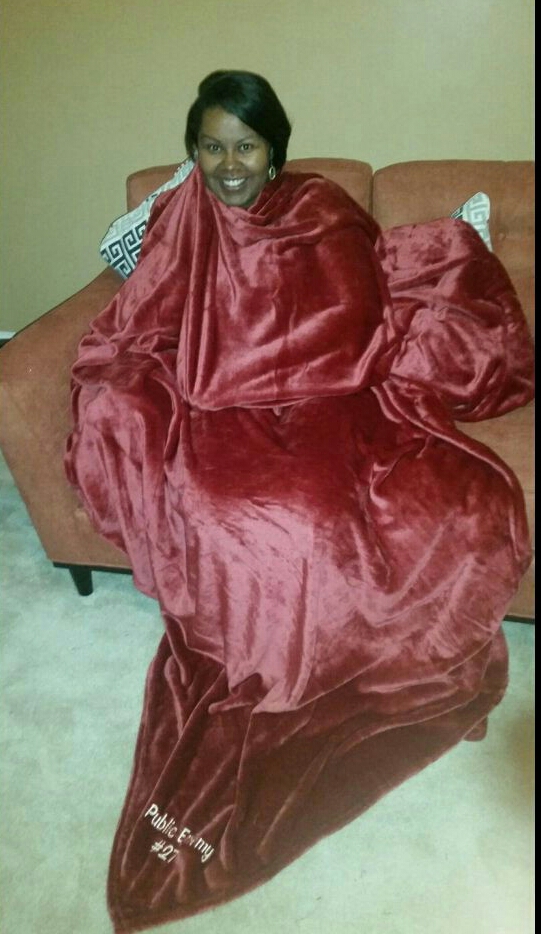 Premium Tumbler Coolers (Yeti, Bubba, S'well, etc) Sandblasted
I am a sucker for personalization.  It drives home the point that you really took time to be thoughtful in your gift selection.  You can get initials or an item of interest of the recipient (sport team emblem, Golf ball, etc.) sand blasted on the tumbler.
Gift Cards 
Gift cards will always work.  I personally don't like recieving gift cards UNLESS they are to a place that I am known to frequent/use (i.e. Movie Theater, Bath & Body Works, or iTunes for my books).  A cash gift card will be appreciated, don't get me wrong.  I just feel that a personalized gift card get's one a little more excited.
Scents: Lotions, Gels, Candles
These choices are winners but you must do some observation and or snooping to see if the recipient wears scents  and burns candles.  If they like these products then my recommendation is that you get something you would like and STAY AWAY from discount stores and neighborhood markets for these purchases.  Nobody wants those! They end up in the trash!
Sweets 
This is the perfect gift if you choose known delicious eateries.  At my job we fill out a profile sheet with our likes and desserts are listed at the bottom.  I received a red velvet cake (no cocoa) for my 10 year anniversary and it was so good and I thought it was so thoughtful that they had the bakery make it without the cocoa.  Yes, that's right, I don't like chocolate and YES I can taste the teaspoonful of cocoa!
Pampering Certificates 
Massage, Nail, Hair Salon certificates really say "You deserve something nice"!  Anything that relaxes one from the stress of the day is the perfect appreciation gift.
Right now, you might be thinking, I've got a million and one appreciation gifts to give out.  This is not in my budget.  I've still got you covered with a few less expensive options that will still spark a bit of excitement.
Trinkets 
Shea infused socks
Journals & Planners – I know in this day and age technology is all the rage, however there is a huge desire to still write and visualize.  I still keep a journal for bible study.  I also like to use a planner to keep up with what releases I've taught at the gym.  I use a separate one for my blog.  These are still relevant.
Tumblers – they come made with initials or with cute sayings.
Mason Jars – Fill it with anything: candy, cocoa, nail polish, chapstick, gloss etc.
Merry Christmas!  It's always the thought that counts.  I know that most people are appreciative just to be thought of.  This post will hopefully help you with your thinking.
Yours in Healthy, Active, & Prosperous Lifestyles,
Rx Fitness Lady wants to know…
What is the best gift you've ever gotten from someone outside of your family?
What is the coolest gift you've ever given?

The following two tabs change content below.
Rx Fitness Lady
Greetings, I'm Joi, a Pharmacist with a passion for fitness & a community leader. I teach BODYCOMBAT, BODYPUMP, Tabata Boot Camp, & serve as a mentor to young girls. My goal is to inspire people to live healthy, active, & prosperous lifestyles through practical blog posts deliveries. You can find me on Facebook and Instagram. You can view more post and subscribe to stay tuned to latest updates
at
Rx Fitness Lady.
Latest posts by Rx Fitness Lady (see all)